Following the exhibition Enchanted Taiwan・Ghouls & Goblins: A Special Exhibition of Taiwanese Horror Fiction in the National Museum of Taiwan Literature in 2018, the task to curate an exhibition with a different team, methodology, perspective, venue, audience experience is indeed a bold endeavor for me, someone who merely has five years of experience in curation and little knowledge in horror fiction or paranormal literature. Since the exhibition organizer C-LAB aims to carry out "contemporary cultural experiments in Taiwan," this exhibition shares the responsibility to be in dialogue with this yet to be defined, future-oriented mission. More than a month after the start of "Yao-Chi City," it is time for me to address some reflection on the curation which has condensed and consolidated in the last days.
In Curatorial Challenges: Correspondence Between Hou Hanru and Hans Ulrich Obrist, a paragraph about future artistic creation and financing which quotes European Cultural Policies 2015, edited by Maria LIND, has particularly left an impression on me:
It is 2015. Art is almost completely instrumentalized—regardless of whether its financing is private or public. Art services either national or European interests, where it is especially useful in the construction or reinforcement of specific identities. At the same time, art is a desirable commercial product. It is ideal for collecting and it contributes to creative employment opportunities. Visiting art museums and centres is a popular, easily digested leisure activity. In 2015 art is also used to stave off undesirable fascistic and nationalistic tendencies in society. (The seventh letter, page 53.)
In order to bring literature into curatorial practice, in my opinion, it is essential that our hands are not tied by "the instrumentalization of art." Meanwhile, the difference between contemporary Taiwanese culture and European culture—Taiwan's cultural identification as well as the big question of identity—need to be heeded. Like what philosopher Kojin KARATANI proposes in The Structure of Empire, Taiwan has been at the submargin buffing the exercise of imperial power and colonization for the past hundreds of years. The tectonic movements of big empires have pressured and deformed the formation of "state" and "nation" of Taiwan. Further fueled by the upcoming presidential election, trade war between China and the US, and protests in Hong Kong, the recent tension is more intense than ever. Therefore, "Yao-Chi City," an exhibition which is transferred from the National Museum of "Taiwan" Literature to C-LAB ("Taiwan" Contemporary Culture Lab), is problematically challenging because of the triangular contestation of "state-nation-capital."
What's intriguing is that in the 9th letter, OBRIST suggests "the bridge between art and literature […] is not emphasized enough in our times." Taipei Biennial 2018 and Greater Taipei Biennial of Contemporary Art, two important biennials in Taiwan last year, both happen to foreground author WU Ming-Yi and LO Yijun's works in the unfolding of exhibition narratives. This juxtaposition of ideas—ecosystem, technology, urban renewal, history and memory, as well as literature—indicates that the previous trend of theatricalizing museums and turning museums into performance venues has now come to a new stage of "literary intervention" in contemporary art exhibition venues. The second challenge facing "Yao-Chi City" is the reinvention of potential possibilities in the former Air Force Command Headquarters(AFCH) building so that "literary intervention" can happen here. We can even term it this way: The proposition of "Yao-Chi City" is a reversal of literary intervention. A "literary space" comes first, and then "contemporary art intervenes" in the scene. Contrary to Taipei Biennial 2018 and Greater Taipei Biennial of Contemporary Art, a shift can be seen in what "Yao-Chi City" handles in terms of bridging between literature and art: How can contemporary art get involved in the world of contemporary paranormal literature?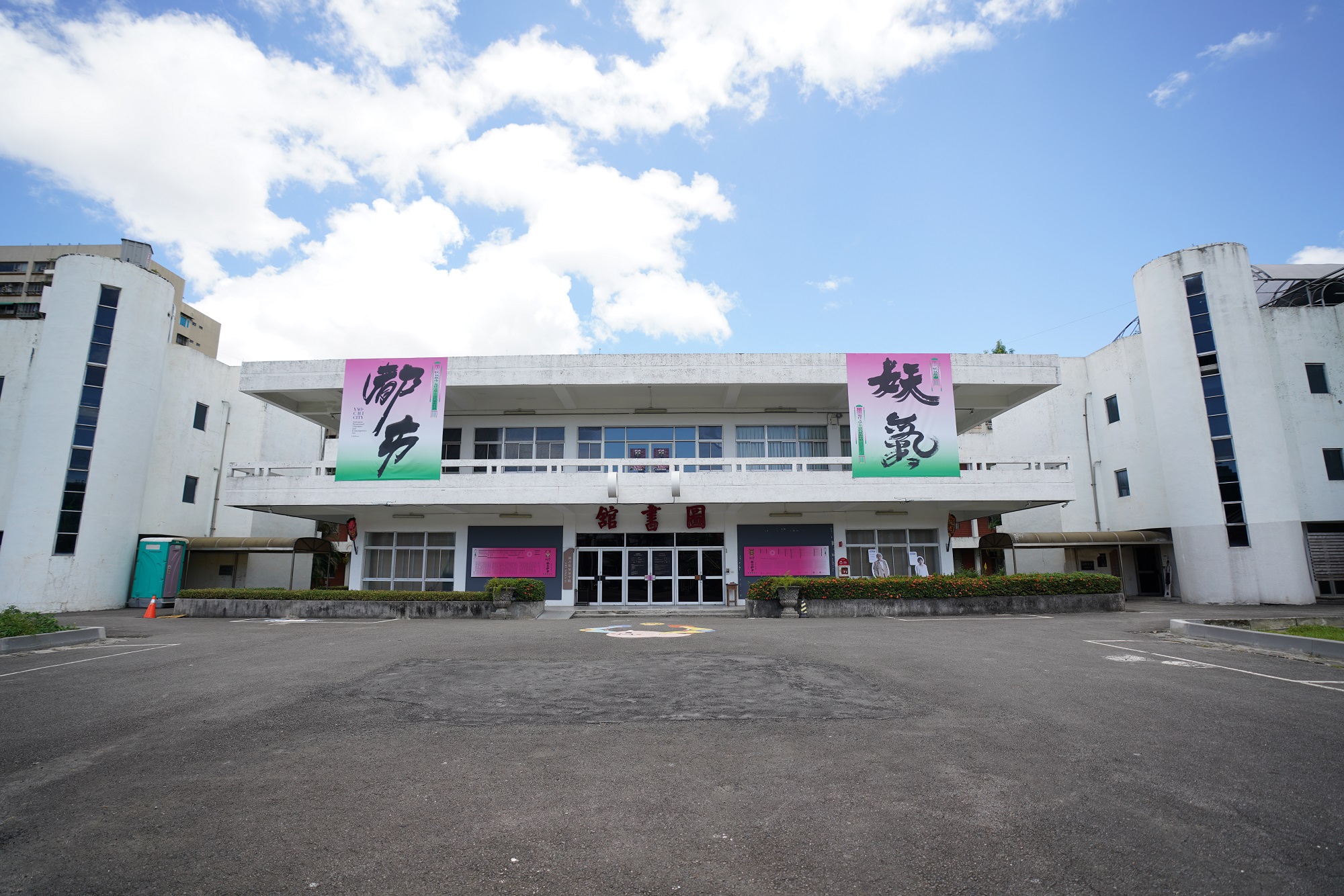 Yao-Chi City: Taiwanese Paranormal Literature and Contemporary Art Exhibition settles on the "library" in the former AFCH as the main exhibition venue. Photo by CHOU Shi-Bin
The Team and Yao-Guai Academy
After settling on the "library" in the former AFCH as the main exhibition venue and deciding on Taiwanese contemporary paranormal literature as the main theme, my proposal for a collaborative platform named Yao-Guai Academy is implemented together with the effort of WANG Chia-Ling, curator at the National Museum of Taiwan Literature, LO Chuan-Chiao, curator at Taipei Legend Studio, Aits HUANG, curator of Alikakay—Giants in Mountain Balik and Their Origins in Hualien, and myself, curator at C-LAB, at an early stage of planning. Yao-Guai Academy, first of all, pays tribute to Hogwarts and the wizard school in the series A Wizard of Earthsea, both of which are part of the fantasy literature tradition. It also alludes to Bake-Bake Gakkō (School for Spooks) in KAWANABE Kyōsai's Japanese traditional Ukiyo-e paintings, and "female shaman training camps" held in 2007 by Tadren (Daren) Township Office in Taitung.
The founding of Yao-Guai Academy, from a curatorial point of view, seems to serve as a node, a petri dish for a mixture which brings together the worlds of paranormal literature, belief systems of aboriginal shamanism, and representations in contemporary art and cultural scenes. That is to say, a "trial" and "open" library to provide catalogue search and customer services to beta users is necessary before we know what reading materials are provided and how they can be read in the "library" of the exhibition at AFCH. We have to know whether it is possible for further discussions other than what is generated through the intensive weekly discussions totalling 150 hours over the timespan of five months, with authors and creative practitioners invited by four curators to the small Deputy CEO office "library." Moreover, we have to know whether Yao-Guai Academy, a collaborative platform consisting of these discussions, is relevant to the knowledge looked for by common citizens.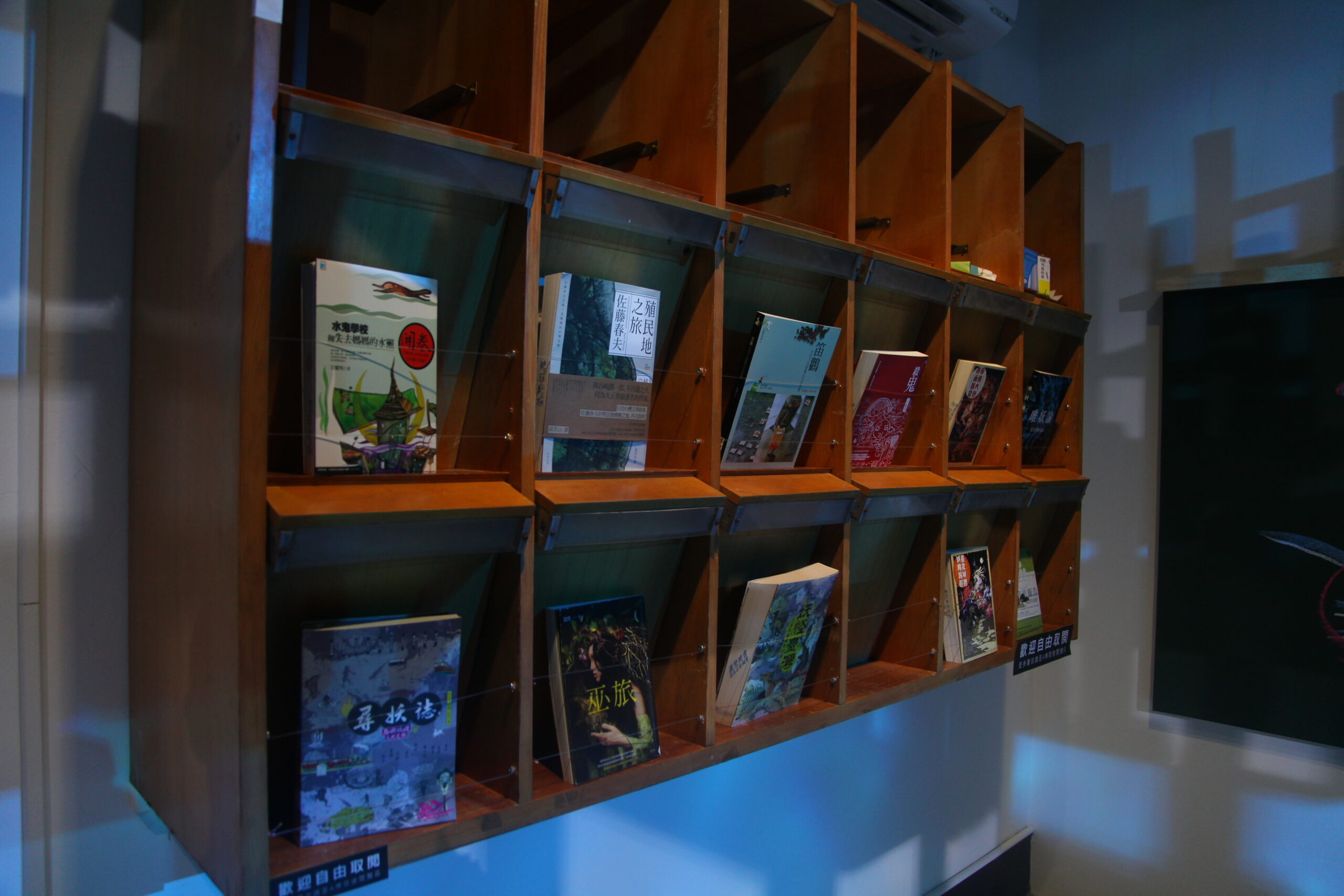 The reading area in Yao-Chi City: Taiwanese Paranormal Literature and Contemporary Art Exhibition. Photo by CHEN Cheng-Tao
Starting on the 16th of February, 2019, more than 13 collaborative activities spanning the first half of the year can be seen as essentially a big cultural experiment on Taiwanese paranormal heritage—photographer Chihiro MINATO and LO Chuan-Chiao talk about the absence and disappearance of monsters; dancer CHOY Ka Fai shares his experience of dancing with Tatsumi HIJIKATA's spirit; folklorist LIN Cheng-Wei and SU Shuo-Bin discuss folk tradition and contemporary society; Naoyuki OGAWA gives a speech on Kakura; QU Chen is in dialogue with Masao HIGASHI about Kaidan literature; Somanana Rain addresses "Yao (monsters and the mythical)" in oral tradition across the world; Aits HUANG and author Badai share their views on challenges facing aboriginals amidst this paranormal craze; the artists TSENG Po-Hao and DAI Kai-Cheng perform liām-kua (narrative songs) and Rakugo; the architect team tells about monsters and the space of AFCH; and, in addition, there are two monster-searching trips (to Chanchu Hill and Alikakay, Hualien) and TU Wei-Cheng's Giant Monster Workshop. It is an experiment to revitalize spirits residing in the "former library." Meanwhile, the fact that more than 600 people are involved in the activities helps the curatorial team gain an insight into the needs and requirements of public participation. It is a series of cultural experiments for the creation of a "future library." It is as well a "re-fieldwork" to reconstruct the epistemological foundation of Taiwanese paranormal cultures.
"Re-fieldwork" refers to activities of "fractal, revisited, reflexive and soft fieldwork" which are contrary to conventional field studies. It emphasizes "non-productivity," self-examination, and a process of "immersion" to almost become the Other. Yes, the "process" conditions the "presentation / exhibition." With the "re-fieldwork" using sound, literature, art, folklore, observations of contemporary society, architecture, travel experience, aboriginal witchcraft tradition provided by Yao-Guai Academy, what follows is the most difficult part in planning "Yao-Chi City": How can we select crucial literary works and how do we present them? Especially when the reader of contemporary Taiwanese literature shares a small proportion of the market, how do we make choices?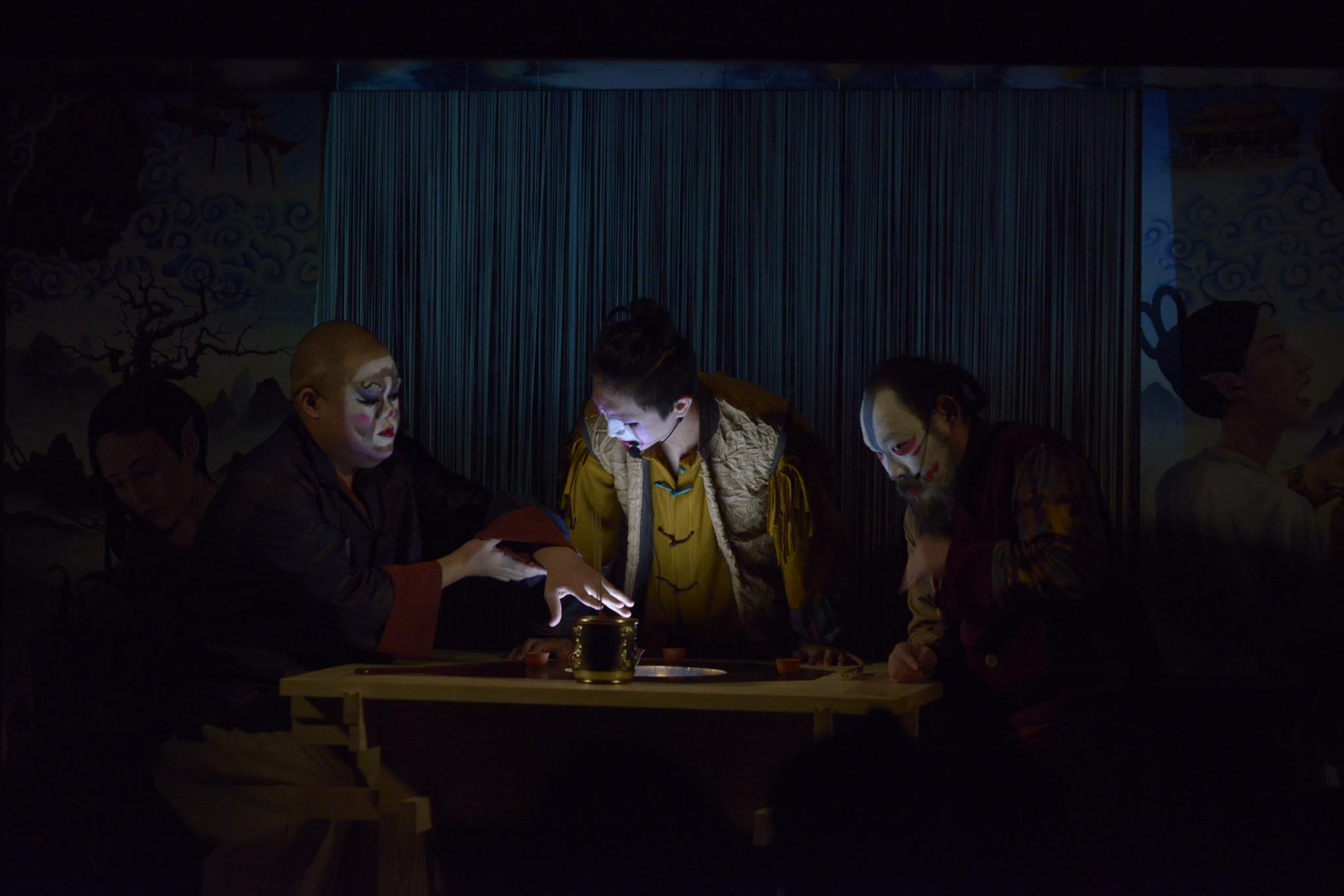 Liām-kua (narrative songs) and Rakugo performed by the artists TSENG Po-Hao and DAI Kai-Cheng. Photo courtesy of Yao-Chi City: Taiwanese Paranormal Literature and Contemporary Art Exhibition
The Anthropocene world views of the near future
The initial discussions of the curatorial team center largely around GAN Yao-Ming's novel, Killing Ghost. For me, this epic novel, comparable to One Hundred Years of Solitude, depicts "a struggle among different identities" of Taiwanese monsters and mythical beings which fascinates and inspires me significantly: the giant iron train monster at the start of the story set in Japanese colonial era; "Pa," a little boy who becomes a mythical being in order to fight against the iron monster; ghost king NG Tong-Hin; as well as Lawa, a character based on the victim under White Terror, TENG Iáu-Thiáu. The protagonist LIU Xing-Pa's grandfather fights against the Japanese during Japanese invasion of Taiwan in 1985, whereas Pa himself becomes a Japanese sergeant during the Japanization. After World War II, Pa and his grandfather both witness the conflicts between Wai-sheng-ren (mainlanders who come to Taiwan due to Chinese civil war) and Ben-sheng-ren (local Taiwanese). The monsters and ghosts in Killing Ghost delicately represents drastic shifts of identification and an unceasing identity crisis Taiwanese people face, whereas the literary texture lends us striking magnificent beauty like kaleidoscopes. However, we have to go back to the curatorial questioning of the kind Maria LIND proposes: would the exhibition proposition focus on "shifts and crisis of Taiwanese identity" when we address Taiwanese spectral heritage?
Because of Aits HUANG who is knowledgeable in aboriginal cultures and botany, Badai's novel Witch Way is introduced into the discussion. Witch Way, illustrating aboriginal tradition of female shamans, history and cultures of Puyuma people in Tamalakaw Village, is part of the fantasy literature lineage which includes Harry Potter, A Wizard of Earthsea, Journey to Ixtlan: the Lessons of. Don Juan, and Inuyasha: A Feudal Fairy Tale, a Japanese manga series written and illustrated by Rumiko TAKAHASHI. In the novel, Badai lets other species living in Mountain Tamalakaw have their presence and speak. In the vast forest with rivers flowing through rolling hills, hinoki cypresses, camphor trees, bears, goats, Reeves's muntjacs all have their say from a non-human point of view (from a tree spirit's point of view, for example) in "the debate of traditional territories." This non-human-centric perspective amazes me. It helps integrate the allusion to Tree Demoness in Strange Stories from a Chinese Studio into the physical geographical context of Tamalakaw Village. It also reminds me of Kunio YANAGITA's idea of specific links between a physical location and a certain monster, mentioned in his book Talks on Spiritual Beings. From a contemporary fragmented gaia Anthropocene perspective, the viewpoints of the little witch and the spirit Yigule in Witch Way may open up possibilities for world views of the near future, allowing a bigger and more comprehensive non-human-centric vision to be projected.
As I look into documents of the past couple of months, I realize an early draft of the exhibition plan is marked November, 2018, whereas a more concrete idea to employ tree spirits and the slope of Mountain Tamalakaw in Witch Way as a starting point of a specific geographical context doesn't come into being until mid-March, 2019. Endless debates and discussion within the curatorial team characterize this period of time. We wander back and forth between Badai and GAN Yao-Ming's novels. If we have to pinpoint a deciding factor for our decision, it would probably be the trip in March when artist CHANG En-Man takes me to Binmao Village (Djumulj) in Taitung. In Dawushan (Mtn. Kavulungan) Nature Reserve, tracing cultural roots and night-time hunting led by Paiwan indigenous Vikar Pakaljangud have had a significant impact on me, especially the intense 5-hour all-nighter to patrol hunting grounds in the upper course of Jinluen River. That night, together with two days of intensive training to learn the tribe history, local geography and ecology, allows me to picture how aborigines have migrated and lived in the past hundreds of years. Although it is not until the beginning of June, 2019, do I pay a second visit to Tamalakaw Village and Ligavon Path which are mentioned over and over again in Badai's novel Witch Way, I seem to be able to imagine the mountainous landscape, life of Puyuma people and female shamans depicted in Witch Way early on.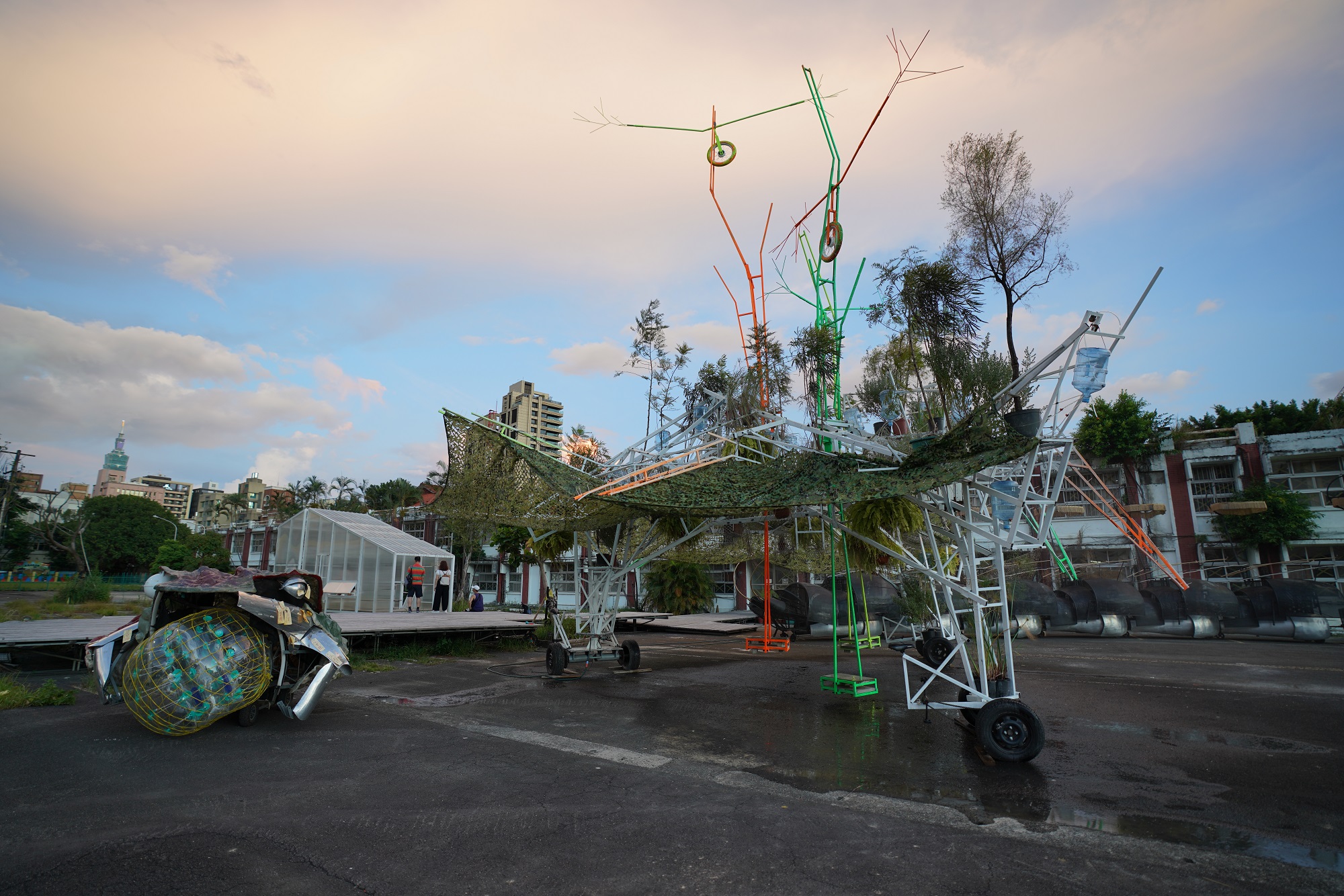 The installation by architecture team Group Bricoleur. Photo by CHOU Shi-Bin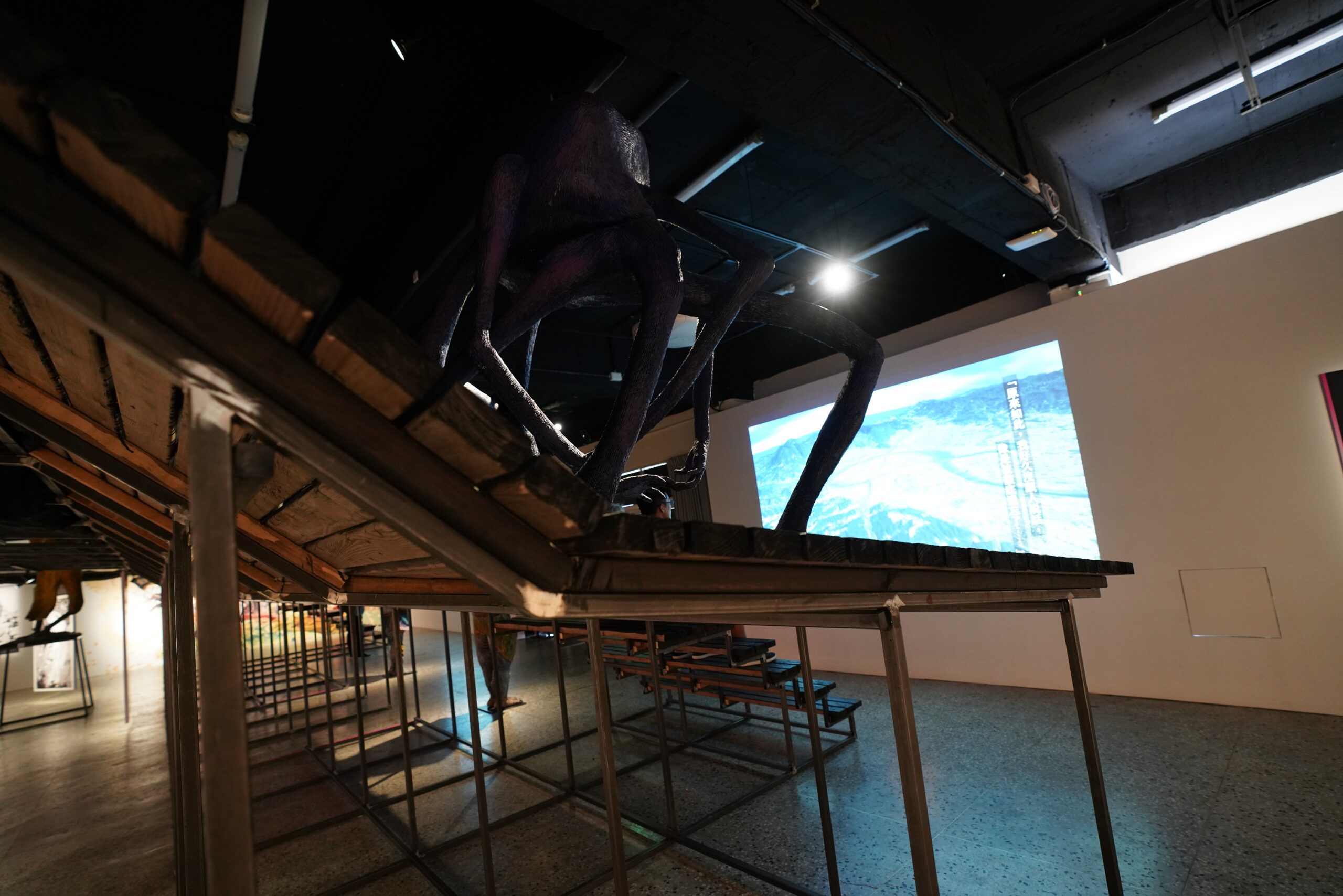 The bleacher-like structure lies across the exhibition hall on the first floor of the library, implying a viewing platform in the mountainous Tamalakaw Village. Photo by CHOU Shi-Bin
Exhibition design of the future library
At the first place, architecture team Group Bricoleur and technical team Houluen Production Co., Ltd. construct a rarely-seen bleacher-like structure lying across the exhibition hall on the first floor of the library whose form implies a viewing platform in the mountainous Tamalakaw Village. At the same time, the areas beneath and behind the bleacher-like structure are used to exhibit paintings, drawings and prints. Conceptually, it is as if Witch Way became a pop-up book where the main scene on the mountain slope led the prelude to the exhibition. "Yao-Chi City," therefore, can be seen to extend the reading of the world of contemporary paranormal literature to the experience of physical world spread out in and outside an abandoned future library, which constitutes a dominating concept in the exhibition design.
With the exhibition design in mind, LO Chuan-Chiao suggests that The Water Ghost Academy and The Motherless Otter by GAN Yao-Ming be used as a main theme in another half of the exhibition space on the first floor. On the second floor, Engine Studios' panorama theater, Monster City of the Dreams, and HSU Tzu-Kuey and AKUI Art Museum's Bigfoot Zodiac Creatures are to be seen in the front half of the space, whereas CHEN Fei-Hao's liām-kua (narrative song) theater, Strange Tale of the Bridal Fan (Jokai ōgi Kidan), and the provocative and erotic works by HOU Chun-Ming and Zakurokun take another half. Outside the building, a tree monster installation designed for parades is set up on a tarmacadam playground. A ruin and a room for archeological exhibits of Urban Legend Adventurers are installed in Dormitory A, while The Remains of Giants and Monsters – The Yi Village Site by TU Wei-Cheng is placed on the lawn in front of Dormitory A. Moreover, a classroom for The Water Ghost Academy at the back of the first floor, two reading areas in Dormitory A, an augmented reality reading experience "Yao-Guai Hospital" in Aries Creative's The Corner of Impression, a comic video area in Engine Studios' Spirits of the Forest, altogether constitute one after another book in this future library, waiting to be open and read in various ways. The world of literature, the space of the library, and the physical exhibition design are now porous to one another in a multilateral dynamic. The world of literature is abundant in information without being too lengthy. The physical space interacts well with the complexity of texts, yet the presentation is not overly abstract. When the two intersect through the design-thinking of the "future library," paranormal literature becomes a tangible world for the audience to experience.
In addition to the use of architectural design, visual design, augmented reality, virtual reality, games, archeology, and parades, Japanese photographer Chihiro MINATO also highlights the importance of "sound" to the existence of the mythical. He draws upon Lafcadio Hearn's technique of using sounds to build up an atmosphere for the existence of the mythical in writing, and addresses the uncertainty of their existence. Badai says, "The reason why I am always here is exactly because I don't know the reason why I am here." The uncertainty in one's identification due to misfortune, accident, humiliation, exploitation, or hegemonic oppression, might be what induces the dark existence of monsters and the mythical. Like what people say in Taiwanese, "kha̍h-tio̍h-im (being possessed)," one cannot easily get out of the situation, nor can one understand the reason. A particular melody representative of such existence seems to underline an atmosphere of this kind.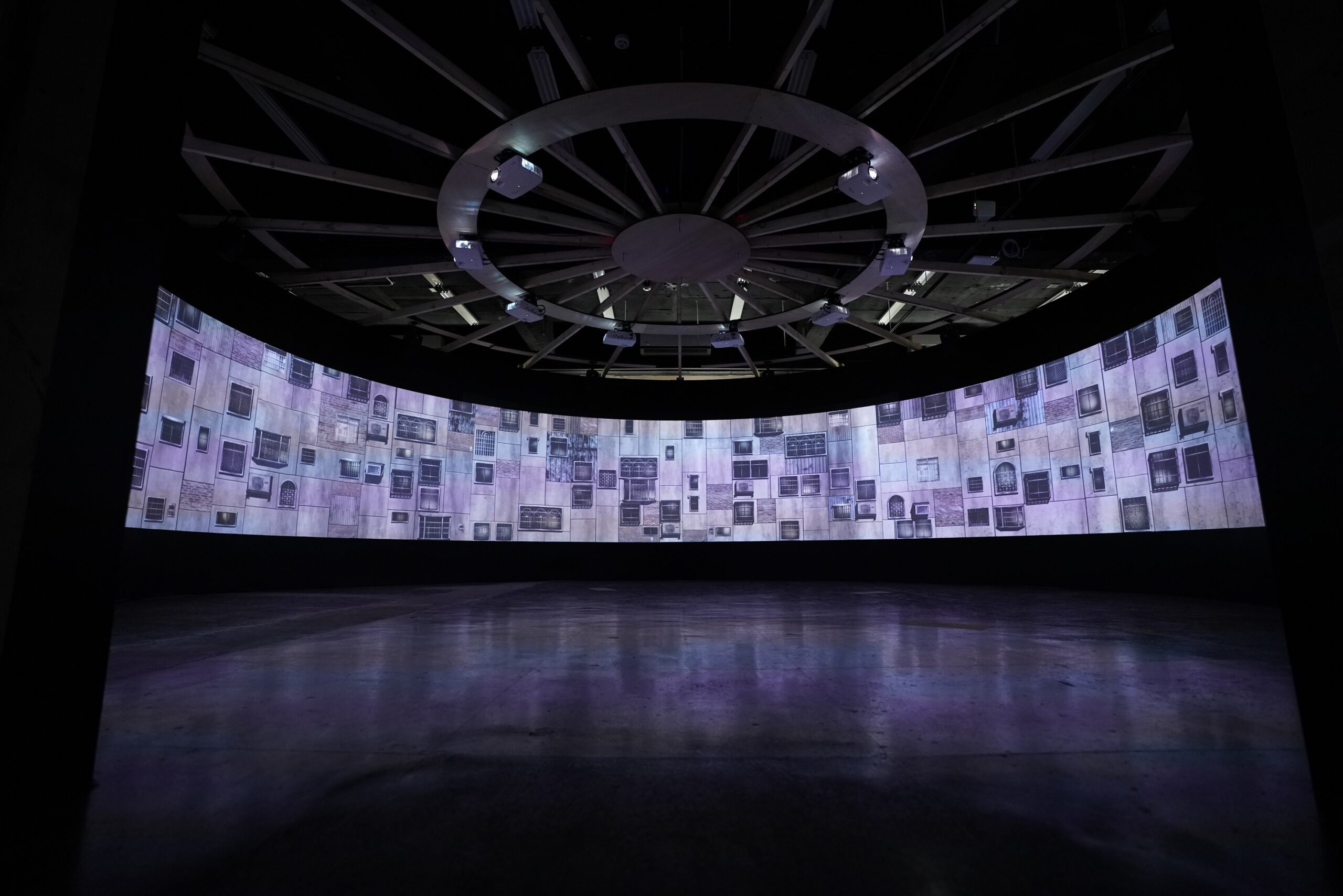 Engine Studios' panorama theater, Monster City of the Dreams. Photo by CHOU Shi-Bin
We then invite digital music practitioner LI Ling-Zi to create a sound piece in which the artist records sounds of physical objects, such as moving stones, dripping water, blowing wind, silk strings, dropping beans, and then processes them through computer algorithms. By adapting to the overall atmosphere of the exhibition, the sound piece strives to create a balance between audio and visual presentation in the exhibition while opening up the senses of the viewers. It is indeed a challenge for LI Ling-Zi's Illusory to be juxtapositioned with HSU Tzu-Kuey's 6 monster sculptures, Kent Animation Digital Independent Production, Inc.'s A-nger, and other artworks in the front half of the space on the first floor. However, it is exactly because of the sound piece that the hidden desire in HSU Tzu-Kuey's works Self-portrait –Fly with Me and Self-portrait – Blue Spider resonates in the physical world, and the vibration of air in A-nger also finds its tangible traces in the air in this exhibition.
Eccentric perspectives: A-nger and Ruffling Celestial Feathers
What kinds of eccentric or alternative perspectives does "Yao-Chi City" offer as a bridge between literature and art? It might be a question for the audience and critics to answer. As one of the organizers to carry out curation and planning, my duty is to explain the fundamentals of the curatorial intention to which the audience's perception can refer. The foremost and honest intention is, first of all, to distinguish local Taiwanese "demonology" from Japanese demonology by listing, categorizing, and conversing about existing paranormal literature. Also, by bringing it into the contemporary art context, it allows future possibilities for Taiwanese demonology to be culturally contextualized with folklore and paranormal literature across the world. What follows is the challenge of "the instrumentalization of art" in curatorial practice mentioned earlier in this article. To prevent the instrumentalization of art, considerations on the form and aesthetic quality in exhibition presentation should be prioritized. Here, I would like to elaborate on the two core propositions with two presentations in this exhibition in order to maintain an openness of the conclusion.
First of all, the aforementioned video work A-nger can be seen as a grand opening to the exhibition. Assisted by NCHC, NARLabs, A-nger represents thoughts orbiting around a paranormal geography through the use of satellite 3D digital model of Taiwan. There are nine folk legends from different cultural groups with distinctive geographical backgrounds. The imagery of the mythical beings here is combined with works in seven different forms— CHANG Ki-Ya's illustration, texts from Witch Way by Badai, script adaptations written by LO Chuan-Chiao and WANG Chia-Ling, the eight-channel soundscape in LI Ling-Zi's Illusory, videos recorded at Tamalakaw Village and Ligavon Path by Kent CHANG, director of Kent Animation Digital Independent Production, Inc. and rendered by NCHC, NARLabs, and the bleacher-like structure imitating the slope of Mtn.Tamalakaw created by the architecture team—and placed next to HSU Tzu-Kuey's 6 monster sculptures. In my opinion, this has gone beyond how traditional "art-making" works. It may be more appropriate to define it as "cultural fabrication" conducted by a heterogeneous collective, the aim of which is to allow new sensitivities beyond conventional folkloristic narrative when one approaches Taiwanese monsters and the mythical. By merging together geographical knowledge, the darkness within individuals, the soundscape of mythical beings, a fresh first-person gaze of the mythical is forged. It is this gaze which leads the audience to experience flying, feeling, exploring and questioning in the exhibition, and to further foster an Anthropocene cosmology implied in aboriginal socery tradition under modern urbanization in order to comprehend the operation of "Yao-Chi" universe. The aboriginal sorcery cosmology doesn't disappear completely throughout the course of time. Instead, it can be a potential spectral heritage for future developments of Taiwanese demonology which is worth being revitalized with a contemporary take.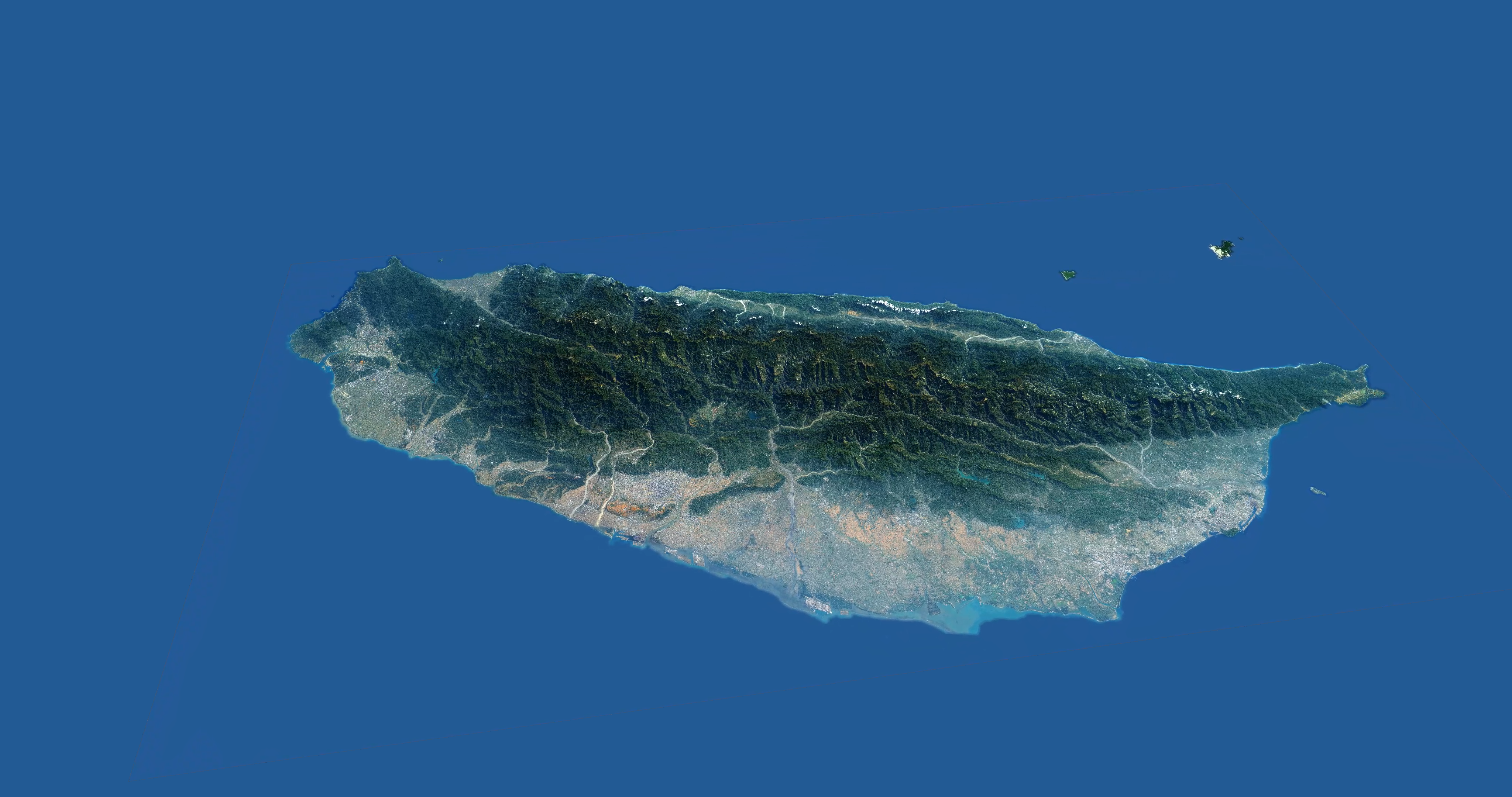 A-nger represents thoughts orbiting around a paranormal geography through the use of satellite 3D digital model of Taiwan. Photo provided by Yao-Chi City: Taiwanese Paranormal Literature and Contemporary Art Exhibition
For example, a contemporary punctum comes into being in the images of A-nger. If the audience pays careful attention to the start and the end of A-nger, they would see a semi-transparent spirit Yigule floating to a small-flowered camphor tree. For me, the big hole in the root of this tree forms a punctum in the image. After looking it up, I realize the tree in fact is a victim of illegal logging in the Ligavon Path area. One month after the start of the exhibition, through a TV documentary series "Our Island (Episode 807, Hinoko Neighbors)" made by PTS in 2015, I learn that the big hole is a wound via the detailed explanation by Ligavon Path Guardians and PTS. That is to say, Yigule is actually standing next to the wound of the spirit of this small-flowered camphor tree. Like Badai's Witch Way, it is not merely about sorcery tradition in the past. It is about the question of traditional territory of contemporary Taiwanese species in forests in the mountains, which is possibly more significant than an anthropocentric worldview and cosmology. If it were not so, we wouldn't feel the resonance with the environment —almost a transcending religious experience— and wouldn't think that "the river is crying silently" when we see the River God bathes and throws out a lot of junk in Hayao MIYAZAKI's Spirited Away. The view one sees while flying in A-nger, too, aims to create a geographical representation, soundscape and inner landscape of Taiwan gazed at by the mythical beings.
As for the illustration Ruffling Celestial Feathers by CHEN Guan-Liang, another origin of visual arts and visual culture related to spectral subject matters is explored: folk painting. The original draft of Ruffling Celestial Feathers is created by a young influencer illustrator Zakurokun. Since he is not constrained by the role of contemporary artist and the logistics of museums, he generously donates his draft of Wisdom King for us to further develop the visual theme for "Yao-Chi City." Through the puppet master SU Jun-Ying, we visit the small studio across the street of Ming Hwa Yuan Arts and Culture Group in Chaozhou Township for four times during night time in order to get to know CHEN Guan-Liang, the theatrical scenic painter working with Ming Hwa Yuan for over twenty years. In front of the wall in his studio which crumbles with thick paints, we discuss the main visual theme of the exhibition.
CHEN Guan-Liang then leads me to a world of folk religious painting tradition spanning over 500 years. He shows us a big catalogue, Ming Dynasty Shui Lu Paintings at Bao Ning, which includes Shui Lu Paintings in Shui Lu Hall in the Bao-ning Temple in Shanxi, China, carefully mounted onto silk bases on the walls and decorated with pink and yellow flower patterns: "Heavenly garment flutters, walls shaken by the wind; tied hair and gray sideburns, fly and float in the air; muscles burst, bodies are well built; strong yet absurd, skin and blood are shared. (page 2)" These paintings of deities, buddhas, ghosts, ghouls, hell and heaven that are deeply influenced by Buddhism are for the use in seven-day-seven-night ceremony. In addition to expressing the love for the deceased and comforting people who face loss and oppression, they also reflect conflicts and suffering in society in the past.
Bao-ning Temple is constructed in the late 15th century. The temple murals that are different from landscape or bird-and-flower paintings are deplored by the intellects at the time. Therefore, anonymous craftsmen specializing in painting and sculpture are hired to paint the murals. Their techniques are passed on to generations—They draw upon ancient painters and learn from each other. Before the Sui and Tang dynasties, murals are painted directly onto walls of temples. In the North and South Song dynasties, it becomes more common to paint on silk and fabric, whereas portable scroll gains its popularity in the Yuan and Ming dynasties. (Introduction, CHEN Lien-Cheng)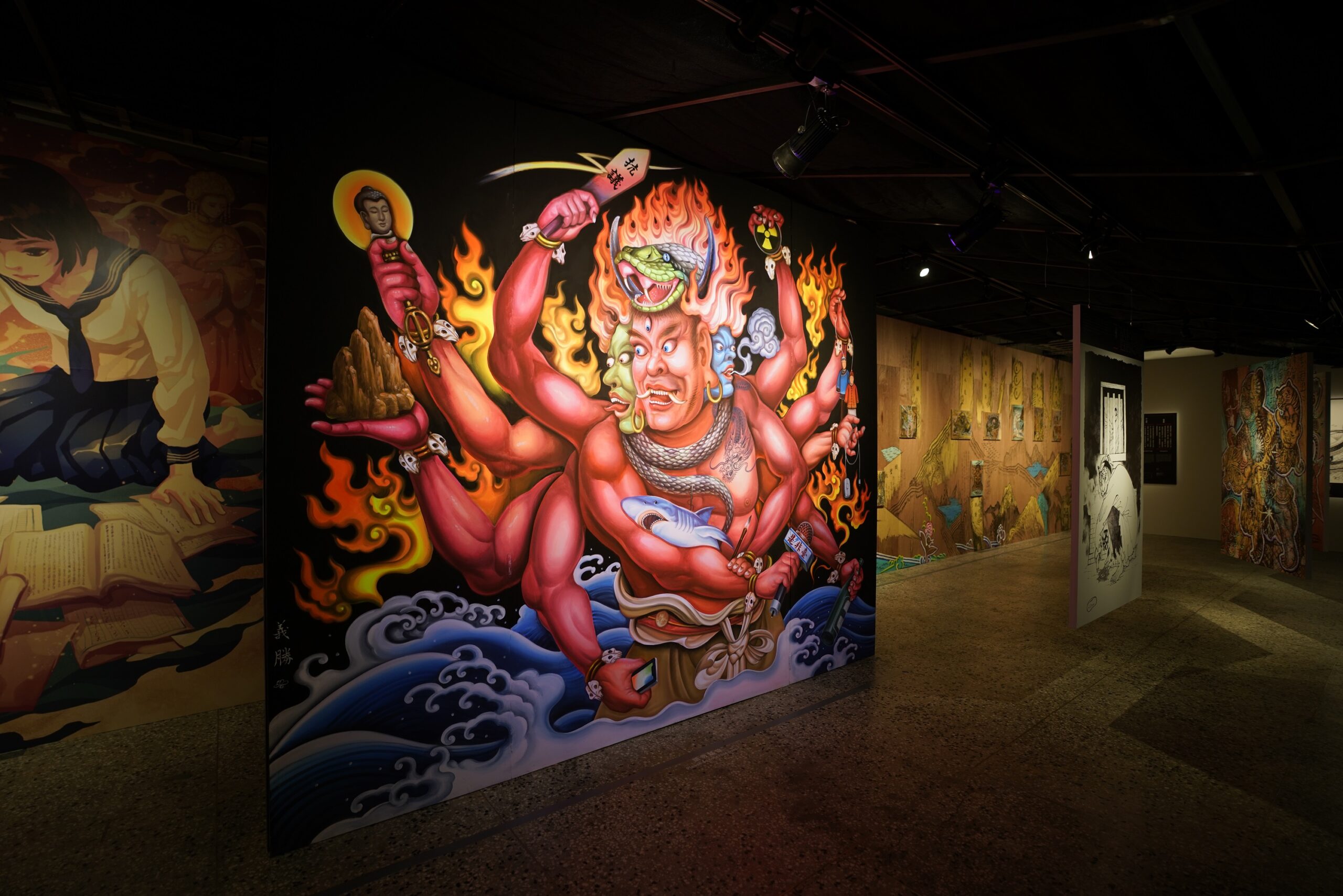 CHEN Guan-Liang's Ruffling Celestial Feathers. Photo by CHOU Shi-Bin
With CHEN Guan-Liang's Ruffling Celestial Feathers in the exhibition, I have the chance to learn more about Buddhism, including concepts of the transfiguration of Wisdom King, Arhat, Sūryaprabha, Dragon King, as well as Asura, beings (sinners) in hell, lingering spirits, neglected ghosts and deities, all of which has greatly amazed me. Moreover, the attempt to bring contemporary motifs into the painting is one of our major focuses in the discussion. CHEN Guan-Liang then creates a figure in Ruffling Celestial Feathers with ten tentacles holding symbols of nuclear power, media, smart phone, computer, population aging, land use, newly-emerged cult, social movement, addiction, and marine resources. The choice of fluorescent paints, in addition, speaks aesthetically to the scenic paintings in Taiwanese folk tradition.
What's worth noticing is that Ruffling Celestial Feathers is a triptych painting. Compared to The Garden of Earthly Delights, a triptych from 500 years ago by Hieronymus Bosch, the cosmology and religious tradition from which Ruffling Celestial Feathers originates seem to share some similarities. It is a world before folk religions are rationalized, modernized and unified whose cosmology entails the coexistence of humans and the mythical. And the "cosmological specificity" implied in folk religions suggests a non-human-centric worldview. Human beings, animals, gods, ghosts, wars, ecosystem are presented in a chaotic world not yet rationalized but disrupted by Enlightenment, while the wisdom of folk religions and shamanistic views on environment constantly warn us against catastrophes induced by human's greed. Bruno Latour, the philosopher who urges reflection on the "Anthropocene," says "We have never been modern." In CHEN Guan-Liang's Ruffling Celestial Feathers, the concept of "us" is turned into ten different tentacles, hinting that "we" are not able to reconcile with our environment and our fragmented identification in present days. This may well serve as a starting point to reflect on contemporary society through a paranormal worldview. Discourse of ghosts, monsters and mythical beings can be a platform in such a broken natural and social environment for us to look for a fresh hybrid identity by exploring the future library designed for cultural experiments.