What crosses your mind when it comes to a museum—a place where the AC system is set to an extremely low temperature, a place exhibiting funerary objects, a depository for antiques, a dimly lit place unfriendly to people suffering from nyctalopia, or a family-friendly place during holidays? Whether the aforementioned viewpoints implicate the practical functions or they imply the stereotypes of museums, do you believe that they all have something to do with museology? However, museology as a discipline and museum as a keyword have been out of the public spotlight to date. They wouldn't garner public attention until they become news events, such as "whether museums should charge for admission," "what the ticket price should be," "a visitor damaged the artifact for reasons of taking pictures and check-in," and "whether the National Palace Museum should return its artifacts to China." Nonetheless, just like the humanities, the so-called "museology" remains quite unfamiliar to the public. Nowadays, available options for knowledge sharing increase thanks to the emergence of new media. When people search "The Museum Bar" on Facebook, they will discover a whole new world of museology which encompasses polices concerning museums at home and abroad, and museum-related information such as introductions to artworks and return of artifacts. This generous platform states its mission as follows: "Knowledge sharing is the prime objective of 'The Museum Bar,' since knowledge is a public good." In addition to its thought-provoking contents, its humorous reminders make people wonder how many curators it has and who they are.
An Online Platform Run by One Person
Coinciding with a viral post about the five ironic "mascots" of Taiwan (i.e., "the East Mouse, the West Melon, the South Fish, the North Bird, and the Central Lich King") that emulate the "Five Greats" selected through the martial arts contest  atop Mount Hua in JIN Yong's novels, an online platform shared the mascots released by the Mercedes-Benz Museum in Germany. Instead of a meme, the latter was posted on a Facebook fan page created by GUO Yi-Ru, a native of Kaohsiung who graduated from the Department of History, National Taiwan University and earned her master's degree in museology from the University of Leicester. She used to engage in artifact studies in Tainan and now works on museum-related projects in Kinmen. This is the introduction to its team members. Yes, you heard it correctly! This fan page, a mine of information which has attracted more than 20,000 fans in less than two years, is run by a single person, GUO Yi-Ru. Museology and historiography are similar in their research objects, namely the relations among people, events and things in different places and periods of time. Nevertheless, apart from handling "objects," museology must respond to the social milieu of its time and cultivate its relationships with the visitors. Learning from doing is more important than applying what you've learned. I cannot help wondering what prompted GUO to establish "The Museum Bar."
"Is working in Kinmen a gravy train? You have so much time as to run a fan page!" "Absolutely not! I'm actually very busy!" (Here should be followed by another nine exclamation marks.)
Facing my question, GUO directly pointed out most people's misunderstanding and imagination of local museums in Taiwan. She also seized this opportunity to inform us of how closely a museum's four main functions—collection, research, exhibition, and education—are linked with its administrative structure. Local museums often suffer from limited personnel quota and tight budget along with their remote locations. Therefore, the difficulties in their marketing and maintenance are far beyond most people's imagination. "Kinmen's western-style buildings are classic, Kaoliang liquor is mellow and rich in flavor, blue tears are dreamy, and short-necked clams are tasty. Nonetheless, all walks of life have their respective challenges!" Her professionalism as a museum staff finds vivid expression in her sharing of the joys and tribulations at work and her life experiences in Kinmen. "Museums are important assets. However, they are predisposed to overestimate themselves over the course of time. It's a real shame for a museum without visitors." As far as GUO is concerned, a museum is not just a place of work. Visitors' engagement is one of a museum's tasks. GUO seeks to explore the possibility of showing the public the importance of museums in a more convenient and convincing way.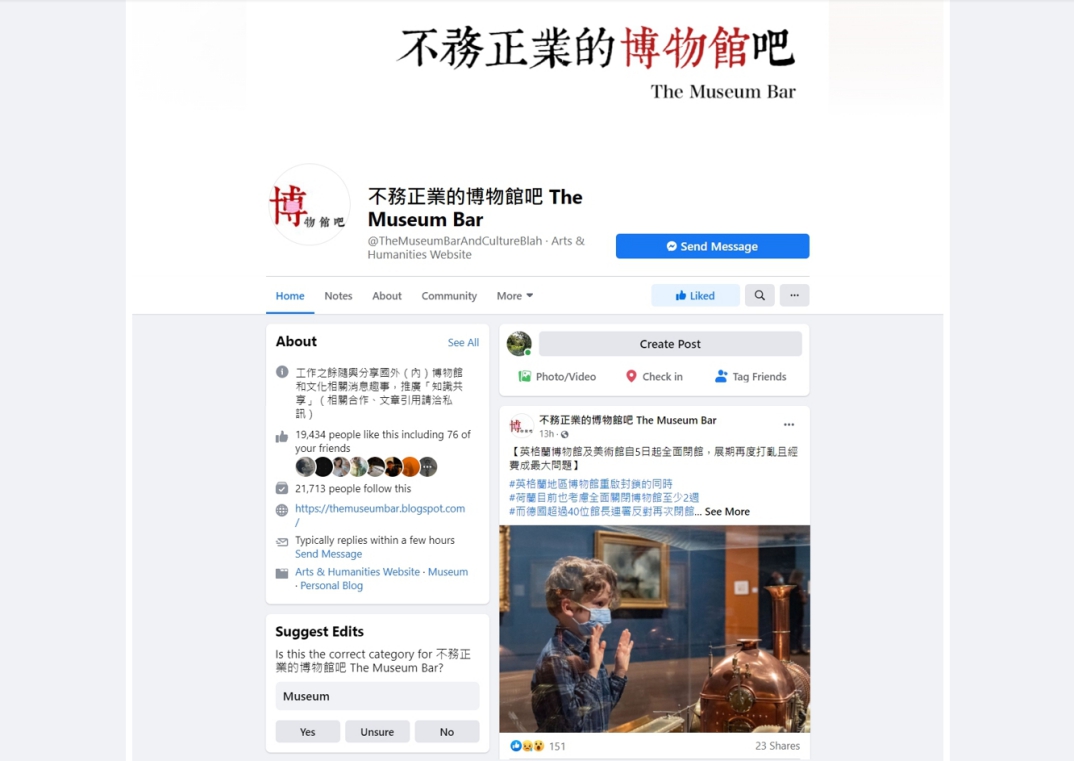 Posts and discussions on the fan page "The Museum Bar." They are not only GUO's sharing of her self-teaching, but also museum-related knowledge that encourages those interested in museums to think in diverse ways. Image: screenshotted from the fan page "The Museum Bar"
The Mandarin Chinese speakers who visit "The Museum Bar" may find its contents are more relevant to our daily life and capable of keeping up with the current trends in Taiwan.
Another reason behind her decision to create this fan page was her internship at the British Library. She participated in "The Endangered Archives Program" during the internship, from which she learned the concepts of "cultural equity" and "knowledge sharing" that in turn prompted her to contemplate how to put the idea of knowledge sharing into practice in our quotidian existence. Setting up a Facebook fan page came to her mind naturally. "The circulation of museological information is quite restricted, while a fan page affords me greater freedom to share the information I digested in addition to its timeliness and wide reach." This is why the Mandarin Chinese speakers who visit "The Museum Bar" may find its contents are more relevant to our daily life and capable of keeping up with the current trends in Taiwan. It's exactly such a drive for self-teaching and sharing that makes GUO enjoy running the fan page and never get tired of it.
From Naval-gazing to a Wider View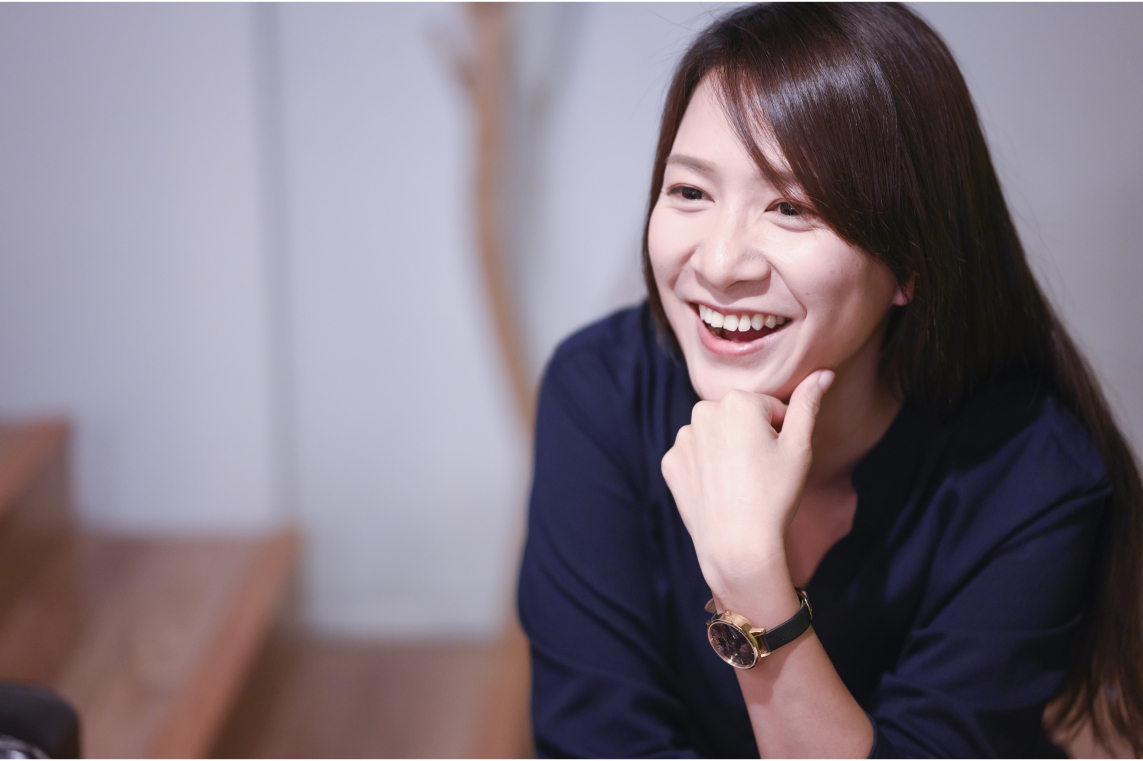 "The Museum Bar," a Facebook fan page run by GUO Yi-Ru, has attracted many loyal readers in less than two years. Photo by Anpis WANG © C-LAB
This article has refrained from treating "museology as the basis for a competent fang page curator." However, I can't help linking the orientation of "The Museum Bar" to GUO's expertise and personality traits when I learned that it is run by herself. "I specialize in cultural heritage interpretation, war heritage interpretation in particular. I also pay attention to the exploration of human nature." I had no idea about the special subject of "war heritage interpretation" until I interviewed GUO. "War history is not the full picture of wars. I focus on the connections between wars and the later generations as well as the traumatic memories of wars. This is also what I'm interested in," GUO further explained so.  As the famous remark suggests, all history is contemporary history. There are many ways to interpret artifacts in museums. A gun, a helmet, and even a flag could be trophies of victorious soldiers or intestate property of defeated soldiers. There is only a very fine line between victory and defeat in historical interpretation, and no clear consensus exists over the definitions of invasion and defense. Such a logic applies to the posts on "The Museum Bar" as well. Instead of preaching about "the ways other countries deal with this issue," "The Museum Bar" foregrounds "different ways people around the world tackle similar issues and the ensuing differences," based on which it guides the visitors to reflect on the current situation of Taiwan. It is not so much for knowledge sharing as for difference sharing. Only in differences can we see ourselves.
Thus, the readers finally have the opportunity to acquire museum-related knowledge from "The Museum Bar." Since human body temperature, the carbon dioxide people exhale, and ultraviolet light are all harmful to the artifacts, museums tend to keep a low temperature and dim illumination, and the visitors have to admire the artifacts in glass cabinets from a distance. The policies of embracing family visitors and pets admission are closely related to the trend of new museology. Apart from the ticket issue, there has been heated debate about the appropriateness for a museum to host wedding ceremonies since celebrity LIN Chi-Ling did so at the Tainan Art Museum in 2019. "The Museum Bar" at that time also introduced similar cases in foreign countries, explaining that holding wedding ceremonies in museums is in fact a common practice. Moreover, "The Museum Bar" provided a "balanced report" on the information pertaining to, inter alia, space rentals, maintenance, and supporting measures. These cases have opened up new horizons and scope of thinking for us. GUO further expects those interested in museums to ponder over the reasons behind the formation of the multiple opinions and perspectives. "I'm truly interested in open-ended issues because they force you to think." As GUO described her research interest in war heritage interpretation, "The Museum Bar" is a perspective training base that helps you stop navel-gazing.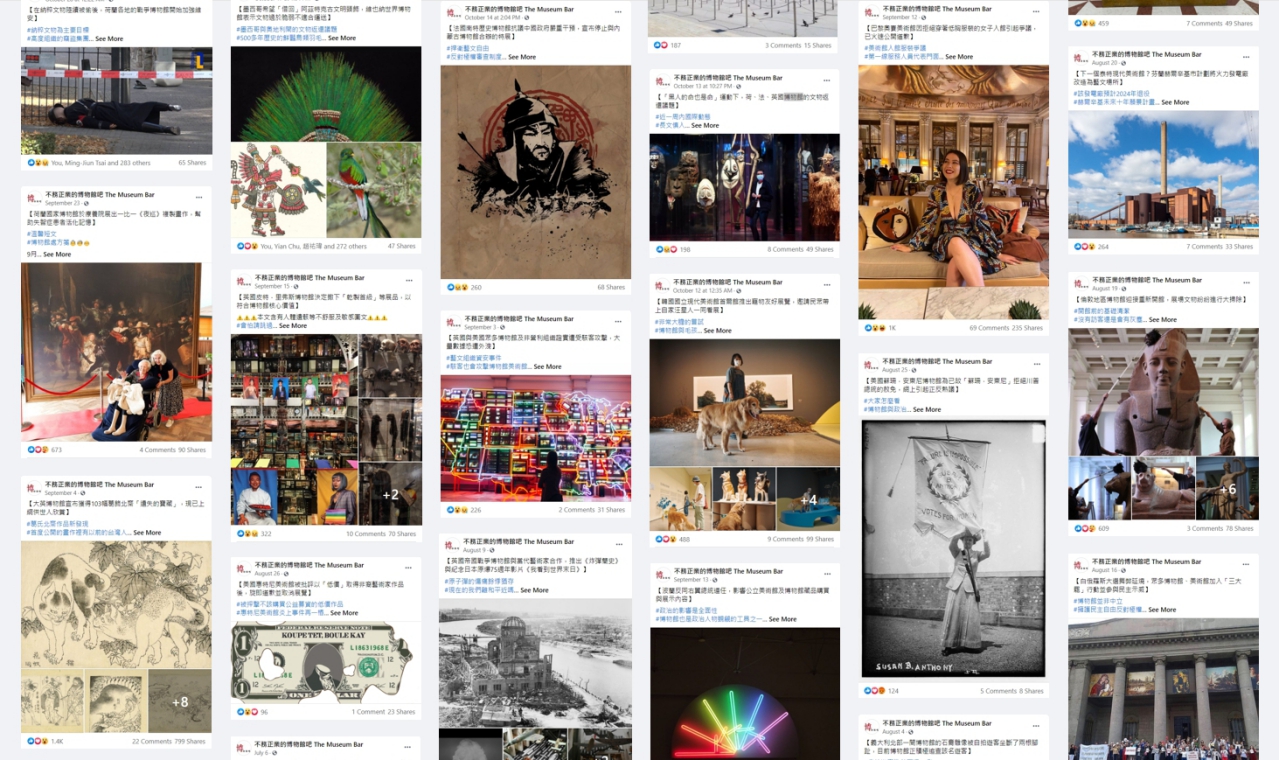 "The Museum Bar" shares cases and situations about different issues in foreign countries. It invites the readers to explore possible approaches that Taiwan may adopt by leaning from others' experiences. Image: screenshotted from "The Museum Bar"
I Just Have a Narrower Range of Interests
It was easy to find that GUO, as a museum practitioner, referred not simply to "herself" when she talked about herself during the interview. She takes on the duty of preserving human cultural assets, which is supposed to be museums' raison d'être. She on the one hand lamented that "enthusiasm is far more important than professionalism," and on the other hand mocked herself by explaining that she engages in museology "just because she has a narrower range of interests." To prevent museums from becoming national depositories, we should make them more accessible and understandable to as many people as possible. As technology improves every day, museums must respond to an increasing number of new challenges such as the transformation from physical museums to virtual ones as well as from the display of physical collections to their digitalization. On top of that, museum management has become even more testing under the impact of the devastating Covid-19 pandemic. No matter how protean or daunting these challenges may be, and regardless of the evolution of creative media, they are practically inseparable from interpersonal relationships. Whilst animated discussions on gender equality, transitional justice, and the return of artifacts are about to take place in Taiwan, "The Museum Bar" managed to share relevant foreign cases and situations in a timely manner. "The Museum Bar" invites the readers to explore possible approaches that Taiwan may adopt by drawing on others' practice. Listening to difference voices is a necessary quality for a museum practitioner as well as for a competent fan page curator.