"Looking up to the skies, we hear echoes from the mountainside, as if the moon is talking."
—the Buan is Talking Calendar (Buan Is Talking)
Established in July 2020, Buan Is Talking leverages the Facebook and Instagram platforms to raise awareness of issues relating to Taiwanese indigenous peoples. The social media group not only actively responds to and offers insights on current affairs, but also distributes infographics for policy advocacy and cultural exchange, inviting the greater public to engage through social media communications. Its wide-ranging and in-depth coverage requires long-term dedication towards indigenous topics, as well as clear speculative and writing skills. The complex and expansive project falls on a single person, a Bunun youth by the name of Talum Ispalidav.
"I see myself as a person who wields the pen as a scalpel, writing criticisms on the platform." Seeing that content creators of the same kind tend to favor a tone of positivism, Talum admits that his creative output is more cryptic and sometimes emotionally charged, a tendency faithfully reflected in his choice of topics. The moon ("Buan" in his native Bunun language) is an important medium in Bunun culture, and through words, the moon speaks, always casting a critical eye towards aboriginal issues, an unwavering voice that is both subtle and fiercely incisive.
Identity and Literature, the Cultural Practice of Self-exploration
Bunun by birth, Talum, owner of Buan Is Talking, is currently a graduate student at the Department of Chinese Language and Literature at the National University of Tainan. He possesses keen sensitivity towards the word, often expressing himself through poetry. He first learned about the indigenous students' club at the university where he became personally involved in social movements. He was the social media manager at the Indigenous Youth Front on Facebook, which provided him with relevant experience when starting up his own social media group. But the foundation of the platform can be traced back to his years in middle school, when he received preferential bonus points as an indigenous person and was being ridiculed for it. In his recollection, that was when the question hit him, of how he can confront discrimination when he can't even effectively communicate with others?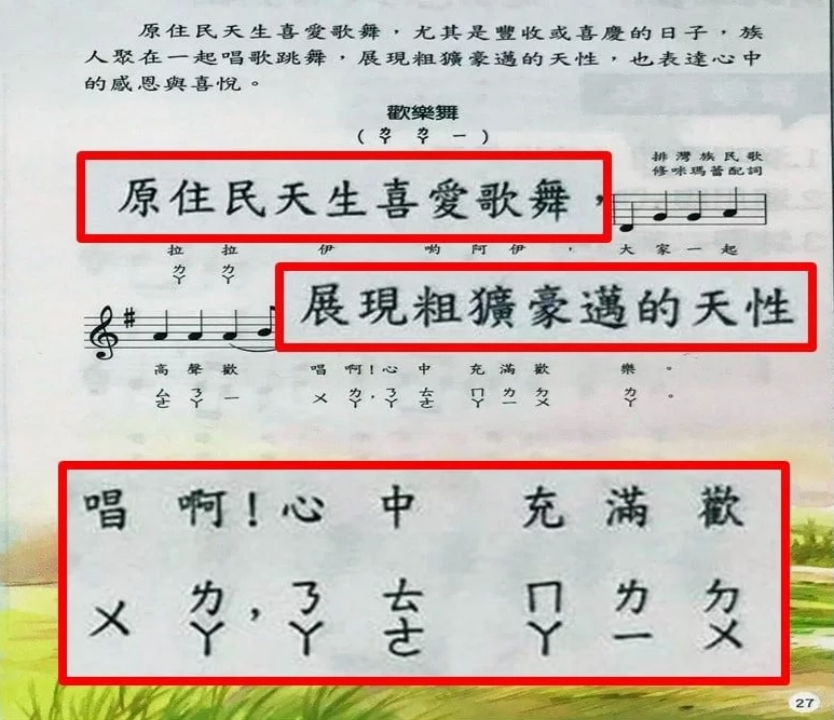 The lyric is about aborigines born with a desire for dance and song, and lyrics that use Bopomofo (Mandarin phonetic symbols) to approximate indigenous languages. Photo courtesy of Tainan City Council member Ingay Tali
Talum thinks that people have been conditioned to stereotypical views of indigenous peoples, so that whether they fit the preconception or not, they are subject to ridicule. Their paths towards self-identification are likewise laden with frustration.
"As I participated in indigenous movements, I came to understand what it means for me to be an indigenous person." Speaking from experience, Talum thinks that people have been conditioned to stereotypical views of indigenous peoples, so that whether they fit the preconception or not, they are subject to ridicule. Their paths towards self-identification are likewise laden with frustration. "It has been a unique journey of identifying oneself as an indigenous person, understanding aboriginal agency, social status, and accepting personal histories. It is not just about culture, but a sense of guilt towards the historical conditions of aboriginal peoples in which one must strive to take back what has been taken away."
Buan Is Talking then became a path for his slow and tortuous journey back to the tribe, the cultural practice of self-exploration.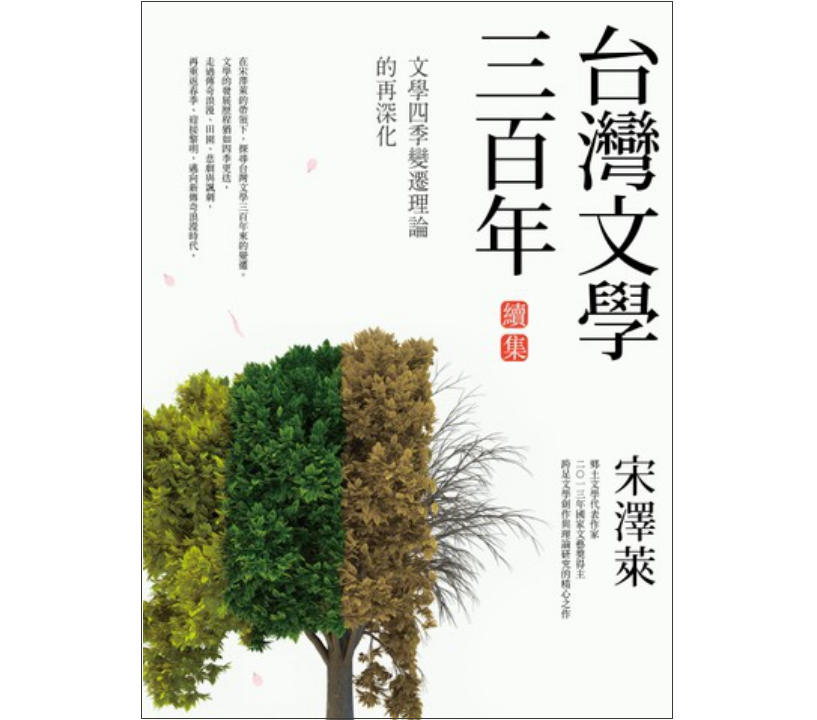 SONG Ze-Lai in the work 300 years of Taiwanese Literature (the Sequel): The Seasonal Progression Theory Extended applies the seasonal progression theory to Taiwanese literary development history, positing the view that aboriginal literature has not yet entered the "winter" of political satire. Photo © AVANGUARD Publishing Group
Another reason for setting up the group was related to literature—which was also why Talum chose to list the group under the "Literary Arts" category. Writer SONG Ze-Lai in his work 300 years of Taiwanese Literature (the Sequel): The Seasonal Progression Theory Extended applies the seasonal progression theory to Taiwanese literary history, quoting the writers Malieyafusi Monaneng and Walis Nokan to point out that aboriginal literature spends the bulk of its time retelling the sadness, being stuck in the "autumn" of pity, thus unable to progress to the "winter" of political satire.1 Talum disagrees with SONG's viewpoint and has debated over the issue with him on the internet, arguing that the "autumn" of pity is because of the indigeneity, which values conversation and progressiveness. The aborigine movement has two stated goals: first, to take back their land, and second, to achieve self-governance—neither of which have come to fruition. For them, aboriginal literature is not an appeal to sadness, but "to use the literary voice to tell and to reconstruct our reality, because these are actual, preexisting conditions."
Talum further points out that as times change, contemporary aboriginal literary works such as MA Yi-Hang's The Languages from the Mountains/To Become Sandie and Apyang Imiq's Growing up in a Tree Hollow have deviated from the "canonical" style, incorporating more intricate and intimate experiences into the accounts of tribal histories, offering a wider scope of representation. Talum redirects his deep understanding and fascination towards literature into running the social media group. "The reason I created this kind of social media group is to reveal different aspects of aborigines as individuals…this is an attempt to combine aboriginal literature and the development of contemporary aboriginal movements. To me, the radical and reformist are manifestations of the true personalities of the indigenous peoples."
A Solo Effort in Political Advocacy against Discrimination
The content of Buan Is Talking was conceived independently by Talum, by first setting the agenda, reflecting on the level of personal attention he has spent on the topic, and searching for perspectives of discourse through news reportage. He is currently occupied by topics such as rectification of tribe names, anti-discrimination law, and land and sea rights, and also responds to other current topics as he deems necessary. As the sole owner and social media manager, he is free to take on new issues as he wishes. Yet there is a fear of presumptuous authoritarianism and limited perspectives to his work, so he needs to solicit suggestions and feedback from his friends. Ultimately, Talum wishes to open the social group to more participants to create a healthy ecosystem where personal healing can take place.
"People follow topics on the internet, but in real-life campaigns, the impact of their actions is quite limited, leaving them feeling powerless." Talum revealed a period in which he experienced crippling fatigue, when the more he learned about the historic fabric of aborigines, the more he was overcome with an incapacitating sense of sadness. He wondered if after all he had done, things had stayed the same. He now thinks that these feelings as being normal for indigenous peoples today, and has since adapted and transformed these experiences into content such as perception practice for the platform.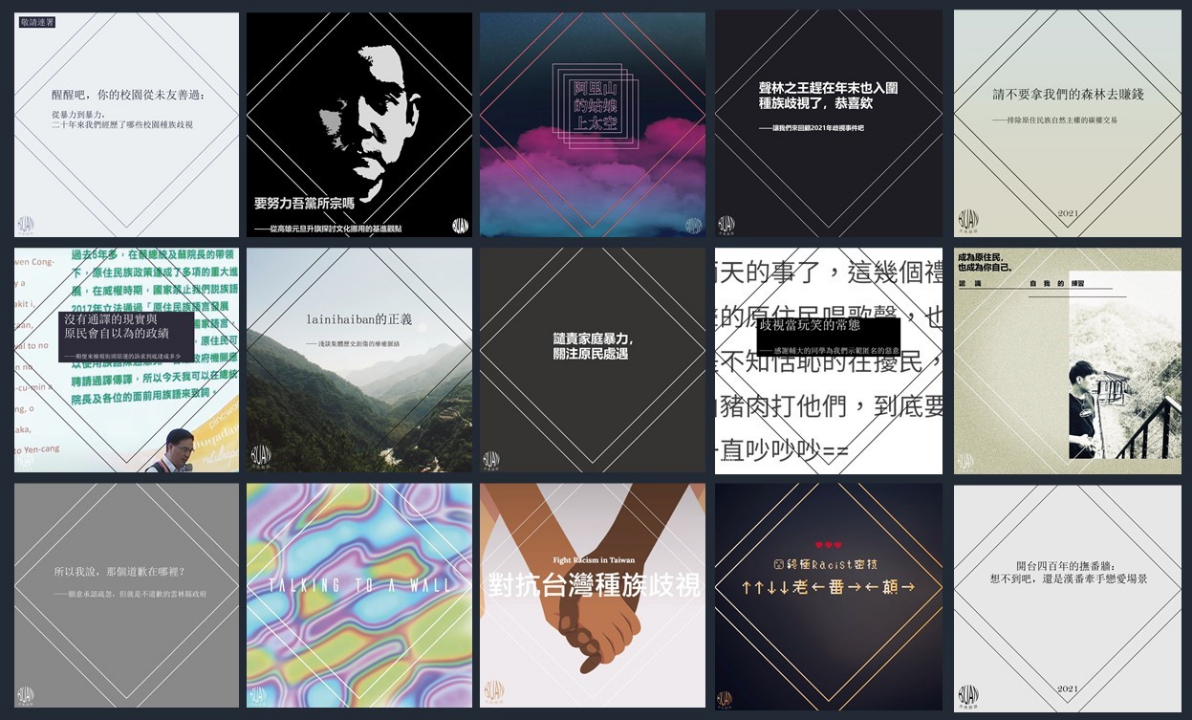 The Buan Is Talking Calendar operates primarily through current events analyses, policy advocacy, and community interests. Talum Ispalidav often publishes concise posters to communicate complex and diverse topics. The images shown are a collage of these infographic posters across a variety of topics from the Buan Is Talking Calendar. Image compiled by Taiwan Contemporary Culture Lab
Buan Is Talking has undoubtedly won its share of positive feedback and has brought about actual change. Once a group of students approached Talum to collaborate on a pictorial exposition of the state of "preferential bonus points policy" for aborigines. Through the process, many have shared their life experiences, which was especially touching for Talum. "The difficulty of advocacy platforms is dealing with divergent expectations on various topics, as well as the difficulty of achieving in-depth discussions, so I would not expect the platform to scale tremendously. At least there are people open to mutual perspectives and willing to further share their ideas."
In 2021, pop singer Ella made a controversial remark2 at the press conference of the Taiwanese film Listen Before You Sing. Buan Is Talking criticized the incident online, which directly or indirectly resulted in a prompt apology from Ella herself and the production team. Talum says that he brings up this event as a positive example of apology. Without any deflection of responsibility, the persons concerned focused only on the language that was used. This stands in contrast to last year's Golden Bell Awards, where attendees in aboriginal attire were the subject of taunting descriptions of "baring their buttocks,"3 for which no member of the press has offered apologies. Documenting overt or veiled discrimination, Talum produces posters that lay down and convey those instances: "in my experiences growing up, there was no concept of anti-discrimination educational materials, so I had to make my own. A friend of mine saw the posters and came to realize that discrimination really does exist in Taiwan, as if it's something to be verified."
The Media as a Path towards Empowerment and Collective Healing
In the initial conception stage of Buan Is Talking, Talum attempts to interpret contemporary literary works using Bunun vocabulary, offering an oblique view that contrasts with most literary works' Han-centered view of indigenous peoples. Yet such endeavor requires much preparatory work, hard for a single person to take on. In comparison, researching into the issues, while also time-consuming, produces deeper resonance and interchange due to their publicness. Thus, the platform evolved, from its original methods of interpretative writing to an amalgamation of concepts and their topical presentations, for example: combining sustainable development goals of aborigines and ecological concerns in a call for underprivileged groups' voices to be heard in climate change policymaking; or flipping the logical structure of the dominant Han language, such as the sweeping expression "lāu-huan-tian," which exists to ridicule someone as a curmudgeonly aborigine with discrimination against age, race, and disease.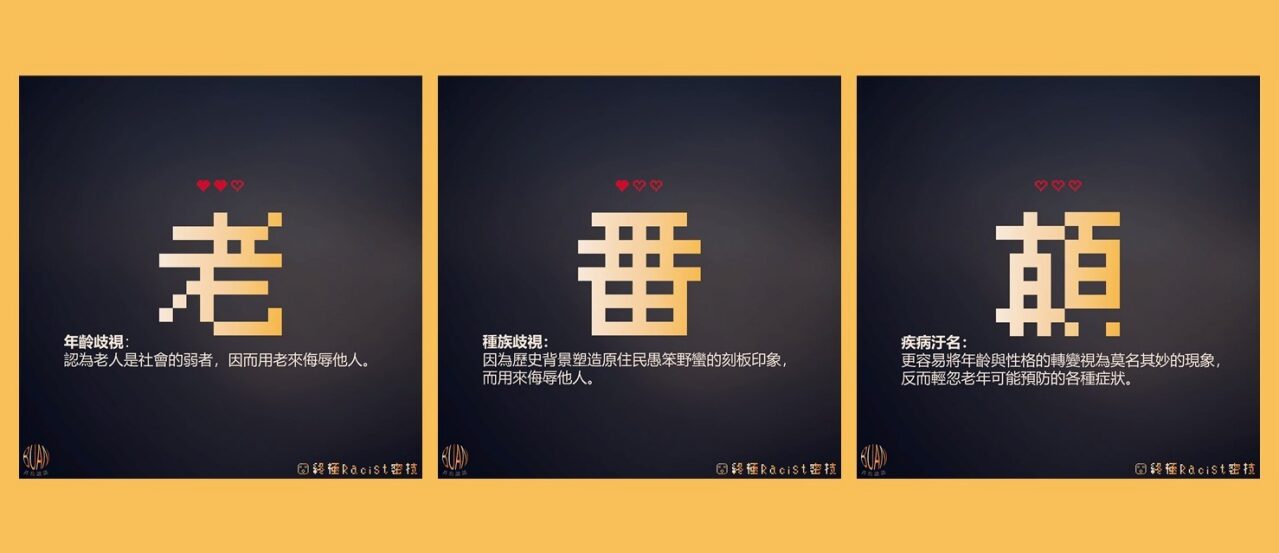 Talum Ispalidav mentions that people may use the sweeping expression "lāu-huan-tian" to harbor multiple discriminatory thoughts against age, race, and disease. Image from the Buan Is Talking Calendar. Image compiled by Taiwan Contemporary Culture Lab
"Even if we can't have reconciliation, we can impart the understanding that wounds remain, as the most difficult task is to tune in to the experiences of others." Online discussions inevitably lead to clashes, and in the example of the preferential bonus points policy for aborigines, one of the comments pointed out that aborigines themselves are the ones with vested interest in the policy, while others insensitively caricatured aboriginal speech in taunting imitation. Talum admits having "lashed out" at unreasonable or unreceptive persons, his contentious nature earning him the nickname "furious social media manager." He laughs at himself for getting into fierce debates with others even to this day, but has since come to terms with their perspectives, and is thus able to use the platform in addressing even more situations. "This is important because while we cannot fully communicate, we are able to use a more rational approach in trying to communicate. Just acknowledging where one's rage comes from is quite the achievement."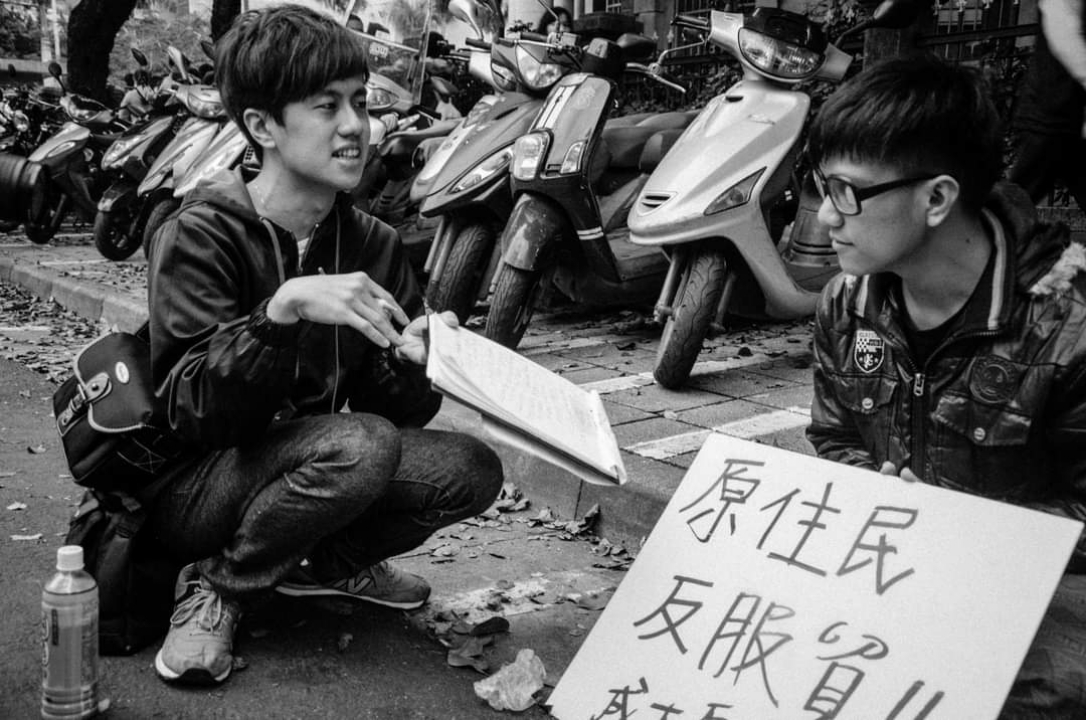 Picture of Talum Ispalidav (right) at the anti-Cross-Strait Service Trade Agreement Movement, captured by the Your eyes, Your ears news forum. Photo courtesy of Talum Ispalidav
Talum uses the media as a path towards empowerment and collective healing. Before a remedy has been found, one must first locate the place of the trauma, and find out the cause.
Continuing in this line, Talum uses the media as a path towards empowerment and collective healing. Before a remedy has been found, one must first locate the place of the trauma, and find out what caused it. In the end, Buan Is Talking attempts to offer alternative thinking for the discriminated and perplexed, through discussions of policy changes rather than directing blame towards the oppressed, working through advocacy to impart change within the system.
On the topic of tribal names, he brings up the example of Chinese Professional Baseball League player Giljegiljaw Kungkuan, and his "difficult to pronounce" name. Despite his appealing to the public to call him by the shortened forms of Giyab or Gili, the media largely refers to him by the Han Chinese transliteration "Giligilao." To overcome entrenched language customs, Talum's method is to advocate understanding towards aboriginal naming conventions, introduce the phonetic principles of each tribe, and ask entities to respect individual wishes to have tribal names listed on identity documents, even if some find it hard to pronounce.
"Taiwanese indigenous peoples once had the chance to form their own legislative body alongside the Legislative Yuan, similar to what the indigenous peoples of Canada had achieved." Talum admits that due to the limits of the social media platform, he hasn't done enough in the way of empowerment. He hopes to organize courses in the future to "not only construct knowledge systems, but unleash imagination towards political empowerment, allowing others to accomplish more than simply cast their votes or to stand in protest, and in the process mend historical rifts."
Afterword
During the interview, Talum often complains about the hardships of maintaining a social media group, so that it seems his dedication wavers. Yet in the process of expounding his beliefs, one comes to realize his deep determination and confidence.
As for other independent media initiatives similar to Buan Is Talking, Talum brings up the mapasnava Bunun saikin Facebook fan page and the Dear Han People podcast. Besides, he was invited to the Taiwan Indigenous TV program LimaHelp to talk about discrimination, positivism/negativism, and stereotypes. Through these self-initiated or invited exchanges, Talum and his peers demonstrate great devotion of personal will and strength towards the causes they believe in.