"It's unexpected to see someone dedicated to the research of 'tombs,' and quite unthinkable that in the process of clearing up BAO Zheng's tomb so many heart-wrenching, vertiginous, infuriating, and tear-inducing stories are uncovered."
—An Account of the Remains of BAO Zheng
We walked into Àm-khenn Culture Studio, which is located at the market on Ruyi St. in Ankeng, Xindian. The compact 7 to 10 sq. meter space feels comfortable and well-appointed: an antique wooden kitchen cabinet stocked full of hundred-year-old thread-bound books, several statuettes of unworshipped gods on display, and a Japanese colonial era tea table placed on a carpet. Unless one looks closely at the origins and histories of the objects, the place looks like any other workspace with a "lived-in" feel. The "lived-in" feel is what best describes "culture," according to Àm-khenn Culture Studio director GÔO Pik-uí. Even though the administrative name of the region is officially known as Ankeng or Ankang, in Pik-uí's father's generation, it was referred to as Àm-khenn among the locals for well over a century, and is the name that serves to connect ancestors and their surroundings. This is why the name Àm-khenn was chosen for the name of the studio when GÔO committed himself to research on the local culture in 2016.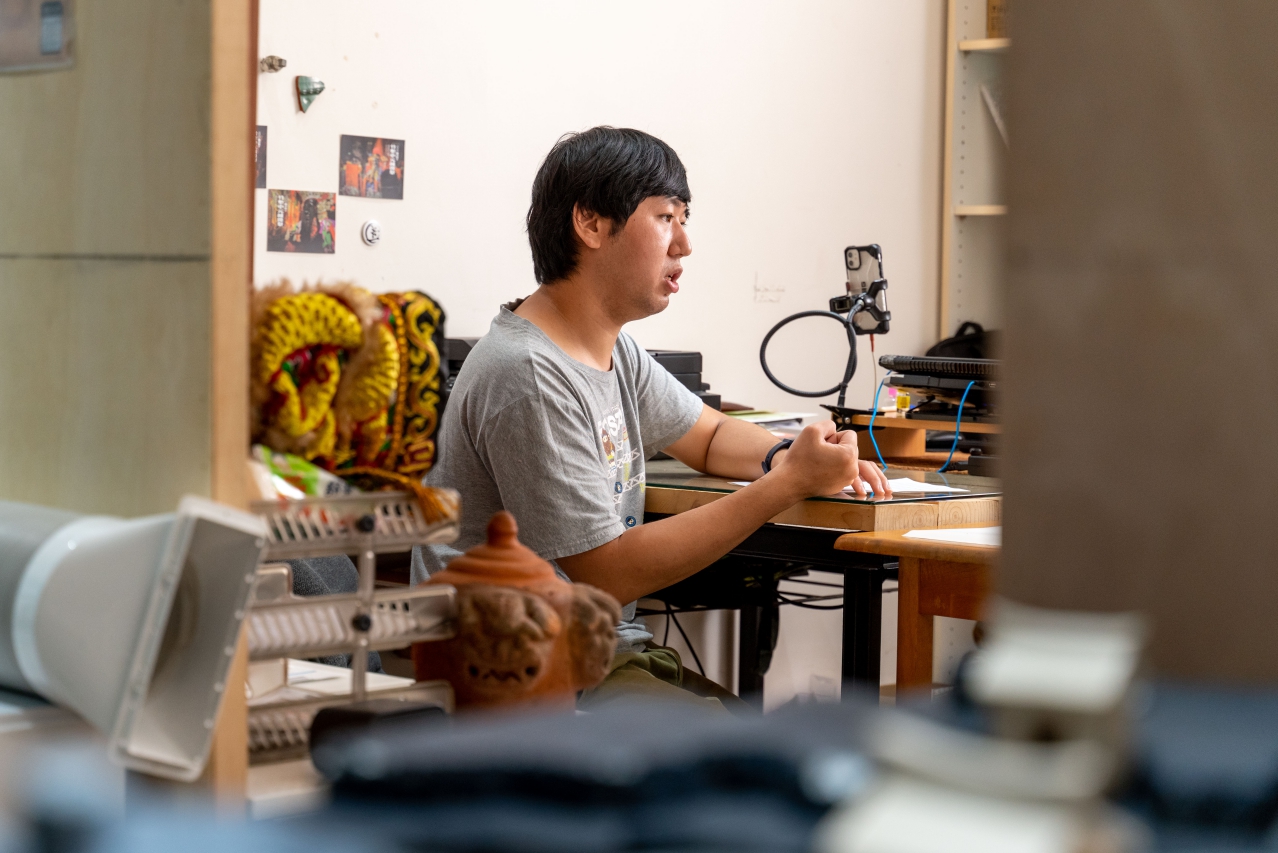 The modest 7 to 10 sq. meter space located at the market on Ruyi St. in Ankeng, Xindian, is home to the Àm-khenn Culture Studio. Photo by HSU Yu-Chien © C-LAB
The "lived-in" feel is what best describes "culture," according to the Àm-khenn Culture Studio director GÔO Pik-uí.
From Politics to Starting a "Cultural" Company
For many, their first impression of GÔO Pik-uí is his career in politics. He served as an assistant to a regional council legislator and ran for office on behalf of the Trees Party in 2018. But his intention had always been to build up cultural capital reserves for sustainable local development. He believed the most effective way of protecting the culture and the environment in Taiwan was to enter politics, reforming the landscape through legislation and ensuring the injection of administrative or financial resources.
Since 2016, his team at the studio has pondered ways of "intervening" in local culture. GÔO explored many different avenues, originally setting up the Impressions Studio, using the concept of "urban impressions" to help people better understand the place through videos and photos. While this makes for visually appealing presentations, it doesn't profoundly communicate the characteristics of the place or its hundred-year-old history, so he looked into alternative practices. In 2018, while running for office, he began participating in larger advocacy initiatives for cultural assets, such as the preservation of historical residences and old trees. There are many setbacks, including what he admits as the most frustrating admonishment he received in public of "there being no votes in tombs," and that he should "be ashamed of his pretentiousness." GÔO replied in all seriousness, "I cannot bring shame to my ancestors, even if it doesn't win any votes. That's what I care about."1
When winning votes has become the top priority, the stakes are made all too clear. But in Taiwan, cultural preservation isn't a commonly shared value, presenting a challenge for all preservation work. Thus, GÔO takes a different approach to speaking to the public, using the concept of "profiting from cultural preservation" to dispel misconceptions and aversions toward cultural preservation among local residents.
"Our actions are a form of social disruption, disrupting the Taiwanese people to reconsider and reconstruct their value systems. That is why culture must become self-sustaining or even profitable, to show people how cultural preservation works for the public good of the region and Taiwan," GÔO says. This has a catalytic effect on the team's approach, making their campaigns more flexible in introducing residents to the substantial and financial benefits of cultural preservation.
Since the Executive Yuan declared 2019 as "the first year of regional revitalization in Taiwan,"2 local governments put more effort into discovering regional strengths, encouraging young people to return to their home places to start businesses and live full-time. To accommodate returning youth, GÔO also explored the possibility of setting up a business, and thus the Tsng-thâu Culture Company came into being. GÔO's administrative and operational know-how allowed him to bid for government contracts and legally generate profits, reinvesting resources into the youth who demonstrate their passion and dedication toward cultural preservation.
Through its work on cultural preservation, the team came to understand the need of returning to the social unit of "tsng-thâu," literally meaning village region, thus "tsng-thâu" was chosen as the name for the company. Each tsng-thâu had its unique culture, and people in Xindian and Ankeng can be traced to their respective Quanzhou and Zhanzhou immigrant roots. Large and small tsng-thâus exist under these contexts, each carrying memories and identities of the places. GÔO emphasizes that "we hope every young person of each tsng-thâu would proudly proclaim the names of their home place upon their return."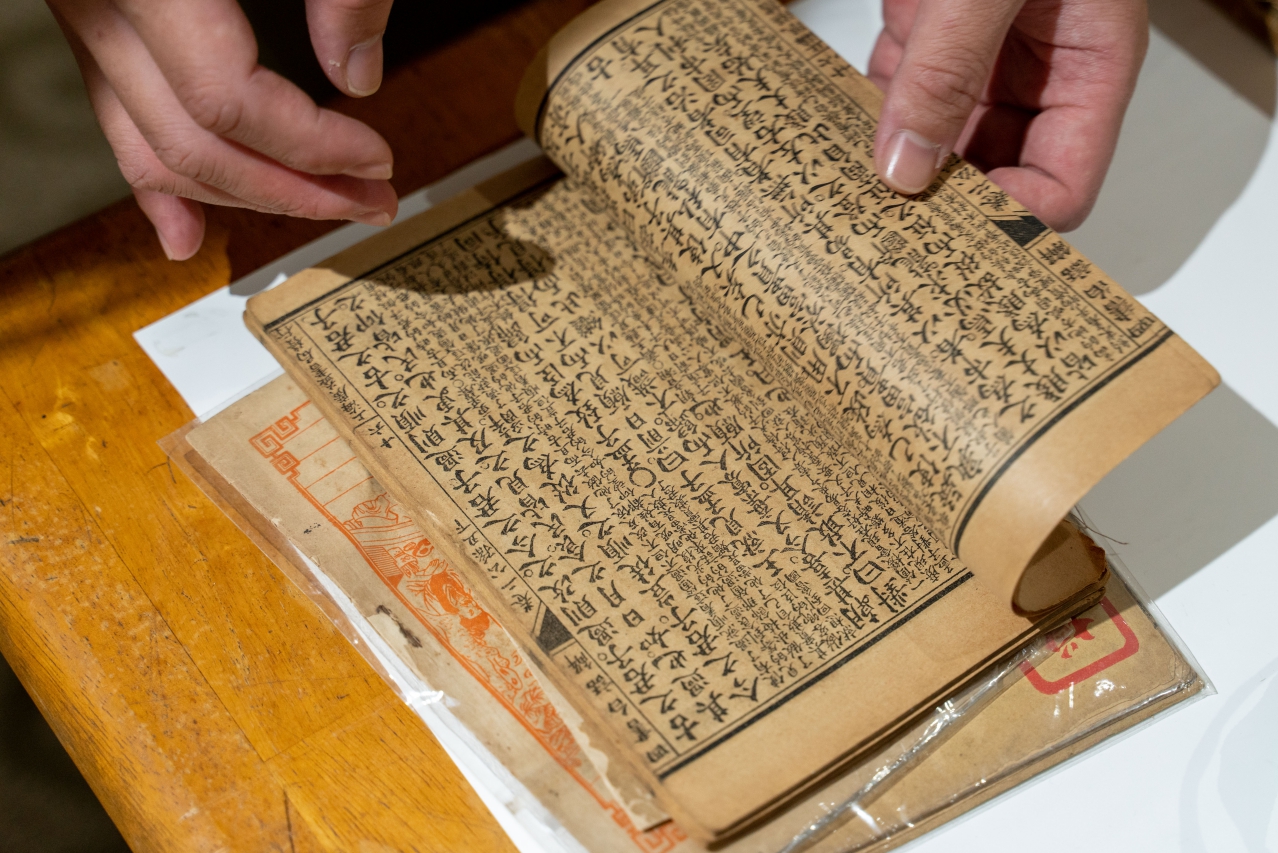 GÔO Pik-uí collects many antique items in his studio, including thread-bound old books over a hundred years old. Photo by HSU Yu-Chien © C-LAB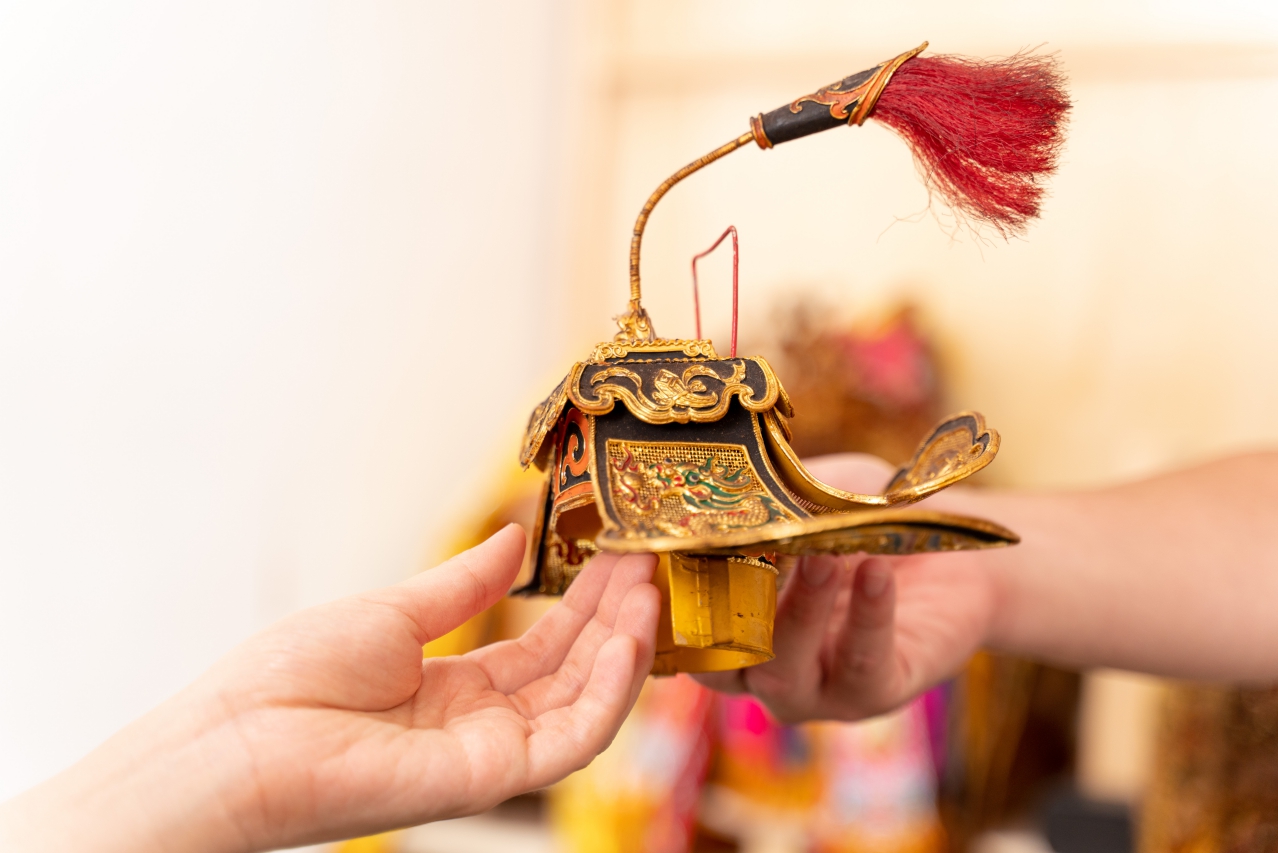 GÔO Pik-uí thinks that if cultural artifacts can only be displayed rather than touched by hand, they will drift further away. He hopes that people can feel with their hands and examine the fine details of the clothing and accessories of deities he has collected. Photo by HSU Yu-Chien © C-LAB
Cultural Work Begins with Taking the First Step: On Field Research and Site Surveys
In the practical aspect of cultural cultivation, the Tsng-thâu Culture Company has several well-established directions, the first of which is to conduct cultural research work, and the second to win government subsidies or organize study tours and promotional activities which generate revenue. The internal organization of the company was accordingly divided into the "Traditional Arts Group" and the "Expeditions Group." The primary task of the "Traditional Arts Group" is on arts and culture, such as research on the Xuanshe (folk music associations) culture once prevalent in the Ankeng district. Feeling the rapid decline of Xuanshe in the Ankeng area, the immediate preservation of traditional arts and culture has become one of their most pressing duties.
The creation of the "Traditional Arts Group" is related to GÔO's personal experience. His grandfather was a member of the local Xuanshe and played the part of Xiaodan. Because of this connection, GÔO was able to interview a contemporary of his grandfather, a past member of the Ercheng Xingyi She (the Xingyi Association in Ercheng) called LIAO Sin-Wang (91 years of age at the time of GÔO's interview), who played the part of Kudan, to understand the cultural development context at the time. This led to a special Xuanshe experience workshop at the Runji Temple in Xindian, which surprised GÔO that there were former members of the Xingyi Association joining in to share their past experiences, further cementing the importance and value of preservation and continuation of local traditional arts culture in the hearts of team members. Under these circumstances, the "Traditional Arts Group" turned its gaze towards an intermediate goal of traditional theater revival, setting the stage for community participation and working towards staging actual theater performances.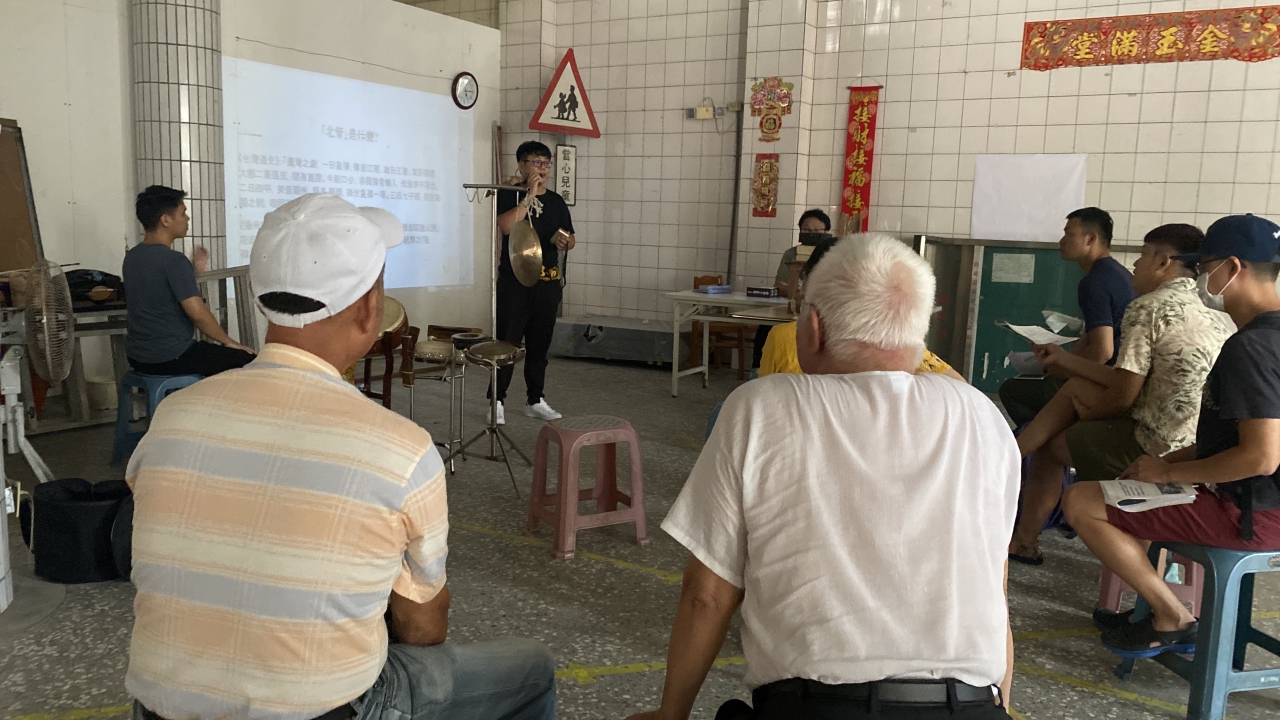 Àm-khenn Culture Restoration Project "A revival of Xuanshe, the colors of Xingyi." Photo courtesy of Àm-khenn Culture Studio
"Every tomb speaks of the connection among migration, migrant, cultural identity, and posterity."
—Oliver STREITER, Associate Professor at the Department of Western Languages and Literature, National University of Kaohsiung
As for the "Expeditions Group," due to the need for comprehensive field studies on the cultures of Xindian and Ankeng areas, their work comprises fieldwork and site visits to uncover clues into the lives of past residents. Due to the valley topography of Ankeng, researchers must cross mountains and streams on foot, especially when studying tombs, making each trip an expedition. "When we go on field studies of tombs, the trails are usually overgrown, so we travel in groups of three or four to clear a path in the grass, wielding scythes." At the end of last year, the team trudged through an undeveloped water system without roads, lights, and cell phone reception, coming across what looked like the remains of an Atayal tribal headhunting site. GÔO says, "in the past, indigenous peoples set out on expeditions from their settlements, setting up way stations for longer trips. Since Atayal sacrificial rituals included beheadings, the sacrificial alters can sometimes be found at the way stations." These events which were not officially recorded require extensive fieldwork to comprehend.
Field studies in the flesh and eye-witness reporting are important characteristics of the "Expeditions Group." To enter these untrodden and inaccessible sites, GÔO prepares an expedition kit for each member of the team. Furthermore, the team organizes classroom sessions in which they invite experts such as Taiwanese cultural asset researcher CHEN Shih-Hsien to provide lectures and training to participants.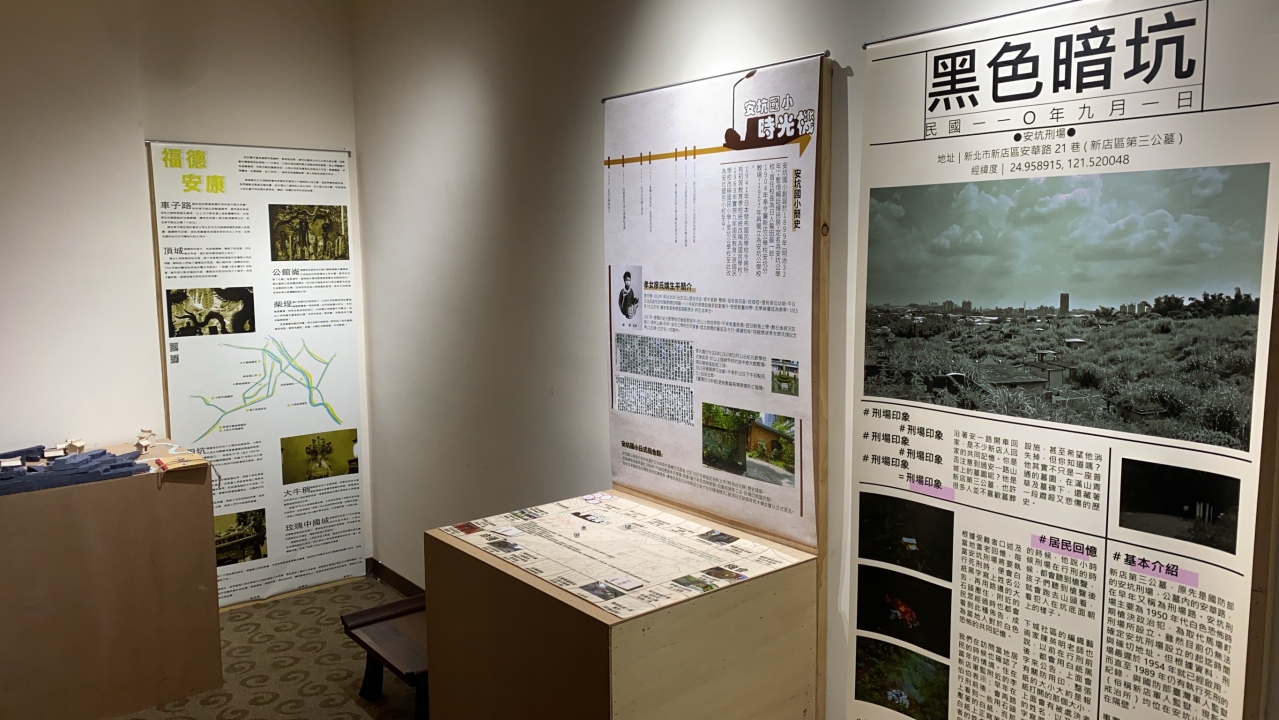 The 2021 exhibition "My Home! Àm-khenn." Photo courtesy of Àm-khenn Culture Studio
Also closely related to the "Expeditions Group" is the work of "cultural empowerment." The team brings tour guides up to speed in the areas of culture, language, and physical observation, enabling them to lead participants on a journey of understanding local histories. As an example, in the 2021 "My Home! Àm-khenn" exhibition, three team members each presided over a place and theme of discussion, and were provided with appropriate training workshops. But first there were the common training goals in grasping the basics of field studies and site surveys, the correct pronunciation of names and places, background knowledge of the places, a set vocabulary of historic terms for recognizing critical details of inscriptions at grave sites, and skills on how to connect with experts and organizations such as CHEN Shih-Hsien, LIN Po-Sheng, LI Shih-Kuang, and the Xindian Culture and History Exhibition office. These efforts equip members with the tools to draw upon vast pools of knowledge in Taiwanese burial culture, grave culture research, experiences of local residents, referring back to culture studies within the context of Xindian area to understand the lineage of graves and families and establish complete knowledge systems. To sum up, one must first conduct effective field research and survey of the site, exhaust evidence contained in existing literature, cross-reference the oral accounts of the elders, and present a learning model of the entire process for other participants to learn from.
For a company five years in the making, having been established for less than two years, the Tsng-thâu Culture Company has taken on a considerable number of projects. But GÔO's heart is still set on establishing a "cultural banking system." He explains that for historic houses, the hope is to preserve them in their current state. But for those torn down before they acquire higher cultural status, he proposes a system of cultural banking, allowing the architecture, construction techniques, and material features to be collected and studied for posterity, to understand the processes in which it was built and perhaps develop methods of how they can be rebuilt. But such a system relies on the support of space and equipment, and the burden that it weighs on the company's finances means it shall for the time remain GÔO's unfinished business and a future goal.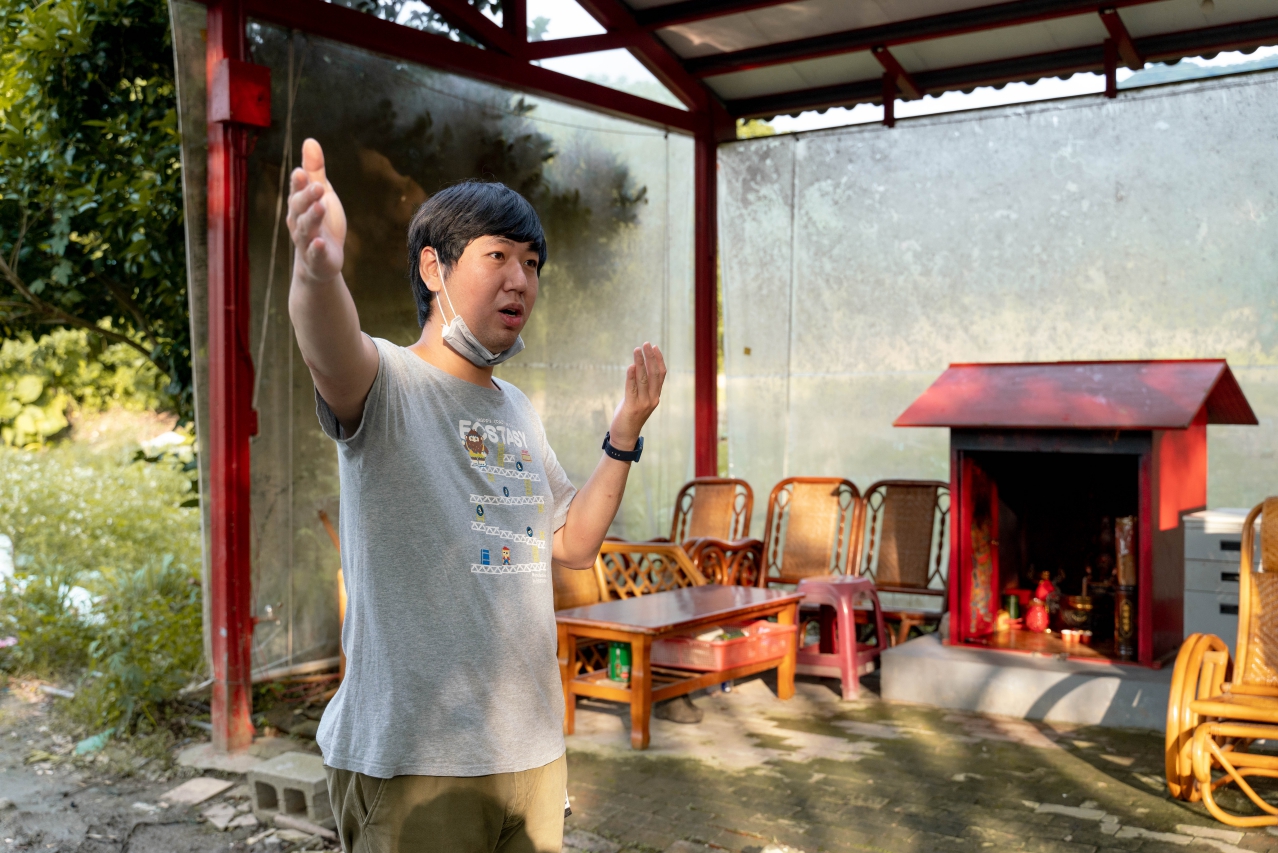 Due to his desire to preserve the culture of his home place, GÔO Pik-uí explored many avenues, using Àm-khenn Culture Studio as a base to preserve the local identity of hundred years. Photo by HSU Yu-Chien © C-LAB
Sifting through local cultural histories is a meticulous task, and preserving the various aspects of tangible and intangible cultural assets is also crucial.
Knowing Oneself through Cultural Work
As we can see in the above organizational divisions and working processes, sifting through local histories is a meticulous task, requiring an encyclopedic understanding of related facts. For example, discussions on faith entail knowledge of the art, the origins, and religious systems, necessitating comprehensive and in-depth inquiries into first and second-hand sources in the form of academic papers, Japanese colonial era documents, and even conducting interviews with experts with their unique sets of understanding to construct a body of thorough yet coherent content. Among them, oral histories also play an important part in understanding the stories hidden beneath the official narrative, which are truly "local."
GÔO had once heard an elder speak of an unwritten account of the incident at "thâi-lâng-poo" (meaning the execution grounds). During the period of colonization by the Japanese, Àm-khenn was home to many resistance fighters, which were considered "bandits" by the Japanese. To capture these bandits, Japanese soldiers set out to apprehend the rioters at Chezi Road Village in Ankeng, but wrongfully arrested 70 to 80 people and rounded them up at the village for execution. According to the elder, these people were not bandits. The actual bandits were  hiding at the "bandit hideout" at Huang Ku. Several family members of the elder from the LIN family GÔO interviewed had been wrongfully killed, and the place at which the Japanese carried out their executions was henceforth known by the residents as "thâi-lâng-poo."
The team had also recently come across a report filed by the police at the time, which corroborates the authenticity of the event. The report of the early period of Japanese colonial rule offers a full account of a group of bandits from Àm-khenn, returning from a robbery they committed in Monga at a Chinese medicine apothecary run by the YEH family, was being chased by the Japanese government, who had drawn out the routes to capture these bandits on a map. The fact that a rural tale told by a village elder was potentially mirrored in the official files caused tremendous excitement among the team members. However, whether this piece of document actually proves the existence of "thâi-lâng-poo" or not remains unknown. Since the people involved no longer survive, and the elder GÔO had spoke to also passed away two months after their interview, it speaks for the anxiety felt by GÔO in his cultural work. Culture is on the wane, and cultural work is a race against time.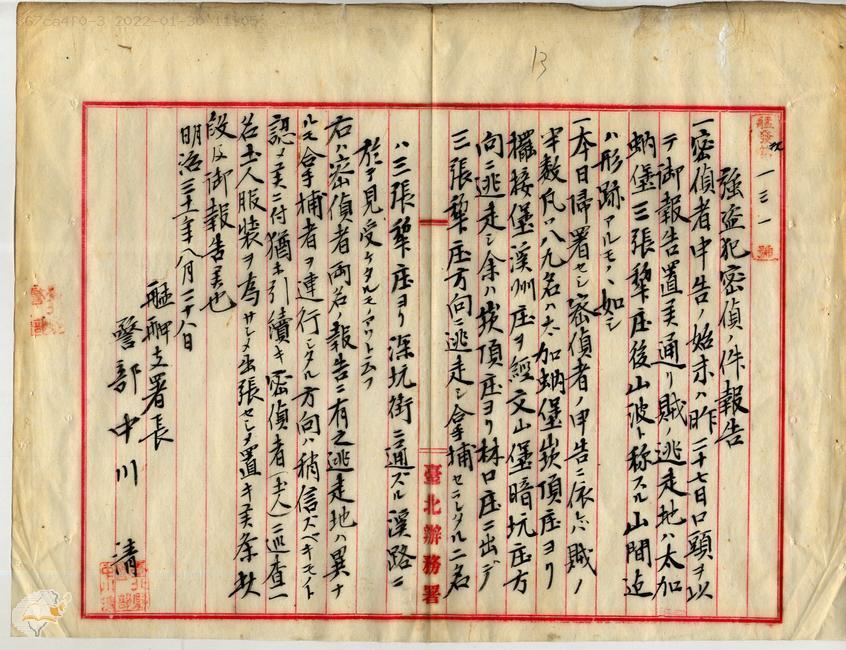 "Monga HSU Yeh-Mung victim incident investigative dossier (originally of Taipei Hsien)" dated August 1, 1898. "Meiji 31 official document compilation of Taiwan Governor-General's Office, original Taipei Hsien permanent archive Volume 32 of the Police archives," Taiwan Governor-General's Office Archive of the Former Hsien Government Official Document Compilation. Photo from the collection of Taiwan Historica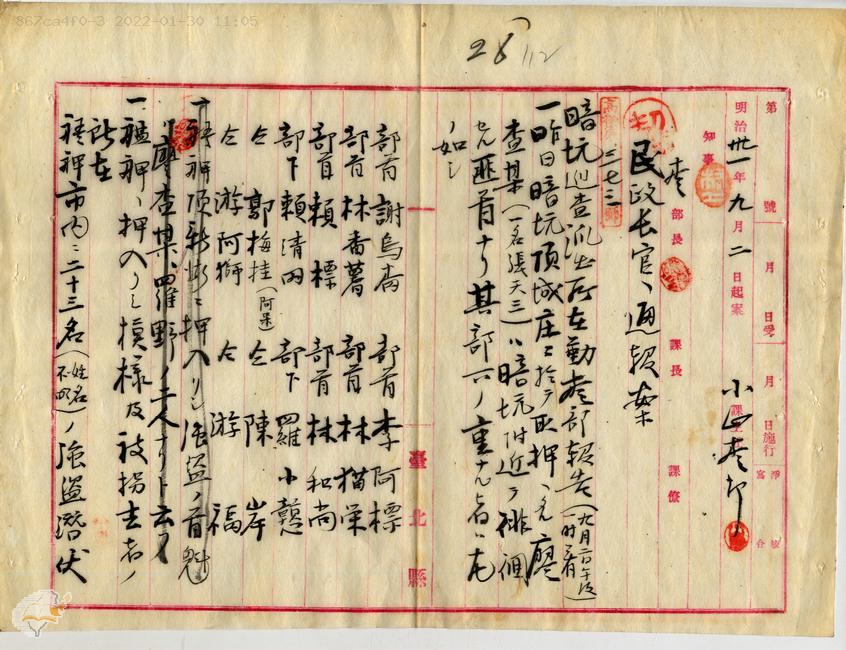 "Monga HSU Yeh-Mung victim incident investigative dossier (originally of Taipei Hsien)" dated August 1, 1898. "Meiji 31 official document compilation of Taiwan Governor-General's Office, original Taipei Hsien permanent archive Volume 32 of the Police archives," Taiwan Governor-General's Office Archive of the Former Hsien Government Official Document Compilation. Photo from the collection of Taiwan Historica
The key to cultural work is to stir up interest among the citizens and the participants, bringing them inside to become part of the cultural content. The team began to investigate the topic of the preservation of historical sites of injustice in Xindian and Ankeng, realizing just how highly concentrated the area is with historical sites of injustice, reflecting the area's historical significance under post-WWII military control. Add to the fact that historical sites of injustice have become a prominent school of learning in recent years, the team began to collect the memories of the sites, devising a cultural route and activity plan built around the injustice sites. In 2021, the team was commissioned to design a game as part of an educational project to explore local places. Playing the game in these liberal times provides participants with a sense of the difficulty in achieving these hard-won freedoms. The "White Àm-khenn—Vale of Injustice" event combines gameplay, guided study tours, and theatrical performances, and through several rehearsals and participatory events, the team hopes to bring more immersive experiences to drive further understanding of the place, and through the process understand themselves.
As cultural workers like GÔO peel back the sorrows, humiliation, and lost lives hidden among the minutia of history, they reveal and restore the true faces of our ancestors. As GÔO proclaims, "culture is life, and what we do is to pass down the wisdom of those gone before us so that future generations won't lose sight of their roots."