Today's C-LAB Office was once the Air Force Band Building of the Republic of China Air Force (ROCAF) Command Headquarters. For many, military bands are not an interesting topic until they discover that various celebrities, including Bobby CHEN (singer), CHANG Kuo-Hsi (lead vocalist for the Taiwanese indie band Tolaku), Tony YANG (actor), and Jacklon TUNG (drummer for the indie band Luan Tan and founder of PIPE Live Music), all used to be members. At different times, they all marched and performed during flag raising ceremonies at what is now the C-LAB site, having been trained to play music for hours under the scorching sun as new recruits. These vivid images can transform our impressions of military bands. Likewise, when the stories of people connected to this former military base are told, the cement buildings begin to breathe and the memories of this space are revived.
We are initiating the Recollecting C-LAB Project this year. By gathering and compiling information and conducting interviews, we attempt to build an online cultural and historical database of this historic site. Type in keywords on search engines, and you will soon discover that it was the first industrial research institute in Taiwan, established during the Japanese occupation era, and later the Air Force Command Headquarters, following the arrival of the Nationalist (Kuomintang) government. However, little is known of the people who used to work and live their lives here. For this reason, we are interviewing those who used to be stationed at this base, while inviting the associated members of the public to fill in the information gaps with their own stories.
These anecdotes do not have to be complex to be valuable. Perhaps a(n ex-)boyfriend once served here and the reception area was the setting for your love story. Or, maybe you were a member of a group that entertained the troops and experienced the cheering of soldiers in the Zhongzheng Hall. Perhaps there is even someone out there with memories of a distant era, when the site was an industrial research institute that developed and produced the "Kong Yen vinegar" of household fame. The perspectives of ordinary people are often neglected in traditional historical narratives, but such perspectives are particularly treasured in the writing of a history of everyday life, as they bring forth heterogeneity, diversity, and sincere emotions. For this project, the public is invited to become the co-authors of C-LAB's history; we would like to open the floor to all relevant parties to create a historical narrative of this space from multiple perspectives. As the Recollecting C-LAB website has been officially launched on June 1, 2020, we encourage all people who have stories to tell to submit texts, upload images, video clips, or recordings related to C-LAB's past.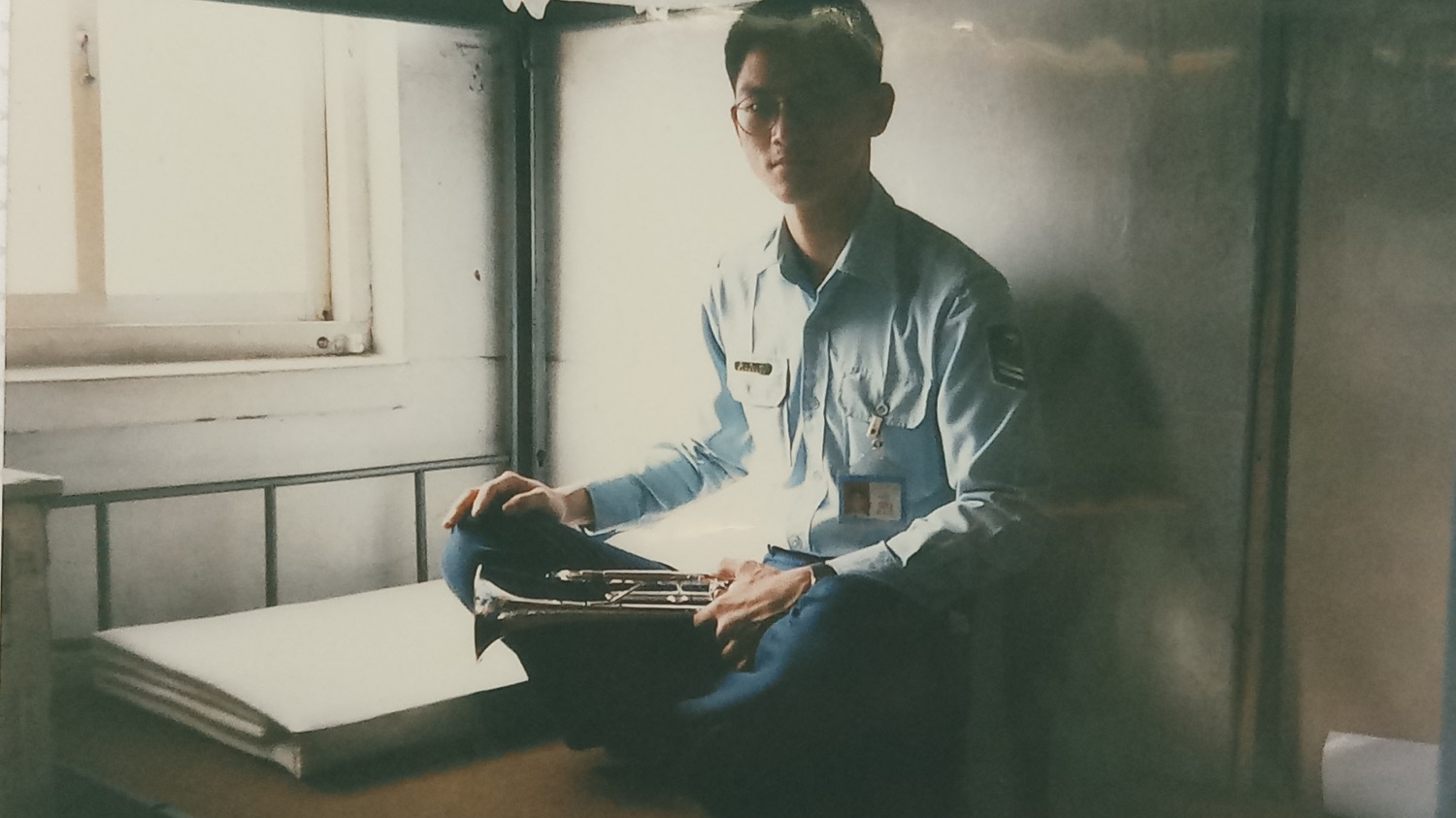 The member of Air Force Military Band LIN Chih-Chien at the dormitory in the 1990s. Photo courtesy of the Facebook Branch of Air Force Military Band
From Establishing Life Histories to Cultural Research
For a project that will span at least two years, the goal of the research team is not only to piece together the life histories surrounding this site, but also to sieve through behavioral patterns and phenomena to extract common themes for future cultural research. For example, since the Zhongzheng Hall was where soldiers enjoyed leisure activities and entertainment back in the days, the research team is investigating the culture surrounding the entertaining of troops.
In earlier times, it was mostly Taiwanese female singers that were asked to entertain the troops, among whom were Teresa TENG (1953–1995), Amber FANG (1967–), and Tarcy SU (1970–). In the 1990s, Hong Kong pop superstars Andy LAU (1961–), Aaron KWOK (1965–), and Sally YEH (1961–) also came to Taiwan to perform for the troops. However, such popular entertainment was reserved for soldiers stationed in regular military camps. Due to the distinct nature and elevated rank of the Air Force Command Headquarters, different types of entertainment were offered. For example, during the service of a former Commander-in-Chief of ROCAF, performances of Beijing opera, his personal preference, were introduced to the program of the Zhongzheng Hall. Differing from camps elsewhere, educational lectures as well as art and cultural programs also took place at this particular base. Comparing the types of entertainment provided to the troops, we can detect issues of gendered gaze, differences among ranks and across times, which can all be further explored in cultural research if we are able to amass enough data.
From the interviews conducted for this project so far, C-LAB researcher WANG I-Chun noticed the recurrent mention of a group of aged veterans. Many interviewees told her about seeing these nameless long-term residents at the Air Force Command Headquarters. They might be veterans of the Chinese Civil War, who retreated to Taiwan with the Kuomintang government. Without families and other prospects, they continued to live in base housing following their retirement from military service. Mostly silent and invisible to the outside world, they appeared to dine alone in the dining hall at mealtimes, raised pigeons in their rooms, and eventually passed away in their beds—some even took their own lives. These tragic stories only manifested as small fragments of the interviewees' memories. At present, due to insufficient data, we have no knowledge of who these men were, from where they came, why they were living on this base, or how lonely they had been.
Soldiers and officers were usually stationed at the Air Force Command Headquarters for three to five years. It was not easy for them to form in-depth relationships with these marginalized veterans who permanently resided at the base. As such, most interviewees were only able to provide one or two sentences on this topic. "Their existence was largely overlooked, yet they have been constantly mentioned," said WANG I-Chun. It becomes a great challenge to find someone who can talk about these veterans in detail. With the launch of the Recollecting C-LAB website, will we see more references on these old soldiers, even encountering someone who actually knew them? If so, it may be possible to piece together their lives in the past. These aged veterans were caught up in the changing times, and in turn epitomized the societal shift. Documenting their lives not only enables them to be remembered as they deserve, but also reflects the attitude of contemporary society towards our history.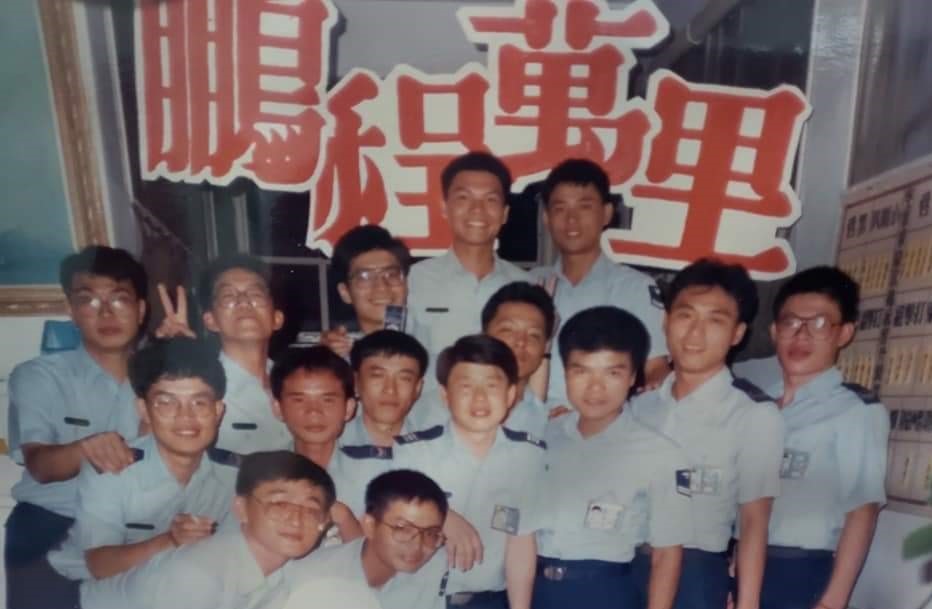 The honorably discharging members of Air Force Military Band, 1986-1987. Photo courtesy of the Facebook Branch of Air Force Military Band
Recollecting C-LAB Project is not simply about creating a chronicle or an order of events; more importantly, it aims to preserve the human aspect of this space. Since the 1990s, the Taiwanese government have made it a policy to reuse and redevelop public deserted space. As a result, many historical buildings have been given new lives and transformed into venues of cultural events. However, in most cases, research has been limited to the development history of the space, with few resources invested in understanding the life histories surrounding the sites, or further analyzing their cultural meanings. In the future, Recollecting C-LAB will be an open-access database. Anyone can make use of its cultural and historical data to develop research topics, to find materials for artistic creations or to be adapted into stories. The possibilities are unlimited. This year, C-LAB will launch a related curatorial workshop: Under the guidance and instruction of professional curators, participants of the workshop will curate an exhibition based on the information gleaned from the Recollecting C-LAB database, as one of the phased achievements of this project.