Using Applied Theatre to Speak Up for Those in Need
Founded in 2010, Over Diamond Art Studio (OD) is a registered non-profit organization based in Taipei, and is currently located in 593 STUDIO (No. 9, Lane 5, Linsen North Road, Zhongzheng District, Taipei City), which is a space shared by six groups, with the Centre for Applied Theatre, Taiwan acting as the chief of the space.  OD also shares the same office with documentary director CHEN Chung-Yu.
OD started of as a theater troupe founded by a group of actors. At OD, it is common for its members to take on multiple roles; for example, leader of OD, Peiju CHEN, often takes on the roles of producer and host for their performances. Being an alumna of the Department of Foreign Languages and Literatures, National Taiwan University, she also has the most experience in theater out of all the actors in OD. CHEN took a year of stage performance class at National Taiwan University, when the school first established its graduate program for drama and theater in 1998. Creative director TSAI Peng-Ling is also the chief director. He holds a degree from the Department of Social Work from Tunghai University, with extensive experience of community work. Prior to founding OD, he received community theater training from the Centre for Applied Theatre, Taiwan. Some of the earlier works by OD include a series made in 2010 on land issues focusing on urban renewal and dismantlement of old buildings, and another series made in the same year focusing on humanity, with psychoanalyses on survivors of suicide. OD's intention is to combine social issues with theatrical performances, and after being exposed to the "theater of the oppressed" through Singapore-based theater company, Drama Box, OD began paying attention to the active participation from the audience as a part of their works, seeking to create a sense of active energy that is unique to the theatrical world. The objective is to achieve a sense of balance between artistic and social qualities and it sets the tone for the group's future direction.
OD currently has nine members, and when inquired about any obstacles they have encountered, they laugh at themselves but also respond with tenacity, "Doing theater is not that hard; what we lack the most is funding."
Imagine Your Future Lifestyle at an Old Age: Old Fairy Tales
CHEN said during the interview, "We have done only one performance dealing with old-age-related issues. It's called Old Fairy Tales (2018)." The characters in Old Fairy Tales are based on elderly people from different places and different organizations. It took three months for them to conduct interviews and collect pertinent information, including visiting i Long-Term Care, the Toad Hill Settlement and Nanji Rice to talk to the people working there, and participating in the care facility in Shenkeng as volunteers. During our interview, we ended up talking extensively on several social issues, which extended from the Old Fairy Tales. For example, we talked about whether public housing is the only option or not. TSAI then mentioned that he knew someone that lived in public housing but insisted on returning to the Toad Hill Settlement to talk to his former neighbors. Most people want face-to-face interaction and emotional connection instead of public housing with concrete walls and dividers. For the most part, public housing is not what everybody needs, which is a dilemma of land ownership and right of habitation when dealing with urban renewal. We also talked about whether multigenerational living is ideal for everyone, and what lifestyles could be possible for people that have retired, in addition to doing volunteer work, going to the market and taking community college classes. Our discussion also included the following questions: since there are so many tech gadgets that people need to learn how to use, are apps designed for the elderly still necessary? People today are under tremendous mental and physical stress, which has resulted in more people suffering from depression. This disease is invisible but just around us, while behavioral and psychological symptoms of dementia (BPSD) often occur in conjunction with it. How should we create a more considerate living environment and a healthier society through discussion?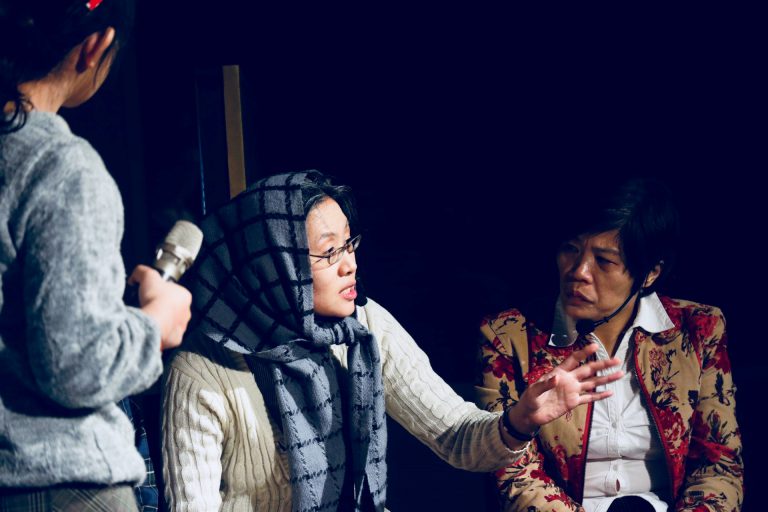 Old Fairy Tale presented by Over Diamond Art Studio. Photo courtesy of Over Diamond Art Studio
Bearing the aforementioned in mind, Old Fairy Tales uses the approach of "immersive experimental theater" for people to voice their needs and to dispel stereotypes on the elderly. Upon entering into the world of Old Fairy Tales, the audience would become a part of the community and take part in the community-wide meeting, discussing about the projects aiming at improving the elderly's life quality and the allocation of the funds. As becoming a part of this neighborhood, each audience member could come up with his or her own fairytale name, which serves as a ceremonial initiation before entering into the world of Old Fairy Tales. Each performance includes 50 to 60 people, with scenarios and stories based on five characters explored, and their lifestyles and problems shared. Impromptu interviews could also be conducted during the process. The five senior characters are played by performance instructors, with the head of the neighborhood taking on the role of a facilitator. Members of the community meet to decide how to use the funding to ameliorate the life of one of the senior citizens. Besides portraying those senior characters, the performance instructors also need to engage in and respond to the community members' discussions, turning the performance into a field research. Each group then comes up to the stage to pitch the proposal they have come up with, and the selected proposal needs to be accepted by more than 70% of the people in the community for the funding to be approved for use.
Immersive experimental theater that includes physical memories, participatory experiences, and emotional resonances becomes a rehearsal site for real-world participation. With limited funding available, it is not easy to decide on a final proposal, which requires the members to learn how to compromise, communicate, and let go of certain things when each of the members actively shares his or her best idea in the group discussions.. "Unfortunately, no consensus has ever been reached in any of the performances," says CHEN.  Through Old Fairy Tales, the participants are encouraged to think about what are truly needed when it comes to "aging in place." Since the performance conveyed that life at an old age shouldn't just be an intangible thing, and people's various needs should be responded to and should be seen, it received tremendous feedback especially from people who are caretakers in real life.
Consensual Social Practice Rehearsed in the Theater: The Lesson, Taiwan
The first immersive experimental theater to take place in Taiwan was The Lesson, Taiwan, co-created in 2016 with LI Xie and Singapore's Drama Box. This international collaboration was created by a local creative workshop and performance, whereby the method of immersive experimental theater was acquired. It was adapted from It won't Be Too Long: The Lesson, an immersive experimental theater LI had created with Drama Box in 2015. With an installation artwork presented, The Lesson, Taiwan created the 13th district in Taipei based on the existing 12 districts, and the audience (residents) took part in voting on which areas (e.g., a military dependents' village, a memorial park, a large traditional market, an animal shelter, etc.…) in the district should be removed and turned into a metro station, with the ending of the performance collectively decided by the residents played by the audience.
A mentality that sees things as temporary and from an outsider's perspective is prevalent in the Taiwanese society, and this has caused many people to become quite self-absorbed, with communal participation in public affairs quite lacking. Many people are unfamiliar with public participation and discussion. The immersive experimental theater created is like an epitome of society, and through discussing social issues such as aging in place, the building of infrastructure and the housing justice, which are pertinent to everyone, people could reach a consensus through the story. Based on their own agency and initiative, the audience could dedicate themselves to the issues without feeling too overwhelmed. OD not only focuses on the contents of these issues but also concentrates on how the voice of the people behind the issues could be heard. When dealing with issues of public interest and public decision, it is integral to keep in mind the "public" is made up of ourselves and others, meaning that the interest of others is also our own interest. What is being rehearsed in the theater is not only how to express oneself, but also how to listen, discuss with other people, and create a consensual social practice that will benefit all.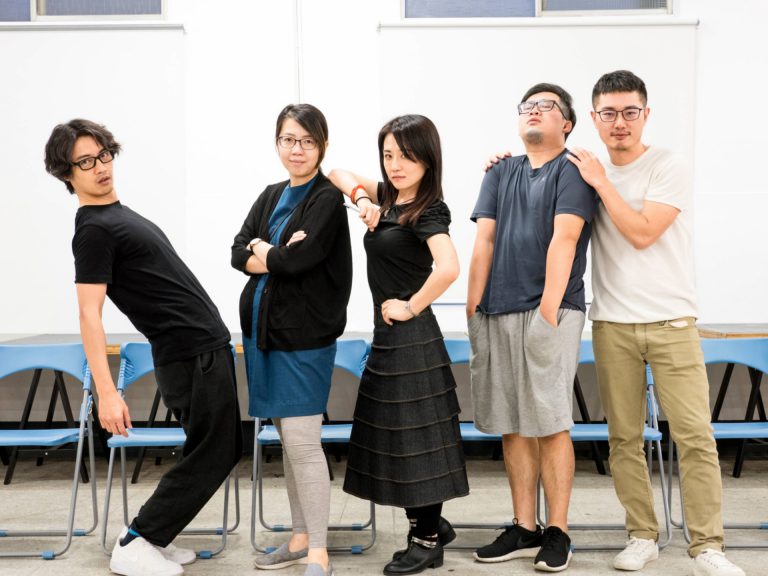 The members of Over Diamond Art Studio. Photo by HSU Ping
The Double-Edged Sword Created by the Sunflower Student Movement: D-Cup Everywhere!
"I actually quite despise the adults born in the 50s and 60s. Their pursuit for economic development has resulted in lack of supervision and concern for public policies," said TSAI when talking about the "muckraking culture" that has become extensively prevalent in the Taiwanese society, as well as the issues of food safety, trade pact in-transparency, and the Sunflower Movement in 2014, with civil participation and awareness awakened by these series of events. This has resulted in a major transformative power in society, but certain dangers may also be hidden within. This concern has led to D-Cup Everywhere! (2015) created by TSAI, which had a record-breaking number of performers (30) on stage at the same time at the Guling Street Avant-garde Theatre. With an exaggerated geek's fantasy as a satire and an interrogation of the truth, it resists against media exploitation and manipulation of certain issues while trying to trace to find out the causes of these phenomena. It attempts to find out the answer to the question: how to make the society better? The response may echo with the motto that TSAI has kept close to his heart for a long time, "To continue to care will bring realistic change; to continue to neglect will result in misconduct."
Continue to Focus on the Underprivileged and to Remove Stigma: Gifts in Life
The Long Fa Tang Temple, Kaohsiung had existed for 47 years since founded by LEE Chu-Tai in 1971. The temple was home to many mentally disordered people, and in July, 2017 the 503 residents (patients) living in the temple were forced to relocate to other medical or nursing facilities because of the outbreak of amoebic dysentery and tuberculosis. The public-at-large and the government agencies of Taiwan still generally think that those with mental disorders should be segregated, and in turn divided. However, those with mental disorders will not just disappear by shutting down the Long Fa Tang Temple. This only led to further seclusion of their living space, which pushed them to hide in the corners of society and remained the related problems unsolved. Everyone goes through major mental stress at some point in life, which is as natural as growing old. OD hopes that the audience could gain more understanding of the differences among people through their theater works, which would help lessen social prejudices. After all, the problems will not be solved neither through segregation nor by blocking people out of sight.
Gifts in Life presented in November, 2018 is a project that turns mental disorder patients into performers. The project is originally a theater-training course commissioned by the Taipei Mental Rehabilitation Association, which began in 2016 with a 20-week theater-training program and 15 weeks consisting of story collecting, collective creative production, rehearsal, and final performance annually. The performances presented in the previous two years, Gifts in Life – Machine Town 2016, and Gifts in Life – Would You Take It 2017 were free performances, and Gifts in Life – Reserving Reality 2018 is the first ticket show. The first half of the show is a one-hour long performance, and the second half consists of impromptu performances by Taipei Mental Rehabilitation Association's Bravoice Playback Theatre, which is inspired by the feedbacks on the performance from the audience. OD hopes that this project will continue to take place every year in the future. The focus of it is not on training professional performers, but on the issues related to the underprivileged and those that have recovered from mental disorders, with an expectation to make them be "seen" by the public and speak up for themselves.
"Many mentioned in the audience feedback that after seeing the performance, they can see that OD has opted for a gentle approach to use theater to engage in society," said Peiju CHEN at the end of our interview.