A bunch of creative and appealing works greeted our eyes when we walked into the workroom of "Sandwishes Studio" in Zhishan. Prolific results over the years fill with the space, be it back scratchers converted from wheelchair armrests or drinking glasses designed according to the breathing traces of people with ALS (amyotrophic lateral sclerosis), intriguing people to ponder upon the design ideas when arousing their curiosity. The large pieces of exhibition walls made with laser cutting technology also caught visitors' attention, which gave an artistic air to the studio. Walking from behind these walls, the co-founder of Sandwishes Studio, Hang LI greeted us with a smile and presented his name card, which contained information in both scripts and braille characters designed for the visually impaired, putting inclusiveness into practice.
Public Welfare + Art = The Origin of Sandwishes Studio
Why "Sandwishes Studio"? Actually, they don't make sandwiches, but investigate new possibilities of social engagement through curating and design to create innovations in public welfare and inclusive values. Some media have called Sandwishes Studio a "social enterprise" because of their atypical entrepreneurial route. However, LI still considers themselves an "art group."
The Mandarin name of the art group phonetically sounds like "three volunteers," which seems a perfect fit for their approach to public welfare issues. LI laughingly stated that the four-character name might convey an ambiguous meaning, but it offered a larger space for interpretation. Also, the name had a ring to it. So, they decided to use the name for the art group. With the experiences gained over the years, LI gradually formulated his own interpretation: the name echoes how the art group has developed along the way, as they have been continuously putting specific social values and meanings together to create new things.
"We combined art and design with public interest as our departure point, keeping trying and accumulating experiences through various collaborative projects of exhibitions, events and products." Infusing elements of "public welfare" into design processes with "art" was the operations strategy of Sandwishes Studio in the early stage. LI remembered that the idea was borrowed from "Art as Social Engagement," the course he took in graduate school.  During the course, they went to Taipei Happy Mount, developing a creative project centered on the physically and mentally challenged residents: they produced musical instruments out of the recycled materials, singed and played the instruments with the residents, bringing art and design resources to different domains.
LI travelled away from Hong Kong to Taiwan for education in 2006. After realizing that he did not want to have a career in fine art during the studying process, he contemplated other options in the field of arts. Right about that time, he heard about the recruitment by the Graduate Institute of Trans-disciplinary Arts, Taipei National University of the Arts (TNUA). He was drawn by the programs and enrolled, expecting to find answers to his questions. The collaboration with Taipei Happy Mount this time later led to a decade-long partnership, carrying out the transformation of the institution and commercialization of the residents' artworks, turning them into commodities like red envelopes, t-shirts, calendars and masking tapes, and even curating an exhibition featuring celebrity portraits. Through the experiences, he had discovered an alternative route outside the conventional system and converted art-making into a form encouraging public engagement, continuing his exploration of interdisciplinary creation.
At the end of 2012, LI and his classmates at TNUA, HSIEH Ruo-Lin and TSENG Yun-Chieh, founded Sandwishes Studio, and officially started their operation the next year. All coming from a background in arts, the members divided work and each took charge of different aspects. LI was mainly responsible for design, though the overall design and proposals were still made by all three members. In the early stage, the communications among the members was still artistically oriented, making it hard to think outside the box of art-making. After personnel changes over the years, LI remained the core figure in the art group while the participation of people with different background and training has expanded the scope of the team. The original "three volunteers" also get together from time to time to discuss the future development.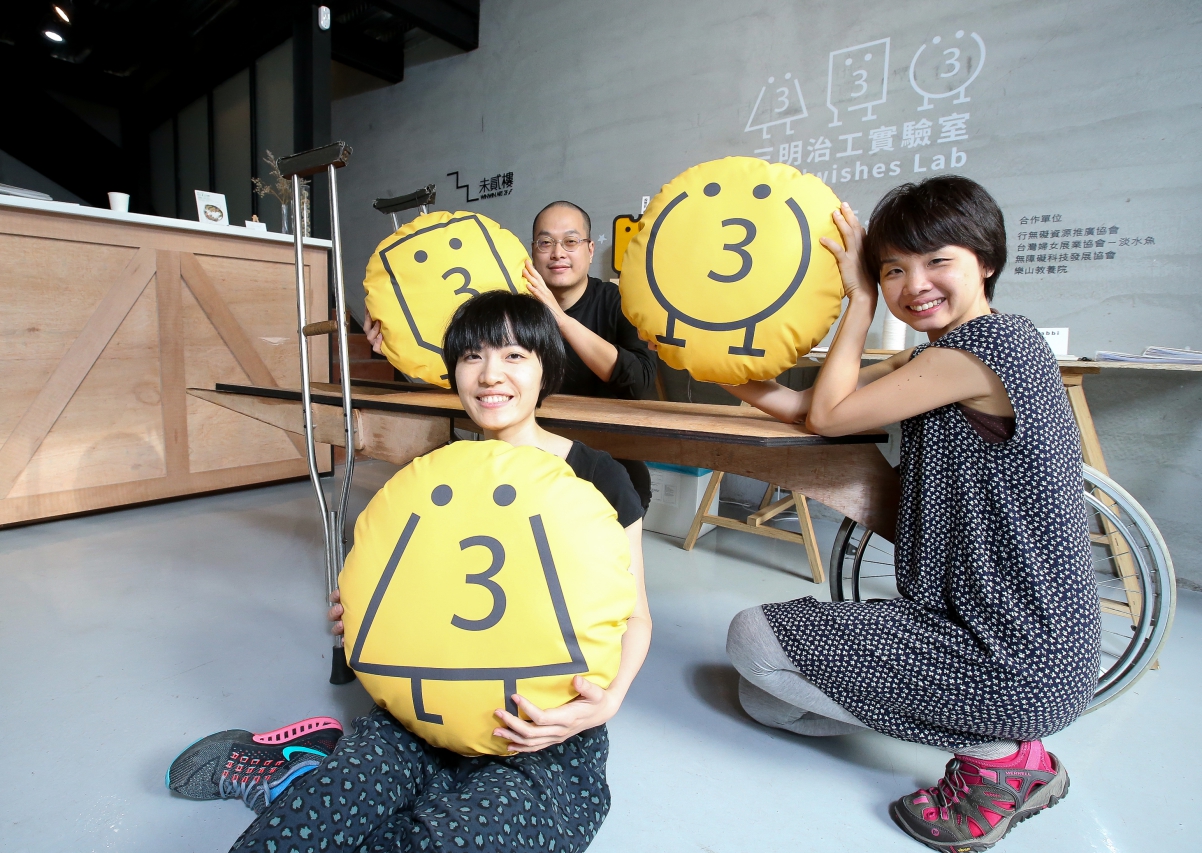 Sandwishes Studio's early work mainly included curating and making proposals of products. From left to right: HSIEH Ruo-Lin, Hang LI and TSENG Yun-Chieh. Photo courtesy of Sandwishes Studio
Why "Sandwishes Studio"? Actually, they don't make sandwiches, but investigate new possibilities of social engagement through curating and design to create innovations in public welfare and inclusive values.
Play Together! Appealing Innovations of Public Welfare Create Values of Inclusion
At first, the contents of many cases were similar, belonging to the fields of product development and exhibition curating, for most organizations hoped to replicate the successful mode applied to Taipei Happy Mount. Later, in addition to providing their service of design, Sandwishes Studio took a step further, founding "3andwishes Lab" to transform their collaborators' ideas into highly creative art projects and reinvent the imagination about public welfare. In 2015, 3andwishes Lab worked with Taiwan Access for All Association and created "The Legend of Speed" , which collected a wide range of absurd, ineffective barrier-free facilities in Taiwan, such as excessively steep ramps or tactile paving leading to dead ends, and transformed them into artistic experiences. They recycled components of assistive devices to make an obstacle racetrack, challenging participants to operate remote controlled cars while the real-time images were simultaneously shown on the large screen in the exhibition, which enabled the participants to experience the unfriendliness of these accessible facilities. They also adapted disused wheelchairs into display vehicles and broken armrests into back scratchers, implying others' assistance might not be necessary once the condition was supportive of autonomous actions.
"Most people know social engagement is helpful to the society but are reluctant to take the first step. To change this, the issues must be 'appealing.' The experience-based approach gives people an opportunity to know they are in fact involved in a lot of these things," explained LI. For instance, the issue of accessible spaces does not only concern the physically challenged. Parents using strollers, logistic couriers, elders and many different groups might run into the same problem as well. Within the framework of art and public welfare experiments, Sandwishes Studio has set the creative direction to "play together" as the core concept of the team, making the issues "appealing" to people. "We start to have more and more fun. It is after all our self-initiated project. If the budget is managed well, we can do anything we want."
Sandwishes Studio started from the perspective of art and design with friendly and legible slogans and words instead of complicated concepts; and more than often, they would be able to awaken people's perception in experiential processes. When there was a gap between the floor of two areas in an exhibition, they reused scraps from a frame shop to make small ramps, increasing the accessibility of the environment. They also learned about typing in braille when collaborating with Technology Development Association for the Disabled, and subsequently designed "Braille Message Mailbox" to translate participants' words into braille postcards for mail, converting visual perception into tactile knowledge with the decoding diagram. After discussions with civic groups and children in workshops, they transformed modular playground facilities into imaginative UFO Channel with the elements of local stories and communication behaviors of the self-media era, which were well-received by grownups and children alike to.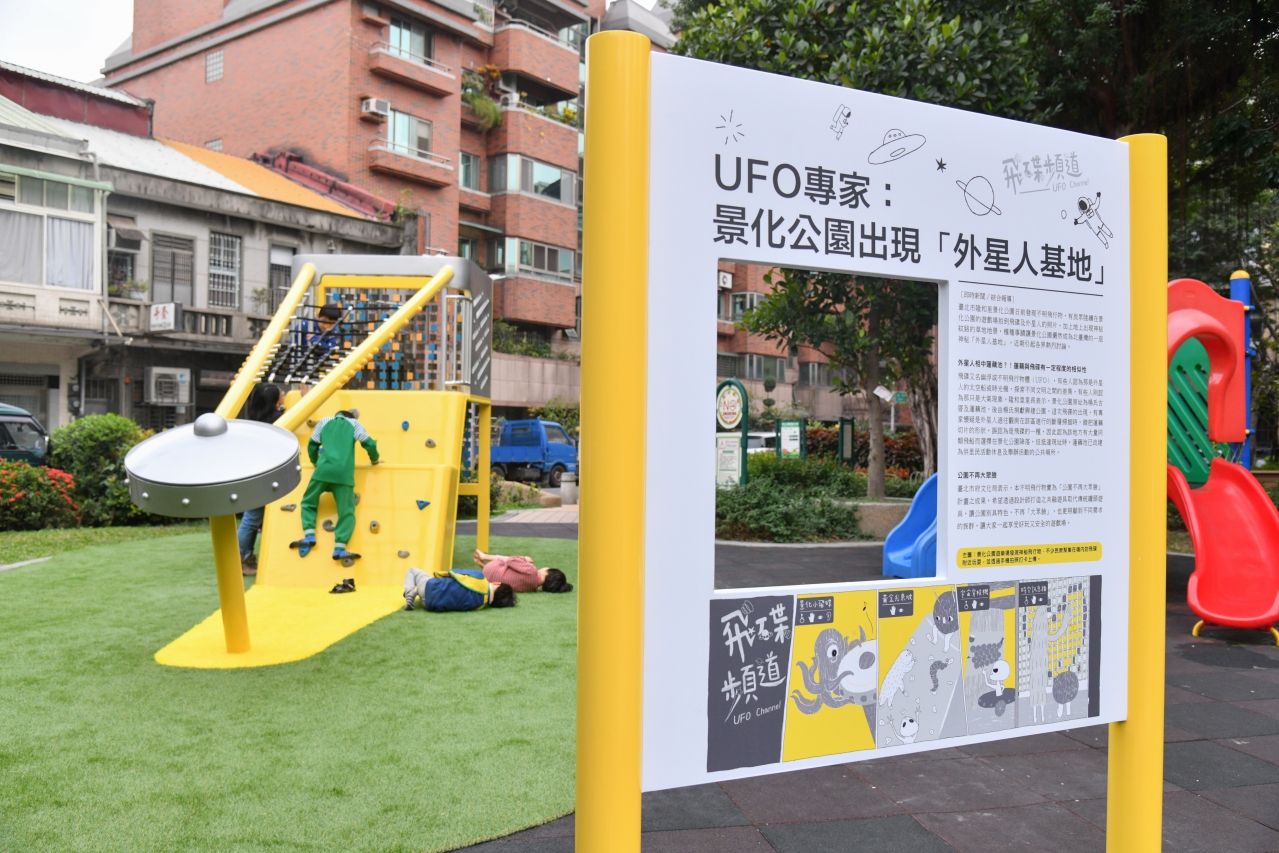 In the project UFO Channel, Sandwishes Studio redesigned modular playground facilities and reinvented a park. Photo courtesy of Sandwishes Studio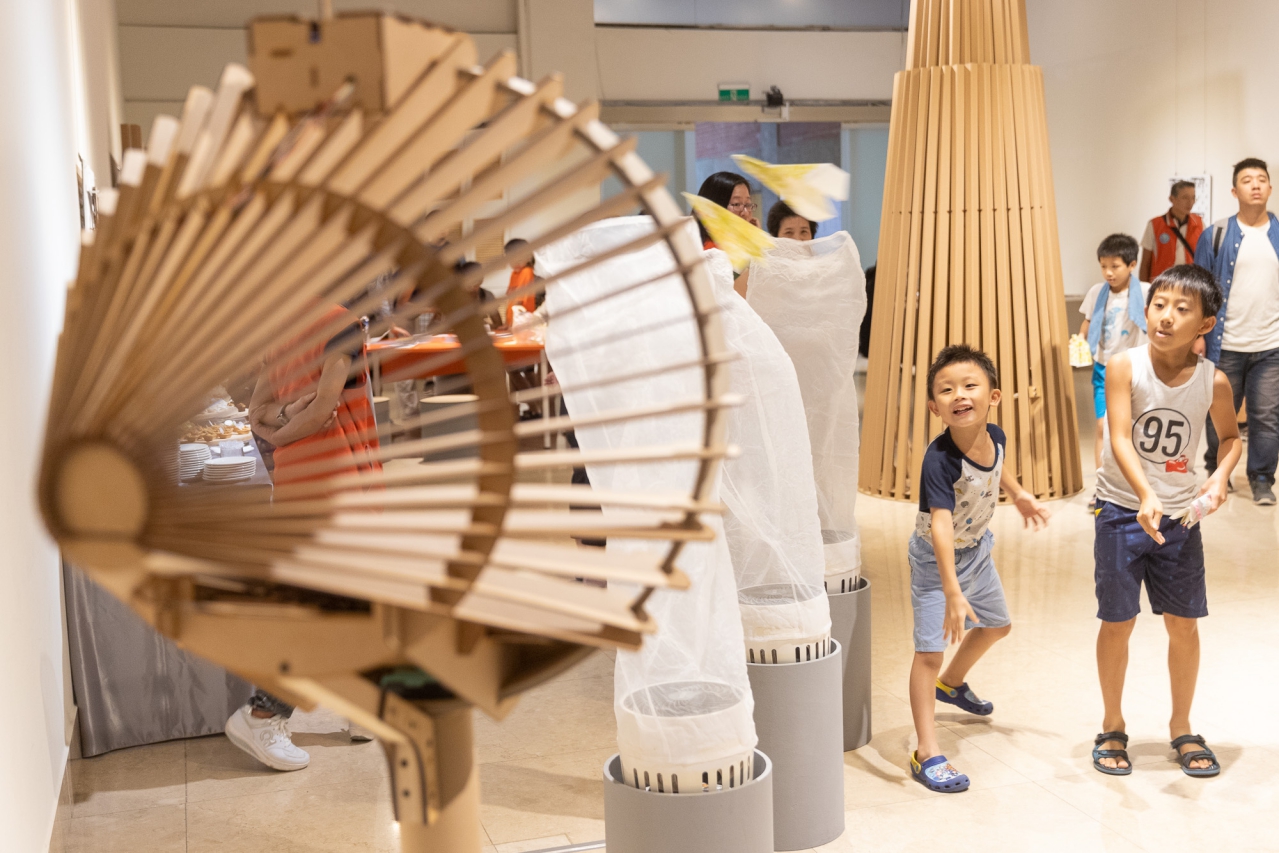 In 2018, Sandwishes Studio organized New Taipei City's Festival of Inclusive Arts, designing the exhibition space with the theme, Unlimited Airport. Photo courtesy of Sandwiches Studio
Gradually, Sandwishes Studio's creative principle transitioned from public welfare to inclusiveness, making their collaborators engage more extensively. When designing a tea gift box for a food company as a public welfare product, they organized a workshop involving Taipei Happy Mount's residents to create a packaging design made of tea leaf collages, extending the participation in production procedures by inviting the members of the Taiwan Women's Development Association to finalize the packaging. "It becomes a starting point of our thinking. Creation and work are forms of social engagement we hope to develop. In many of the later projects, we change ourselves into a platform—instead of speaking for our collaborators, they can tell their own stories through our projects." LI used their work "Breathing Cup" as an example. The work was about ALS patients, who probably could not move their hands or legs. Considering the participation of the patients, the art group incorporate the elements of "breathing," an activity fundamental to survival, into the manufacturing process and the use of the product: LI first used a special lens to record the traces of vapors from the patients' breathing, which were then integrated into the making of drinking glasses produced by blown glass artisans. The users then create and leave their breath in the glass when drinking water, implicitly forming a connection between different people in society.
In 2018, New Taipei City presented the first special exhibition of "Festival of Inclusive Arts," for which Sandwishes Studio organized Unlimited Airport, incorporating their past experiences into the exhibition. "We thought about how to discuss 'inclusiveness.', Although empathizing with those facing physical adversity is difficult for people without personally experiencing accidents or physical challenges, it does not mean that we cannot talk about it. So, I was thinking what humanity's greatest challenge was." The answer to LI's question was "flying"—human beings cannot fly but have been able to fly in the sky with inventions and the power of imagination. Based on the childhood experiences commonly shared by people, Sandwishes Studio turned the exhibition space into an obstacle field for flying paper planes, in which players had to traverse various obstacles requiring planes to go vertically, turn or even spin in a 360-degree fashion. Players could follow the provided manual to create paper planes with different functions to overcome the impediments. On the other hand, since the users of airports included different groups, LI designed assistive devices for various needs of the players. People with weaker hand function could use the simple and stabilizing "paper plane launcher"; those on wheelchairs or elders could use the "fetching clips" designed by the art group to retrieve their paper planes.
Nobody knows how to fly, but everyone can still fly.
Following their usual creative and collaborative mode, Sandwishes Studio led a group of physically or mentally challenged participants in a workshop like a small-scale operation office for training, breaking down the process of folding paper planes into detailed steps while using a checking board that allowed everyone to successfully complete the task—it was like the slogan posted up in the exhibition, "Nobody knows how to fly, but everyone can still fly." According to LI, "our concept had been complete in Unlimited Airport, and the entire mode became more and more concrete. Exhibition, workshop or painting exhibition is simply a form which can be divided into several parts, creating possibilities of social engagement or co-production for collaborators to become producers rather than passive receivers of assistance." They also invited physically and mentally challenged participants to help the installation and care for the exhibition. The systems and methods of collaboration were gradually improved through the process, leading to new production mechanisms as well as alternative forms of social engagement while breaking stereotypes. LI pointed to the self-manufactured exhibition walls behind him, telling us this was a new product in development, which could be installed and assembled within half an hour,  greatly lowering the difficulty of exhibition installation and realizing their philosophy of creation. They also hoped to develop a rental system, making the product more accessible with flexible uses. "Outsourcing production is common when it comes to making exhibitions; but it can be creatively productive when we take 'production' back into our own hands."
Transdisciplinary Thinking Combined with Frameworks
The projects of Sandwishes Studio LI shared sounded intriguing. We were not only amazed by their design ability which transformed common things into novelties, but also their diverse and emphatic thinking that supported their actions. In recent years, as people are becoming more aware to cultural accessibility and information equality, they have collaborated with different organizations to design accessible guidebooks, which lower the barriers to reading and reduce imbalanced judgments due to information disparities. To date, they have collaborated with the Central Election Commission and National Palace Museum for accessible election instructions and exhibition guidebooks, simplifying abstract or complicated contents into easily digestible information to ensure everyone's rights of participating in society and culture.
In terms of the practical aspect in design, LI also shared the techniques of digital production, such as 3D printing and laser carving. He has been able to work in a more immediate and flexible manner with the assistance of computers. "Turning mass production into manufacturing for individuals—it does not have to be objects but can be living experiences." In 2018, he conducted a residency in Sweden, and collaborated with the local Fab Lab to transform the experience of the city's crisp, comfortable autumn into Autumn Factory with laser carving, providing autumn leaves anytime and anywhere with a simple pull of the device's rope.
Memory Tree Newsstand was an interactive installation that displayed cultural and historical memories in the forms of scent, sound and image. Photo courtesy of Sandwishes Studio
"In the early stage, the focus of our experiments was the merge of art and public welfare. Now, the experiments will focus more on creating connections with local communities, expanding the possibilities we can do. When it comes to public welfare, people might have stereotypical preconceptions. Once everyone can be involved in the processes of production, all commercial projects are doable." Deepening the concept of the previous work, the interactive installation made for the 2019 Tua-Tiu-Tiann International Festival of Arts was a device giving out old news, letters or manuscripts, bearing imagination about and opinions on Taiwan's politics in the past. In the 2020 Taiwan Cultural Memory Bank Exhibition, Memory Tree Newsstand was upgraded into an interactive installation that collected cultural and historical memories in the forms of real objects, scent, sound and image.
"I used to regard frameworks as something to be shattered to cross disciplines. Now I think the way for me is to amalgamate different frameworks with a clear direction and work under the combined framework." LI said he had been working in a guerilla manner and accumulated years of experience. Over the processes, different ideas have slowly integrated, and the art group now enjoys a recognizable identity in the cultural and art scene. In the future, he plans to develop digital contents and further incorporates the concepts of legible information to make people's life easier. Of course, fun is a necessary ingredient. "Whether it be work, creation or art-making, my framework now is squarely to 'play together."