Beaches, deserts, jungles, mountains, megacities, noise, pollution, gratuitous violence, racism, police brutality, sexual tourism, you name it, Latin America is not for amateurs. Yet, artists from all over the world seem more and more fascinated by it. A paradoxical region with a historical absence of state cultural funding, but a strong artistic production and a hot art market, fueled by social inequality and money laundering. Latin America's precarious environment for artistic production is dependent either on privileged access to local property and money (with common family ties to drug lords and mining barons) or international partnerships that favor artists coming from rich countries. Artist-run residencies that struggle to fill the local gaps by being platforms for artist exchange, often become "gringo hubs" with a stronger vocation forming intercontinental couples or establishing foreign artists in the region more than actually changing the local scene.
Latin America is a group of 33 countries connected and identified by the language of their colonizers: the Romance languages. Spanish, Portuguese and French, are spoken from the northern border of Mexico through Central America and the Caribbean all the way down to the southernmost tip of Chile. An area that represents approximately 13 percent of Earth's land surface, and is home to more than half a billion people, of which 400 million spread over 17 countries speak Spanish, and 200 million speak Portuguese in Brazil. The other 40 million speak French, English, Dutch and what is left of the numerous indigenous languages such as Quechua, Creole, Mayan, Aymara, Nahuatl, Tupi and others. The Tupi language for example was used as a lingua franca throughout Brazil by both Europeans and Amerindians, from the early colonial period until the 18th Century when it was suppressed almost to extinction in a cultural genocide disguised as a "civilizatory" period particularly attached to the "independency" of the region: from being European colonies to becoming their own empires.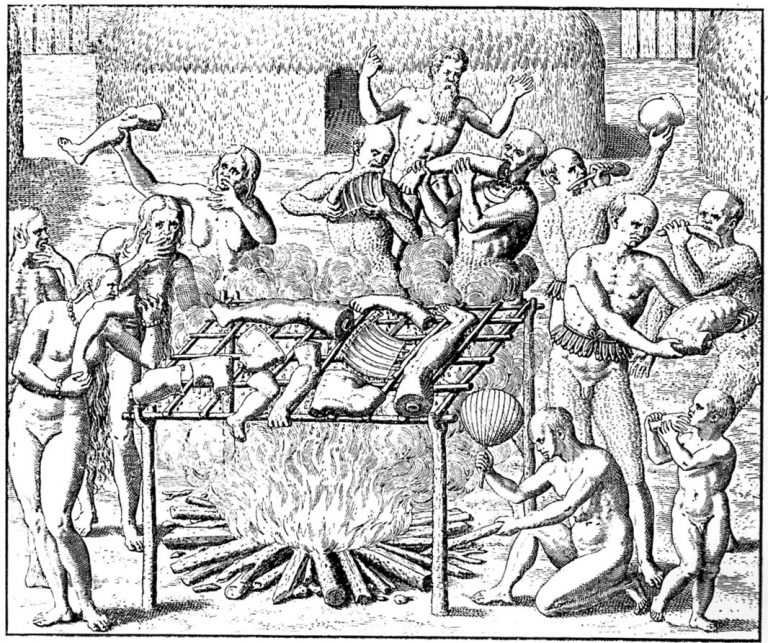 Engraving by Theodor de BRY depicting cannibalism rituals in the Americas as described by Hans STADEN, published in Collectiones peregrinatiorum in Indiam orientalem et Indiam occidentalem (1590-1633). Photo provided by Kadija de PAULA
The Anthropophagic Manifesto published by the Brazilian poet Oswald de ANDRADE in 1928 is an example of this Latin American specificity. While playing on the European modernists' primitivist interest of cannibalism as tribal rite, the manifesto proposed cannibalism as a way for Brazil to assert itself against the very European postcolonial cultural domination.
The beginning of the 20th Century, was a new era for Latin America, marked by Brazilian Modernism, Mexican Muralism, Uruguayan Constructivism and other artistic vanguard movements that responded to the global social and industrial changes, yet dealing with issues particular to the region. The Anthropophagic Manifesto published by the Brazilian poet Oswald de ANDRADE in 1928 is an example of this Latin American specificity. While playing on the European modernists' primitivist interest of cannibalism as tribal rite, the manifesto proposed cannibalism as a way for Brazil to assert itself against the very European postcolonial cultural domination. The Manifesto's iconic line, written in English in the original, is "Tupi or not Tupi: that is the question." While metaphorically eating Shakespeare, this line simultaneously celebrates the Tupi, who allegedly practiced ceremonial cannibalism on their enemies (as described by 16th century European writers such as Hans STADEN who detailed "savageries" similar to those enumerated by George PSALMANAZAR in his fake Historical and Geographical Description of Formosa).
The post World War II power shift placed the United States in a central global role. For Latin America this shift crowned the US as the new colonizing power in replacement of Europe. From the 1960's to the end of the 1980's most Latin American countries were under military or dictator regimes with restricted political freedom and mobility. Nearly all countries in the region were engulfed by the Cold War, and with the support of the United States, many overturned their democratically elected leaders in what is known as the Operation Condor. They turned to military dictatorships in what was an extension of the Red Scare, the paranoia regarding communist politicians and parties.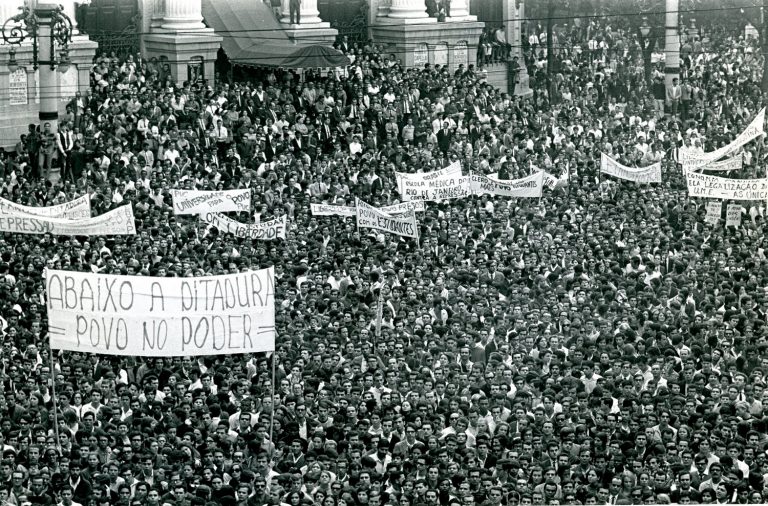 Manifestation against dictatorship in São Paulo, Brazil, 1968. Photo provided by Kadija de PAULA
Between the birth of Bossa Nova, the Latin American Literary Boom, the United States declaration of the War on Drugs, and burst of Tropicalia, a number of artists had to leave Latin America in exile. With the "reestablishment of democracy" some space for cultural exchange was slowly opened as artists who had been working internationally returned to Latin America and started receiving artists from abroad, initiating informal artist residency programs in their own houses, family properties or ceded spaces. In the late 1990's and early 2000's, a number of artist-run initiatives came about in Latin America as a response to the lack of institutional support for the arts during the dictatorship years.
That was the case of Capacete, one of the first artist residencies in Latin America. Founded by Helmut BATISTA in 1998, when he returned to Brazil after having studied opera in France and working as an artist, set designer and camera assistant in Paris, Vienna and Milan. Capacete (which in portuguese means helmet) was born out of a local necessity to gather people, thoughts and time, matched by a particular individual access to vacant property. First established in a house in Lapa, a traditionally bohemian neighborhood in Rio de Janeiro, and later in the hills of Santa Teresa, a picturesque neighborhood surrounded by close to Rio's city centre, famous for its winding narrow streets, its large artist population, and one of the best views of Rio de Janeiro.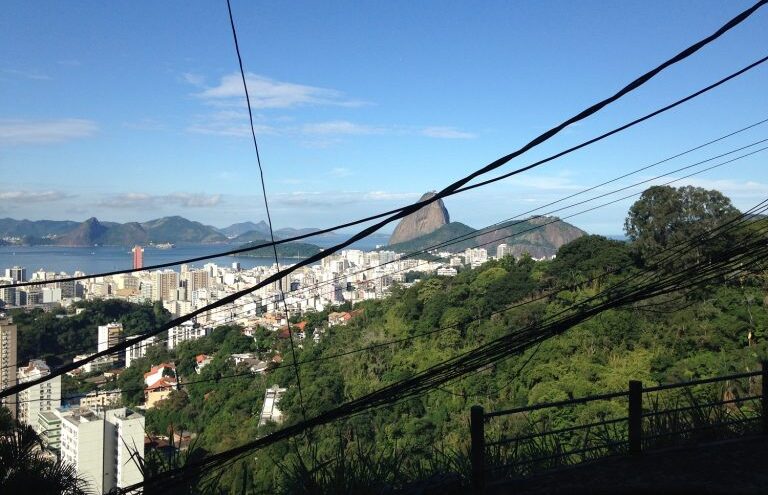 View of the Guanabara Bay from Santa Teresa. Photo by Kadija de PAULA
About five years ago Capacete's headquarters moved to a new house designed and built by Helmut himself. Conveniently located in the neighborhood of Gloria, this still (and always) under construction space counts with a number of support facilities encompassed by an adjacent apartment with a view to the Guanabara Bay, a camping ground with waterfalls up in the mountains close to Rio, and another apartment at the legendary modernist building Copan for field trips in São Paulo. In the new modernist shed/ colonial bunker/ bombarded "Baghdad" communal living space, in Gloria, one can at times find herself cooking with Andrea Fraser, eating with Silvia Federici or having a beer with Arthur Lindsay. The lack of comfort, privacy and security of the house is easily offset by these surprising encounters with big international names, the idyllic landscape of Rio, and the vast debaucherous opportunities that the city offers, but Beware! No one is safe from cash machine scams, gunpoint robberies or witnessing assassinations. Shit happens!
Capacete is not a production residency, but rather a think tank for contemporary investigation that focuses on human beings, their ways of being, and their interactions with each other and the world.
Capacete is not a production residency, but rather a think tank for contemporary investigation that focuses on human beings, their ways of being, and their interactions with each other and the world. Capacete does a great job in connecting people and helping them with their research. It is a great place to meet people and come back to. Many of the artists who were in residency there developed long term projects that keep them coming back, some of them even moved to Brazil, got married or have kids with Brazilians. These undefined experimental programs that usually take place in Rio de Janeiro and São Paulo, have also travelled in the form of an exhibition at Portikus in Frankfurt, and an educational program in Athens during the last Documenta.
One of the most well-known precursors and oldest survivors of the many artisti-run residencies that came about in Latin America in the 1990's, Capacete is only one amongst others, such as Casa 13, in Córdoba, Argentina, which was founded in 1993 and is still operating. What began as an informal exchange found ways of institutionalizing the practice. However, it was really in the 2000's that these spaces started popping up all around. With more left wing socially conscious governments in Latin America, these programs became a trend in the 2000's.
Colombia is an interesting example of the residency phenomena. One decade after the "end" of the Cartel de Medellín (a highly organized drug cartel that operated internationally throughout the 1970's and 1980's) the country also experienced a "quieter" time for the conflict between the Revolutionary Armed Forces of Colombia (FARC) and the government. Cities like Medellín that suffered tremendous violence in the past decades saw an injection of cultural, urbanization and educational funding in the 2000's, focused on the development of a peaceful society, that announced the beginning of a more stable, less violent and more social period in Latin America.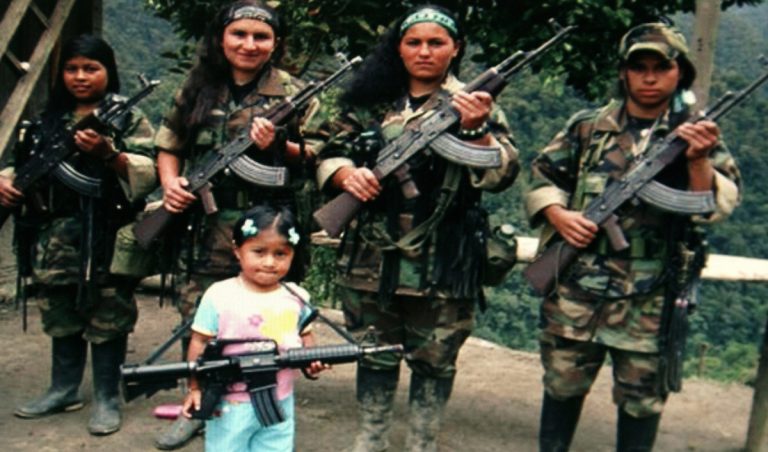 FARC rebels pose with an unidentified girl holding a weapon in southern Colombia. Source: Colombian National Police / Reuters
Within this context, Taller 7 was born in Medellín in 2013. An initiative of a group of seven visual artists, working within different media, but connected by a common concern with the lack of spaces for artistic practices outside the established institutional circuit (caused by so many years of state negligence towards culture and the aftermath of all other conflicts that had been going on). They got together and shared the rent of a large house with a big patio where they could work together and with others. Located in the neighborhood of Bomboná close to the infamous salsa bar, Eslabón Prendido, and la Plaza del Periodista, where one can buy rolled joints or littles bags of coke with tiny straws. Since the beginning, Taller 7 was a laboratory for creation and experimentation, with a strong focus on drawing and self-publishing. It soon opened an exhibition space for emerging and established artists of various contexts, and residency program, with a living and working space for artists and curators. Taller 7's main infrastructure is not its production facilities, but the expertise of these seven artists who dedicated themselves in making connections, facilitating production, and above all keeping their residents safe and happy.
For 15 years the project was self-managed in various ways, formats and group formations, always trying to generate new ways of exchange through alternative platforms for new points of contact and collective work to be socialized through talks, workshops and exhibitions. Taller 7 was a flexible platform for the promotion of the visual arts and a bridge between different contexts such as El Encuentro Internacional de Medellín (MDE) at Museo de Antioquia, where they enabled mutual understanding and exchange of experiences among artists and curators. Taller 7 officially closed in 2018, but a similar project operates in the same house, now run by a different formation of artists, under different guidelines and new name: Lengua Negra.
Lugar a Dudas is another Colombian example. Founded in 2005 by the artist Oscar MUÑOZ, an internationally known artist for exploring the theme of violence in Colombia. Lugar a Dudas (which means: a place of doubt or a space to wonder) is an independent, non-profit space, in Cali, that works as a laboratory for research, lively discussion, reflection and critical analysis through a programme of exhibitions, workshops and residencies. The space also houses a large archive, dedicated to the visual arts, which includes over 3000 books, magazines and videos.
Soon after the foundation of Lugar a dudas in Cali, in 2006, Tony Evanko, a North American from Albuquerque, moved from New Mexico, in the United States, to Medellín on a Fulbright Lecturing and Research Grant. Together with Santiago Vélez he founded Casa Tres Patios (C3P), another non-profit artist run center in Medellín. Initially conceived as an alternative space, art laboratory and exhibition hall where local artists could experience, develop and exhibit the results of those experiments, it quickly became an artist residency that hosted different artists than those who worked at the neighbouring Taller 7.
Also in 2006, Rachel SCHWARTZ, founded Kiosko, another independent alternative art space, managed by artists in the city of Santa Cruz, Bolivia. As a platform to create, promote and foster contemporary art in the region, it consists of an office, design and architecture studio, artist residency, exhibition and event spaces. The artists curate and host an international residency program, produce events related to education, and promote young and emerging Bolivian artists abroad.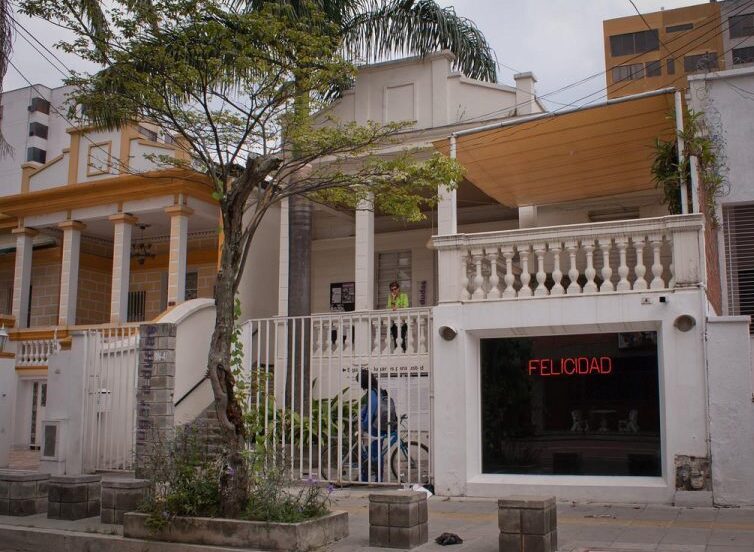 Facade of Lugar a Dudas, with work by Kevin MANCERA, Cali, Colombia, 2012. Photo © Lugar a Dudas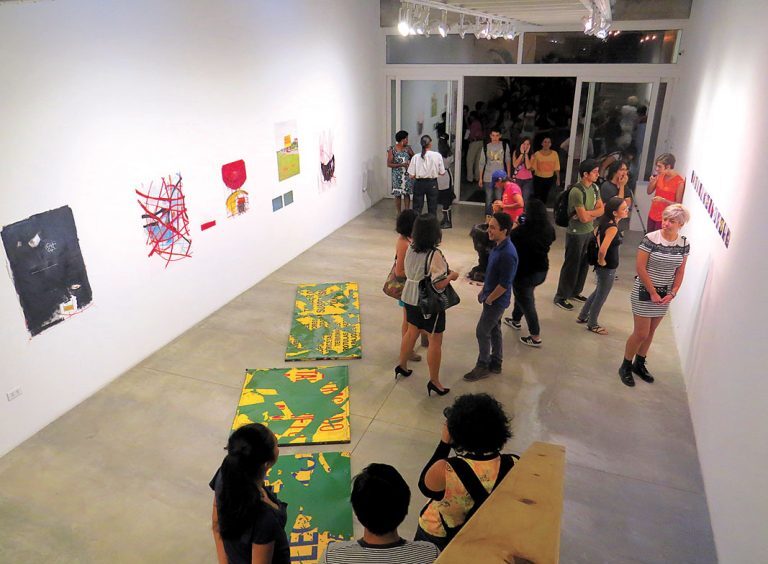 Kiosko gallery space, Santa Cruz de La Sierra, Bolivia. Photo © Kiosko
In the 2008 book Forgotten Continent: The Battle for Latin America's Soul the Journalist Michael REID explains that Latin America is "[n]either poor enough to evoke Africa's moral crusade, nor as explosively booming as India and China, it has largely been overlooked by the West. Yet this vast continent, home to half a billion people, the world's largest reserves of arable land, and 8.5 percent of global oil, is busily transforming its political and economic landscape." He was right, despite the 2008 global financial crisis, Latin America was enjoying the rosy times of the "Pink Tide" or its "turn to the left." After decades of repression, exploitation and inequality, the democratization of Latin America opened a possibility for a revolutionary turn towards elected left-wing governments that represented a historical shift towards more progressive and social economic policies that attempted to surf on its own "Pink tide"   regardless of the strong neoliberal global currents.
At the time, Brazil was specially booming among the BRIC, together with Russian, India and China. This attracted the attention of international funds and investment in all sectors, including culture. Countries like Spain who, due to colonial disputes, had not yet set foot in Brazil, now had a reason to do so. Strongly hit by that financial crisis, Spain had limited resources to invest and made its bet with the currency they had: culture, political values, and foreign policies. The good and old non-coercive Soft Power.
In 2008 the Spanish Agency for International Collaboration and Development (AECID), which had offices in almost all Spanish speaking countries of Latin America, opened for the first time an office in São Paulo. Under the direction of Ana Tomé, one of the seeds planted by AECID in São Paulo, was residencias_en_red [iberoamérica], an Ibero American network of 27 spaces working with research, production and exhibition of contemporary art and culture, connected particularly through its residency programs in 14 Latin American countries and Spain. Driven by Spain's need for strategic positioning in Latin America, particularly in Brazil, residencias_en_red [iberoamérica] was one of the many foreign cultural investments disguised by an "aspiration for regional integration." Despite the true political motivations behind it, this investment had a very positive impact in the Latin American art scene.
The network that began with only eight members in 2008, by 2010 had funded collaborations among 27 spaces which represented only a portion, of the more established, more political, and more hyped residencies in Latin America. There were and there are still many other initiatives alike in the region, and residencias_en_red was central to strengthen the communication among all of them, members and non-members of the network. The investment AECID put into residencias_en_red made these initiatives visible to artists, funders, and other spaces alike. This fostered the overall representation of all Latin American artist residencies at the micro and macro level of international cultural policy. In Colombia for example member spaces of the network organized a meeting with other spaces alike, not necessarily members of the network, to create a national coalition that demanded the development of specific artist residency policies and grant at the national, provincial and municipal level, that exist until today.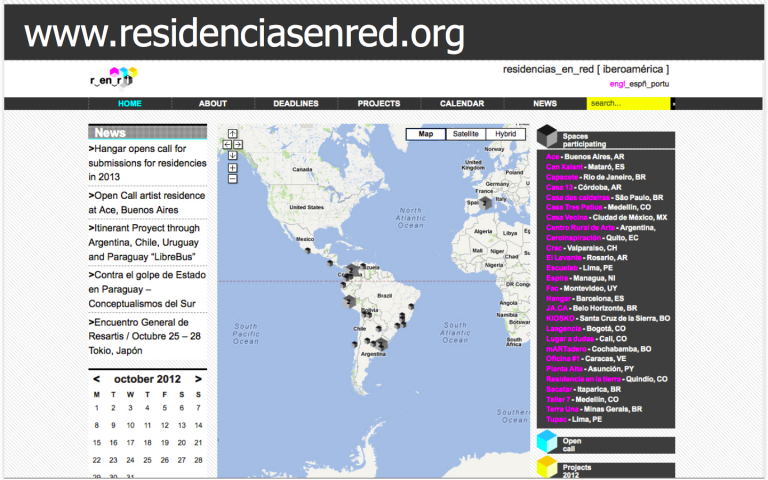 website designed and by Laagencia in Bogotá, Colombia, in 2011. Photo provided by Kadija de PAULA
There were and there are still many other initiatives alike in the region, and residencias_en_red was central to strengthen the communication among all of them, members and non-members of the network.
In 2012, when AECID ceased funding residencias_en_red [iberoamérica], members and non-members of the network had already gained tremendous competency in seeking funding through international collaborations and adapting their programs to the constant economic changes and political transformations, that were about to come again, in the ever shifting Latin American environment. Spaces that where already part of broader international networks, such as the British funded Triangle Network, strengthen their ties with other international funders who replicated the network model. Arts Collaboratory was very important in filling some of the void left by residencias_en_red. Established in 2007 by the Dutch foundations, DOEN and Hivos, it was redesigned in 2013 with a revised mission to promote sustainable, collaborative, and open visual arts practices that contribute to social innovation and emphasize building translocal communities among 25 participant organizations in Africa, Asia, Latin America, and the Middle East.
The predictions for the future are not exciting. In the last decade Latin America saw its rosy "Pink Tide" days contaminated by strong currents of neoliberalism. Today, police and protesters are clashing on the streets of Chile to Ecuador and Bolivia to Haiti, in a flashback of what happened in Venezuela in 2011 and Brazil in 2013. This time around, there was no need for military intervention, just popular contention. The return of the extreme right dark ages was sanctioned by democracy through the lowest level of media manipulation, once again supported by the United States, the mighty representative of transnational corporate interests. Now, under the shadow of right-wing governments Latin American artist spaces need to reinvent themselves to survive. The scraping of education in Latin America created an urgency to again fill the gap left by the lack of social state and rethink other ways of teaching and learning in non-hierarchical ways, possibly departing from artistic experiences.
Laagencia, a young collective art project that began in 2010, in the Chapinero neighborhood of Bogotá is a good example of artist-run resilience and reinvention. Also a former member of residencias_en_red that began as an office for art projects that tried to be an exhibition and residency space in its early years, Laagencia has shifted its practice to an open education program called Escuela de Garage (Garage School) with the intention of producing a process that allowed for the articulation of different—urgent, circumstantial, and contingent—problems. It now stimulates the debate on artistic practices experimenting with different work strategies and methodologies to propose mediation formats, collaborative public programs, self-publishing exercises, and alternative ways of producing and circulating knowledge with others. The project consists of five artists, without any hierarchy, all are directors, producers and participants.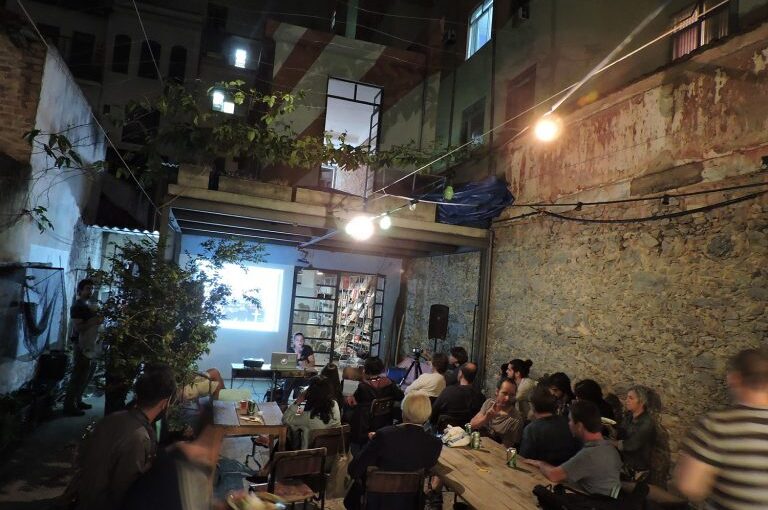 Capacete Wednesday with the participants, Rio de Janeiro, Brazil, 2015. Photo by Pedro Victor BRANDÃO
In 2015 Capacete also redesigned its residency as a fluid and adaptive school program for exchange between participants, lecturers and advisors. The program now lasts 9 months and offers 3 to 5 days seminars given by 9 lecturers from different backgrounds, as well as public talks opened to the local public. In addition, different talks, presentations and events are organized throughout the year with other guest lecturers and residency participants, in any number of forms (presentation, performance, publication, exhibition, seminar etc.).
Lugar a Dudas also created its own education program, Escuela incierta, an education program without school, reconsiders both pedagogical dynamics from independent art spaces, as well as the modes of self-organization and self-learning that different communities have set in motion in their own contexts. Escuela incierta attempts to rethink a non-hierarchical or non-orthodox education through artistic practice. These experiences rekindle the question about the social function of education, as well as what are these agents and social actors involved.
The threat that neoliberalism represents to the environment has also fueled interdisciplinary programs that bring art together with other areas, such as environmental sustainability and technological development as collaborative learning possibilities to face the eminent collapse.
Centro Rural de Arte, another former member of residencias_en_red, founded in 2006 in Argentina, creates interdisciplinary platforms, where people with different knowledge interact. Residencies, workshops, talks, different ways of creation and research. Some activities are nomadic and take places in partner spaces that host these experiences temporarily. They orient their energy towards the place where raw materials are produced and try social forms and relations between nature's diversity. Since 2013, they make some activities in the village of Cazón 12 km from Saladillo, in the province of Buenos Aires. Similar initiatives in Brazil such as Terra Una, Silo, and Nuvem, as well as Platohedro in Medellín, Colombia, also try to bring art, environment, technology and education together.