In early May, I received a warning text message from the CECC because of my footprints in Wanhua District. All my colleagues in the office were on edge due to this message before the contact tracing result was reported. My colleagues were eager to know the venues I've visited recently. They also euphemistically asked me why I cruised the streets rather than went straight home after knocking off. I was racked by guilt, felt disgruntled with others' misapprehension, and my inner drama queen shew up every day.
"You've been treated as a virus," my friend Toni, a migrant worker from Indonesia, commented sarcastically on my experience. Without waiting for my reply, he complained with self-deprecating humor that he felt having undergone endless health examination after working in Taiwan , and his Taiwanese colleagues often exhort him not to go around on holiday since the outbreak of the COVID-19 pandemic. If things go on like this, maybe all the migrant workers in the factory will be demanded to have rapid screening tests.
"Because people fear that we're infected and become spreaders," he said.
I recalled the previous cluster infection in the migrant workers' dorm in Miaoli. When County Mayor Mr. Hsu was asked about the controversy concerning the movement restriction on migrant workers, he volubly argued, "human rights should be curtailed when there are confirmed cases." However, the virus knows no nationality. To impose movement restriction only on migrant workers is to discriminate against a specific group of people. Would the migrant workers who were grounded and treated like a virus suffer the same injustice or fear as I did? What on earth did they experience during the pandemic?
The selected and award-winning entries to the Taiwan Literature Award for Migrants last year answered the abovementioned questions. Some migrant workers were unable to return to Indonesia to celebrate their children's birthdays, while others terribly worried that they might die of illness in a foreign land. The jury of the award stated that, from the perspective of archival preservation, these migrant workers' writings on the subject of the pandemic will help people who review Wuhan pneumonia in the future understand how the multitude in different social positions were affected.
This is why migrant workers' creations are particularly significant in face of the pandemic. Whether they represent the stance of the underprivileged or serve as an archive of historical testimony, we must more carefully collate the voices behind the official macro-narrative of pandemic containment, the voices that haven't been heard by the mainstream society yet. Treating this idea as the point of departure, the "Trans/Voices Project" (TVP) team1 we established utilizes different art forms to engage in artistic creation and dialogue with migrant workers in the context of the pandemic.
We Write Poems and Provide Answers Together
Through the poetry workshop, we sought to offer our migrant friends a chance to contemplate and write down their feelings during the pandemic. Initially, the TVP team planned to invite Indonesian writer Selvi AGNESIA to Taiwan to exchange with migrant workers who love to write. Unfortunately, many events of transnational artistic and cultural exchange have been halted under the impact of the pandemic. Finally, we held our own workshop and composed poems together with our Indonesian friends from the Musholla Baitul Jannah Pingtung.
The Musholla Baitul Jannah Pingtung is a religious space co-organized by Indonesian migrant workers and new immigrants in Pingtung. On weekends, many migrant workers and foreign students worship, cook, and eat together in the prayer room. WU Ting-Kuan, a member of the TVP team, teaches Mandarin at the prayer room, so we chose to hold a poetry workshop after the Mandarin class at the prayer room. Besides, we taught the participants many emotion-related Chinese adjectives in coordination with the class syllabus as a warm-up for the subsequent collective creation.
We encouraged each participant to compose a poem on the COVID-19 pandemic at this workshop. However, we thought that if the participants have little experience in writing, they may feel under pressure when being asked to improvise. In order to guide the participants to express their own ideas and to muster their energy for collective creation, we designed this event in the form of a Q&A session.
First of all, we prepared a few questions for the participants and requested them to write down their answers on sticky notes, such as "what was the first Chinese phrase you learned?" and "please describe the smell of your hometown." Meanwhile, we printed some lyrics of Indonesian songs and cut them into strips of phrases and sentences. These songs are household names in Indonesia, and many participants can sing the entire song when they see a line of lyrics.
These questions brought the participants down memory lane. Some of them first learned to say "wait a moment," while others first learned to say "tired" because the factory is a busy assembly line. Some wrote that the smell of hometown is the fragrance of ripe rice ears, while others wrote that it is the scent of their fathers' sweat.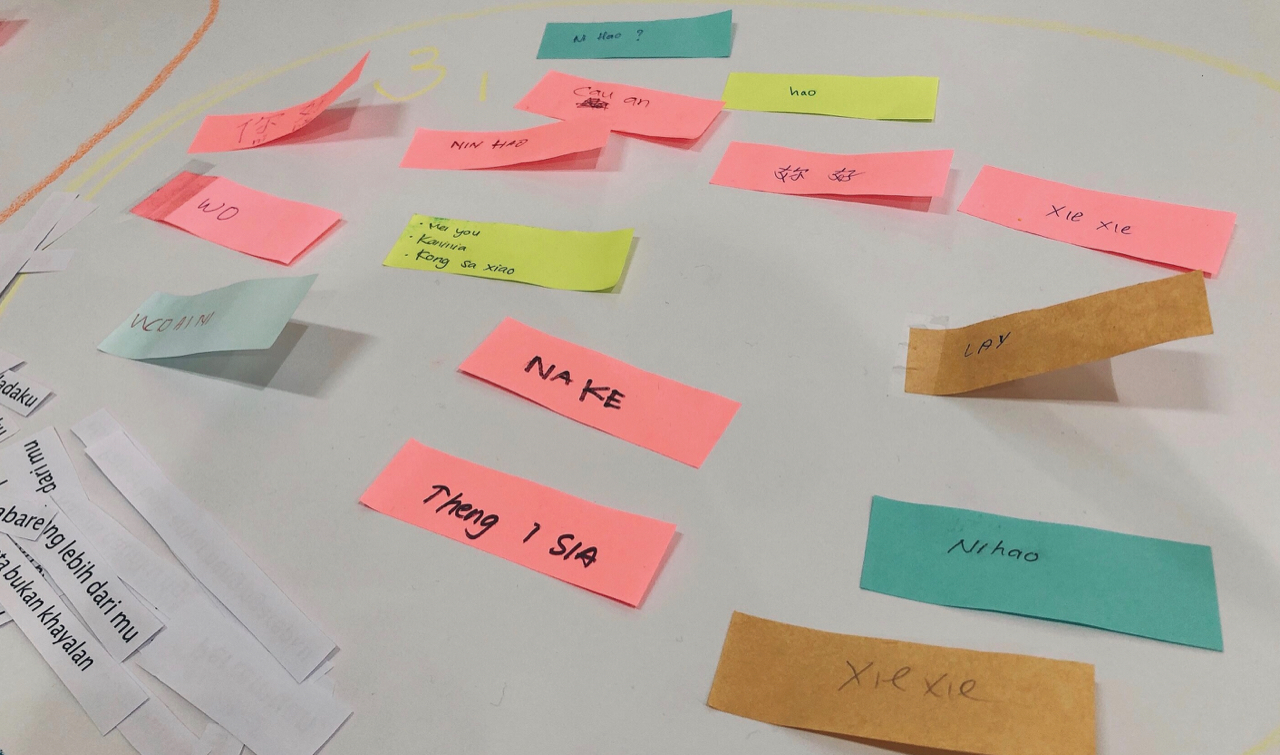 The participants wrote down and shared their answers to each question on sticky notes. Photo courtesy of Trans/Voices Project
Poetry is a fractured language that allows collage and imaginative arrangement of words and phrases.
Reorganizing and Collaging Inner Voices
After putting all these questions to the participants, we invited them to select five of these sticky notes and lyrics to compose a poem on the COVID-19 pandemic.
Poetry is a fractured language that allows collage and imaginative arrangement of words and phrases. The answers and lyrics on these sticky notes served as a library for literary creation and, more importantly, a way to channel one's innermost feelings (e.g., love, longing, and smell which one would not reveal usually) into poetry through the answers offered by others.
Despite the assigned topic, all the participants finished their works quickly, and some of them even drew colorful borders on their draft paper with crayons. The incorporation of familiar lyrics and words written by others instead gave the participants greater freedom to express their inner thoughts. Perhaps it was because poetry is a genre that preserves fictional spaces.
A lively atmosphere prevailed the final recitation of their poems. Some participants composed amusing poems that earned a laugh from everyone, while a collective silence and melancholy lingered in the air after others recited their works. Among all the works, the poem written by Nata, an Indonesian migrant worker, is particularly emotion-laden, describing his own experiences and how much he misses his father in his hometown.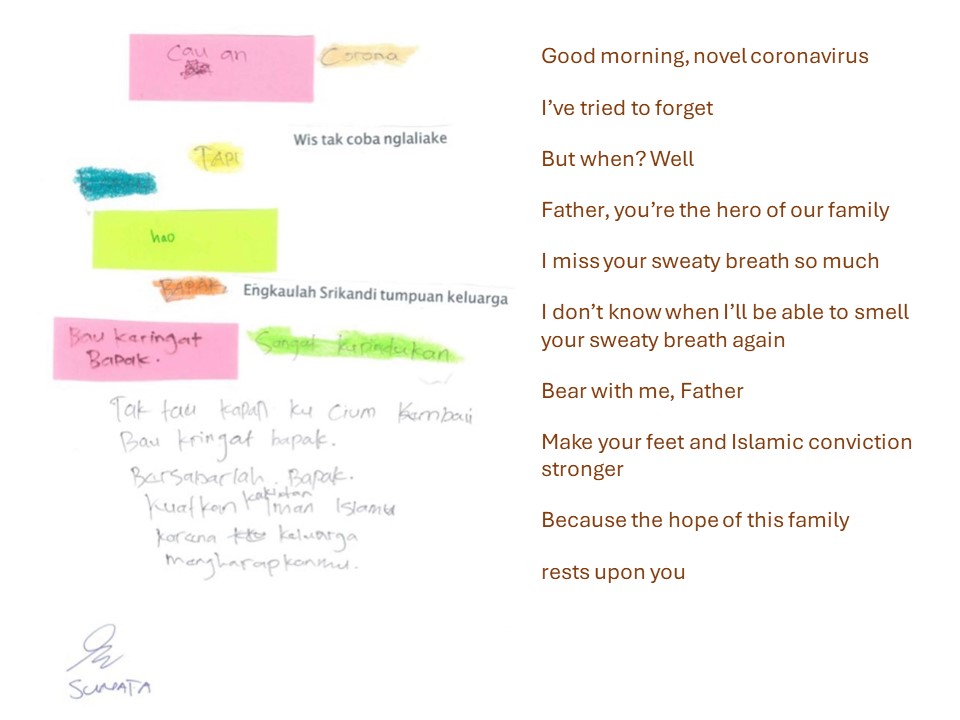 Nata from Indonesia writes about his father's illness in the poetry workshop at the Musholla Baitul Jannah Pingtung. Photo courtesy of Trans/Voices Project
Nata had worked in Taiwan for three years. He was supposed to enjoy his life in a foreign country, only to receive the news that his father had a sudden stroke. Because of the pandemic, he could not leave his job and go back to Indonesia. Although he was always concerned about his father's condition, what he could do was talking to his family in Indonesia via video-telephony every day. His mother died of illness when he was young. Such an experience renders Nata afraid that he would lose his father, too. As he composed this poem, he was caught in the dilemma about whether to renew his employment contract in Taiwan or not.
Three months after the workshop, Nata ended his employment contract and returned to Indonesia to take care of his bedridden father. Recently, he bought a food truck in his hometown and started his own business selling beef ball soup. This pandemic temporarily separated Nata from his family in terms of space, and perhaps this is what made him more aware of how much he cherishes his loved ones.
Idi, the founder of the Musholla Baitul Jannah Pingtung, is another migrant worker and my friend who returned to Indonesia not long ago. He had worked in Taiwan for more than a decade. He went back to Indonesia to accompany his seriously ill mother, and he currently has no intention to come to Taiwan again. I was genuinely impressed by Idi's passion for literature. Previously, he was a columnist for an Indonesian magazine. He even wrote and recited Pantun (a type of traditional Malay poetry) to me. I cherish very much the writings and life stories he shared with me.
Idi asked me if he could see me again a few days before he left for his hometown. However, I could only say goodbye to him over the phone since I was in the hot spot of the pandemic. In the end, he left Taiwan quietly. He used to be active in the community of Indonesian migrant workers in Taiwan, but he didn't announce on social media platforms that he had returned to Indonesia. The pandemic has not only restricted our movement, but also prevented us from waving farewell to our friends and family.
Over the past few days, I reread the poems composed during the workshop and found that the one by Anugrat, an Indonesian student, perfectly reflects my recent melancholy about being unable to say goodbye to my friend Idi in person, even though the poem comprised mainly of the contents on many sticky notes as well as the lyrics.
At this moment, reading Anugrat's poem, I truly feel that we should cherish every chance of seeing each other, because it may be the last time we ever gather together under the impact of the pandemic.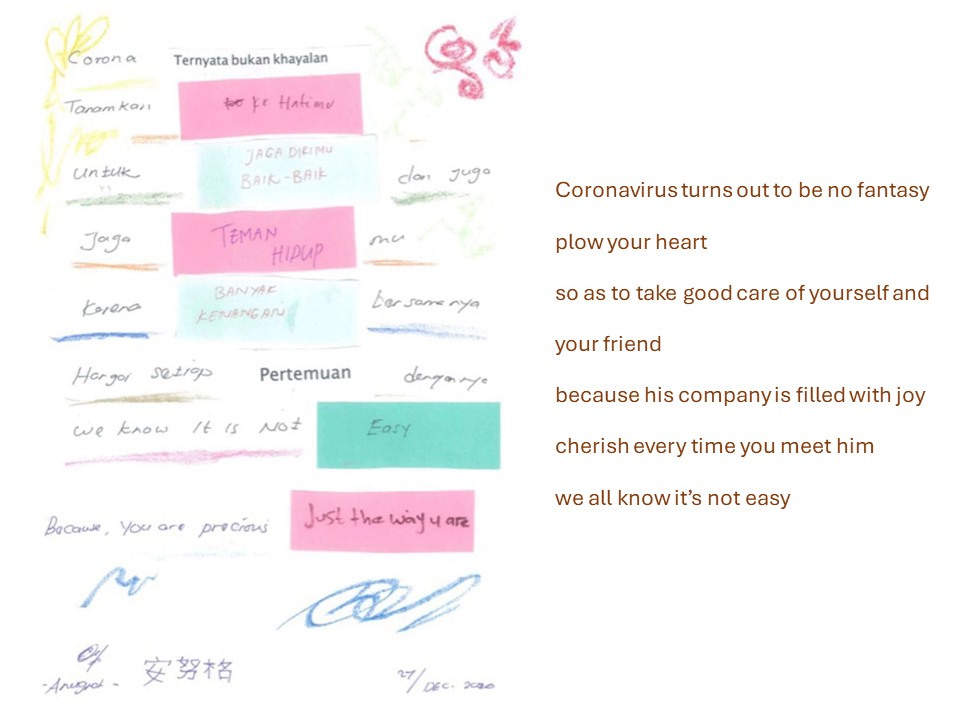 The poem on the gathering and parting during the pandemic, composed by Indonesian student Anugrat in the poetry workshop at the Musholla Baitul Jannah Pingtung. Photo courtesy of Trans/Voices Project
The Presentation and Dialogues of Poems
We collected a total of 17 poems from this workshop. They were translated into Chinese by TVP team member LAN Yu-Chen. In addition to presenting the original manuscripts at the new immigrant market in April, we invited Muri, a migrant worker and our friend from the Musholla Baitul Jannah Pingtung, to recite his poem on the stage. Muri expanded the poem specifically for this invitation. He recited for more than three minutes to the accompaniment of music played by other partners from the Musholla Baitul Jannah Pingtung. The cheeks of many Indonesian friends were wet with tears when they heard his recitation.
Many visitors to the market are migrant workers and new immigrants who cannot return to their hometowns due to the pandemic. They miss their families far away from here, but they always digest these worries in silence. Muri wrote his poem on the theme of missing his loved ones in his hometown, and recited it in an emotion-laden manner, which touched the audience very deeply. Suddenly, a sentimental atmosphere pervaded the originally convivial market.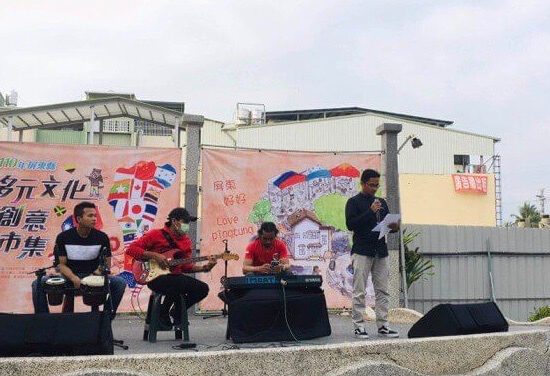 Muri, a migrant worker from Indonesia, is reciting his poem at the new immigrant market. Photo courtesy of Trans/Voices Project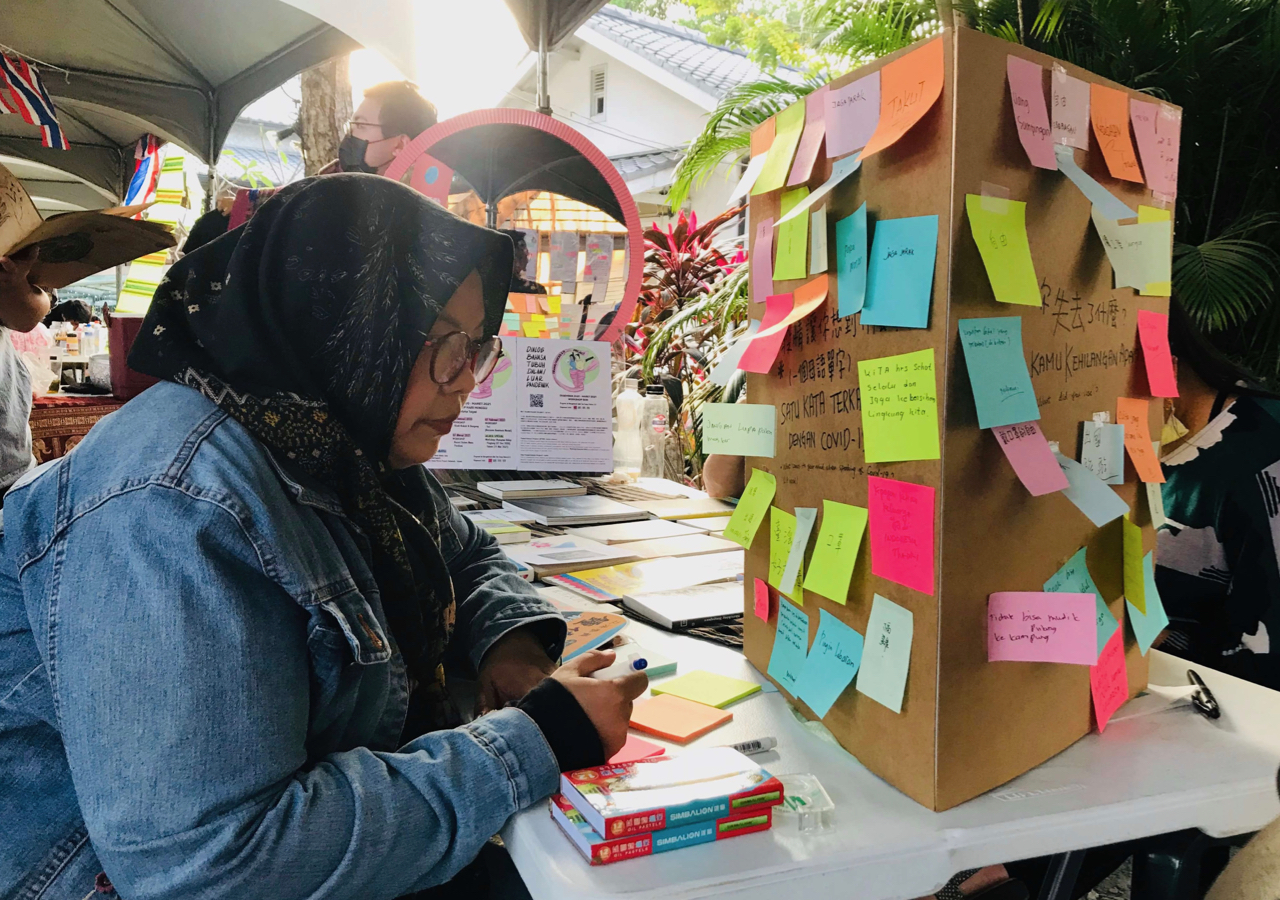 Most of the answers to the questions put by the team are "going home" after the pandemic is over. Photo courtesy of Trans/Voices Project
At our booth on that day, we designed an interactive Q&A session with three questions about the pandemic, and invited people to write down their answers and post them on the board. These questions include: "What does the pandemic remind you of?" "What did the pandemic cost you?" and "What do you want to do after the pandemic is over?"
Many new immigrants who passed by our booth responded enthusiastically and wrote down their inner voices earnestly. The third question impressed me the most. If you ask Taiwanese people now, many of them will certainly say that they want to travel abroad after the pandemic is over. However, most of the answers we received to this question were "going home."
If the process of exploring and creating together with migrant workers is tantamount to a mirror for mutual learning, the transient feeling of nostalgia on the market day, along with the notes narrating homesickness, made me aware of the helplessness of the new immigrants and migrant workers in Taiwan who always worry about the situations in their hometowns but cannot go back after the outbreak of Wuhan pneumonia.
The poems composed by migrant workers during the pandemic serve not only as a channel for them to release their inner emotions, but also as a voice to be reckoned with in the pandemic era. Under the impact of Wuhan pneumonia, many pandemic-related writings have also appeared in other countries. This April, a Bangladeshi migrant worker-poet in Singapore published an anthology of essays titled Stranger to My World, which documents his experience of isolation in the migrant workers' dorm. Last year, GUO Jing's Diary of the Wuhan Lockdown was published in Taiwan, which helps us discover that ordinary people's life records seem to give a closer view to the reality than the news released by governments.
This poetry workshop was as much a new experiment as an opportunity to co-create and dialogue with migrant workers. As long as the pandemic continues and inequality persists, we will keep supporting and paying attention to migrant workers, and meanwhile teach them using different media to question the Taiwanese society and make their voices heard.