As a recorder of nature's sounds, an author, radio program producer and host, documentary writer-director and association president, Laila Chin-Hui FAN wears many hats. For a long time, she has advocated for acoustic ecology education, working with people across fields and devoting herself to the promotion and exploration of concepts related to soundscapes in Taiwan. During this interview, she gently and resolutely expressed her views and concepts. Beginning with her life experiences, she did not hold back in sharing her fascination with listening.
When talking about the diversity of sounds in nature, she imitates the calls or "accents" of different bird species. These include the long and short calls of the Taiwan bush warbler and the chirps of the Japanese bush warbler. She says that in areas of China she has heard some exaggerated calls like the pronunciation of retroflex consonants. We couldn't stop ourselves from laughing. She says, "The tones are the same, but the vocabulary is different." Why is it that she is so interested in studying and recording this diversity? She says, "I want everyone to be able to hear the differences. The more people there are who can differentiate, the better, right? This is not just for me!"
Pursuing Her Passion, Creating a Sound Journal
In 1997, FAN left her job and asked herself what it was that she most wanted to do with her life. She says, "I wanted to go into the forests and just by listening know which species of birds were there. I wanted to learn about Taiwan's flora and fauna. I wanted to know what happens in each season on this land." She realized that she would have to create an identity suited to all of this. Just like that, FAN became a radio program host and independent producer. She then proceeded to carry out environmental education and to conduct fieldwork, something which she thoroughly enjoys. She bought recording equipment and microphones to create "sound documentaries" for her program. For a 10-minute segment on poisonous snakes, she might have to wait in a simple shelter for two days. To survey insects, she may have to hike deep into the mountains. Upon her return to the studio, she edits her recordings. After the first three months, her program Nature Notes earned the first ever Golden Bell Award for National Education Radio.
Her radio program has run for 21 years without a break. FAN has continued to evolve during that time, collecting amazing stories. In addition to producing her radio program, she writes articles and films documentaries, earning numerous awards along the way. After starting a family, she transformed from field researcher to expert family traveler, even publishing a book about her experiences. During the process, she still collected the sounds of nature. "For me, my radio program is a foundation, which has allowed all that I have encountered in my life to accompany me. It is like moss, which can grow here and there and evolve autonomously. I feel that this is the most amazing plant." Now, that her children have grown up, Fan has returned to what she most loves, fieldwork, and devoting herself to environmental education and searching for possibilities.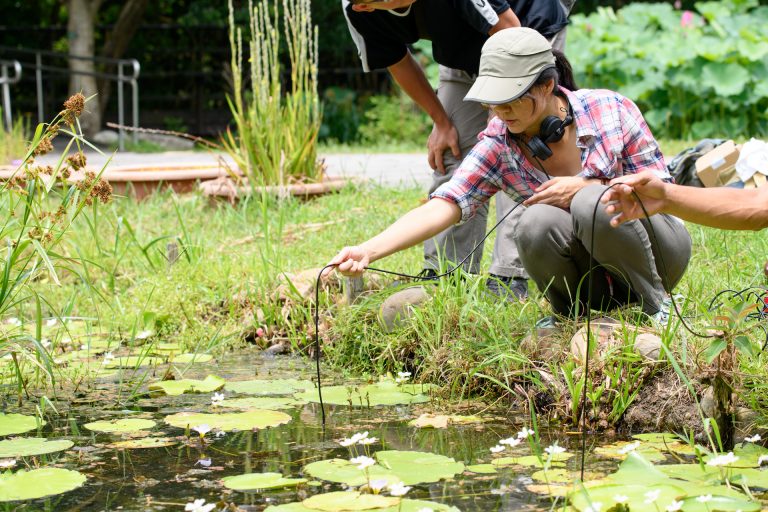 Passionate about fieldwork, Laila Chin-Hui FAN is devoted to environmental education and searching for possibilities. Photo by Anpis WANG
Silent Vision: Cultural Connection from a Rock
Years ago, FAN was inspired by One Square Inch of Silence: One Man's Search for Natural Silence in a Noisy World, written by American acoustic ecologist Gordon HEMPTON. This made her realize that as an acoustic ecologist, she could initiate change. She also became aware that as people are not good at listening, they are unable to experience the beauty of sounds and to further understand the value of preserving "silence" in nature. She wrote a letter to HEMPOTN to express her gratitude for his work. She never thought that he would respond so quickly. He asked her to send a rock from Taiwan, which he could use to promote his views on maintaining silence. Such rocks he places in the Hoh Rain Forest of Olympic National Park. Fan sent a rock she found in eastern Taiwan that had originated in a riverbed in the Central Mountain Range. To her, that is one of the best places for recording the sounds of nature. Through this rock, these two people living far apart but sharing the same vision became linked. After several letters back and forth, HEMPTON sent that rock back to Fan, telling her "Silence will come home."
This stone was later named "the wishing stone of silence." It bears the aspirations for all that is related to silence. As it has recorded so many stories, all the sounds it has "heard" have become a symbolic platform for transmission to the public. This has created a new culture of listening. From the starting point of cultural essence, a close relationship is created between the world and people. FAN started to earnestly listen to the sounds brought by rocks, which led her to travel around the world and to contact new fields. For example, she attended a marine bioacoustics conference in Italy and experienced the soundscapes of Japan. She has brought what she has learned back to Taiwan. In her book, The Beckoning Silence: A Natural Sound Recorder's Journey, she recalls her many years of collecting and exploring the sounds of nature, helping readers to understand sounds from different perspectives. Moreover, to the Luodong Forest District Office of the Forestry Bureau she proposed the concept of "quiet nature trails." Along Cueifong Lake on Taiping Mountain a trail could be designed with the purpose of "listening." People would be encouraged to come to this quiet place and listen. With the support of the Forestry Bureau and after many years of effort, this was achieved at the end of 2018.
Soundscape Association of Taiwan Is Listening
In addition to saving the silence, FAN discovered that listening to the sounds of daily life and the cultural environment is also important. She says, "Taiwan is an island that is great for listening. It is filled with all sorts of sounds. There are so many levels to listening esthetics and culture to be presented and included. Our listening esthetics can even influence the world. This is my goal." With this spirit, she made use of her experience and networks to fulfill an even bigger vision. Backed by the power of an organization, she wants to present Taiwan's diverse natural and cultural soundscapes.
In 2015, without an example to follow, FAN pushed naively forward, feeling duty-bound to establish the Soundscape Association of Taiwan. This may be the world's first civic environmental conservation group in which sound is the focus. Since this association aims to serve as a platform for individuals to promote and develop soundscape research, it is necessary for more people to understand acoustic-based environmental consciousness. Hence, the association members include not only researchers of bioacoustics and acoustical measurements, but also experts of arts and music, cultural and historical studies and community participation. Together, they initiate new ideas. Through lectures, sound tours and sound collection trips, they guide urban residents in "how to listen." Therefore, this association is not just a task force, but also a platform for bringing together creative people and promoting social change.
FAN understands that the development of the association is like a growing-up child. It is not always possible to control what happens as it goes beyond the context of her life experience. The association is now in its fourth year and still evolving. Its funding mostly comes from donations from family members, friends or philanthropists. She has opened volunteer recruitment to non-members. Some people have been inspired by her book, choosing to stay on and help with new ideas on the natural environment and sound. FAN says that more and more young people are taking the initiative to contact the association. They come with their own sets of questions, looking for something that is worth doing. They find that soundscapes stimulate thinking and different perspectives and can be used to connect stories. Her efforts to create this association started with a simple idea. "I needed a platform larger than a radio program to condense and present this power." Through this opportunity to work with a new generation, she has discovered the importance of passing down her ideas. She urgently wants to transform soundscapes into text and images and to develop more interdisciplinary collaborations to enable more people to catch on and catch up.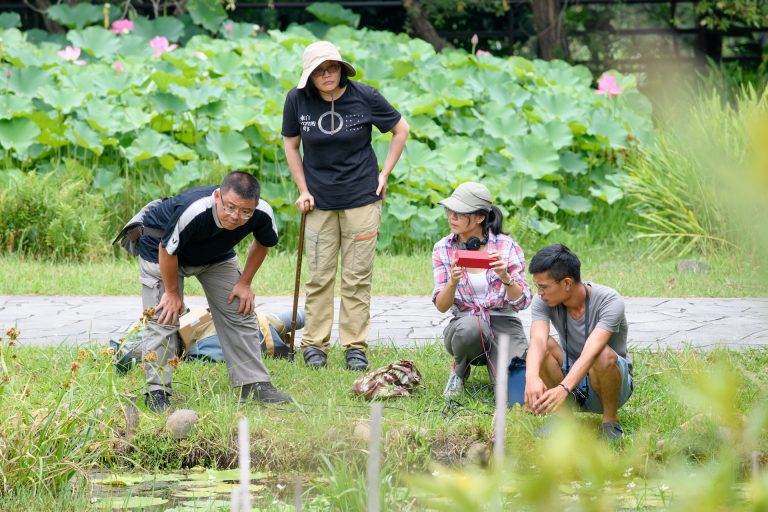 The Soundscape Association of Taiwan brings together people from different fields to carry out soundscape research. In recent years more and more young people have become involved. Photo by Anpis WANG
The Life Memories of Listening
FAN says, "For people who live on Zhulin (Bamboo Forest) Road now, almost the only sounds they hear are those of traffic. But if we trace the origins of this road, what were the sounds of its past?" She believes that in this fast-changing society, the sense of hearing is most often neglected. When modern people are in a space, they are not really there. They are looking at their cell phones playing Pokemon Go. There is a disruption in the relationship between people and spaces. Just by providing a different listening option, it is possible to create a connection to or reproduction of a sound-related memory. This is true no matter if tracing the original sounds along Zhulin Road or learning how to use sound to identify animals in the Guandu Wetlands. This provides people with an all-new understanding and feeling toward a place. In addition, sound is indicative of an area and has a deep connection with the land. Fishermen searching for clams can understand the size of the catch underwater just by listening. Indigenous peoples traditionally gained information by listening to the wind or the sea. "Give your ears the opportunity to listen to the environment. Can we create an atmosphere, in which the environment fulfills the concept of home, with soundscapes connecting geographical boundaries when we leave a building?"
"When I was little, I liked sounds and started recording them," says FAN. She grew up in a rural area. There, cement electric poles had many holes, used to set up a temporary ladder for repair and maintenance. Every time it rained those holes were filled with water. By chance, she discovered that when she threw rocks at holes of different height, different sounds were produced. This began her search "for the most pleasant sounding" electric pole, which became one of her unique life memories. Later, she deliberately went to places most people did not take notice of to search for acoustic clues to better perceive those places. "Modern people rely too much on the sense of sight. These kinds of memories have become fewer and fewer. If we do not awaken people and encourage them to listen, then many will not know why they should listen." This may explain Fan's sensitivity toward "the neglected sense of hearing." Every time she is in an unfamiliar place, she listens for acoustic clues so attentively that she can feel every cell in her body focusing on sound. This has allowed her to have different experiences of the world. If you understand how to listen, you understand how to appreciate. Listening provides a new perspective on what was always there. This kind of cultural universality can bring more concrete meaning to spaces. Moreover, the aspects of art appreciation and ecological knowledge involved in listening can be built up with effort. At its root is an attitude of respect towards one another.
"I am very clear that I have experienced major changes while recording in nature over the past years." says FAN. Her past self perhaps never thought that her present self would accomplish so much. She says, "In our lives there are many invitations. Sometimes, we don't know which we should choose. Or, perhaps you are the one who has been chosen." She earnestly listens and focuses on her inner voice to hear those calls and bravely respond to them!