At the invitation of Taiwan Contemporary Culture Lab (C-LAB), bio-artists Paul GONG and KU Kuang-Yi carried out the Research Project of Bio Art Lab, collating and studying more than 30 laboratories associated with Bio Art at home and abroad, serving as a source of reference for C-LAB's attempt to build its own Bio Art lab. As an excerpt from the contents of the research project, this article consists of four parts. The first two parts were completed by KU, and the latter two by GONG. The first part begins with biohacking labs built by bio-artists. The second part introduces examples of Bio Art labs constructed by cultural institutions. The third part extends the discussion to the Bio Art practice in academic biological labs. The last part touches upon observation of all Bio Art labs at the ideological level. This article seeks to collate core contents of research projects undertaken by Bio Art labs and to identify possible directions for the future development of Bio Art in Taiwan.
Biohacking Laboratories
In 2014, KU Kuang-Yi and members of the TW BioArt community partook in HackteriaLab 2014, an event organized by Hackteria (an open source Bio Art platform) and Lifepatch (an Indonesian artist group) in Yogyakarta, Indonesia. This event lasted for several weeks, and attracted many artists, designers, engineers and social activists from the four corners of the world. Volcanoes, rivers, and tropical rain forest were the three main themes that ran through this event. Organizers led the participants to explore the local natural environment, in which they conducted field surveys and sample collection. In addition, they visited the universities' biological labs and artists' studios in Yogyakarta. After the surveys and visits, all the participants gathered in a makeshift space, forming groups according to their respective interests and conducting research and art projects. Weeks later, they presented their results at the local art center.
Of all their practices, the transdisciplinary energy radiating from the makeshift space was the most exciting. Some groups built small-scale biological labs by themselves with daily necessities, kitchenware, and basic experimental equipment, so as to observe the specimens they found in rainforests or rivers. They either used an improvised microscope to observe the microorganisms in the rivers, or employed kitchenware, pressure cooker, organic ingredients (e.g., potatoes and milk) and homemade growing media to culture the bacteria collected from local environment. They placed the bacteria in petri dishes and created a germ-free condition with an improvised operating platform and incubator that fostered the bacteria's growth in proper temperature. The gender issues concerning Muslim women were tackled as well, which helped them understand their own bodies. There was even a workshop on homemade sex toys. Within a couple of weeks, no sooner did the participants form spontaneous groups and conceive dozens of different projects than they engaged in research and investigation.
All these projects were based on open source concepts like biohacking or DIY biology. The core of these concepts was to implement the techniques of microorganism culturing, biochemistry experiments, and microscope observation – these techniques were originally to be conducted only in the labs of universities or research institutes. The concept of biohacking liberated biotechnology from the labs in research institutes, making the technology no longer the privilege of scientists. The public could learn related knowledge and techniques from the Internet and peer exchange, and even build bio-labs at home to carry out their own projects. These practical opportunities beyond the confines of academic norms intersect with hacker culture, blurring the boundary of the scientific system to some extent, and show the potential for overthrowing the old regime and reconstructing the whole system.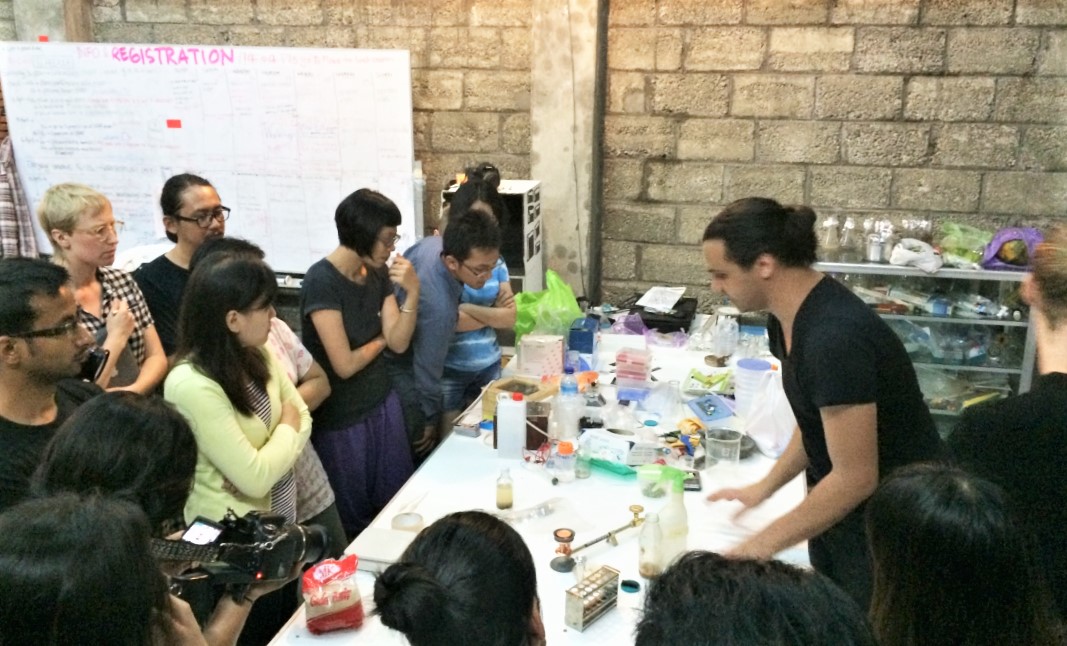 Participating artists showed how to perform a biological experiment at HackteriaLab 2014 in Yogyakarta, Indonesia. Photo by KU Kuang-Yi
This concept not only underlies ordinary projects of citizen science, but also inspires numerous transdisciplinary practitioners. Hackteria is a stellar example. Many of its members are bio-artists. Lacking the support of labs in universities and research institutes, they have no choice but to build their own labs, which implies a change and reform to the power structure in the field of biotechnology. However, biohacking-based art still has some limitations. For instance, sponsor or assistance from universities or research institutes will be necessary commodities if creators are going to conduct more complex experiments, since advanced biological experiments rely heavily on specific instruments that could not be produced through the DIY biology movement. This is also a common problem plaguing Bio Art practice.
DIY Biological Laboratories in Cultural Institutions
In the field of Bio Art, laboratories established by techno-art-oriented cultural institutions have mushroomed recently apart from homemade laboratories built by artists. These institution-based labs offer in-house artists technical and hardware supports. Take Waag Society from the Netherlands for example, in addition to the Fabrication Laboratory (Fablab, including basic digital manufacturing tools such as laser cutting machines and 3D printers), Waag Society plans to establish the Open Wetlab, a laboratory for biological experiments.
The staffing structure of Waag Society comprises four research groups: Make, Code, Learn, and Care. The Make group embodies the spirit of DIY, exploring how to study social and environmental issues through hardware, manufacturing process and materials. Labs under this group include the Open Wetlab, Fablab Amsterdam, and TextileLab. All of them occupy physical spaces. Open Wetlab is a BSL-1 laboratory.1Fablab Armsterdam is equipped with laser cutting machines, 3D printers, and other computer numerical control and basic electronic circuit machines. TextileLab pools the resources from the two aforementioned labs for fashion and textile design.
Here, we would like to discuss Open Wetlab in detail. Open Wetlab incubates projects in fields of Bio Art, BioDesign, and citizen science projects such as the DIY biology movement. Practitioners from different disciplines are working together here. Some of them are invited by Waag Society, while everyone is welcome to join the lab through application. Waag Society selects like-minded practitioners to work together and utilize its resources.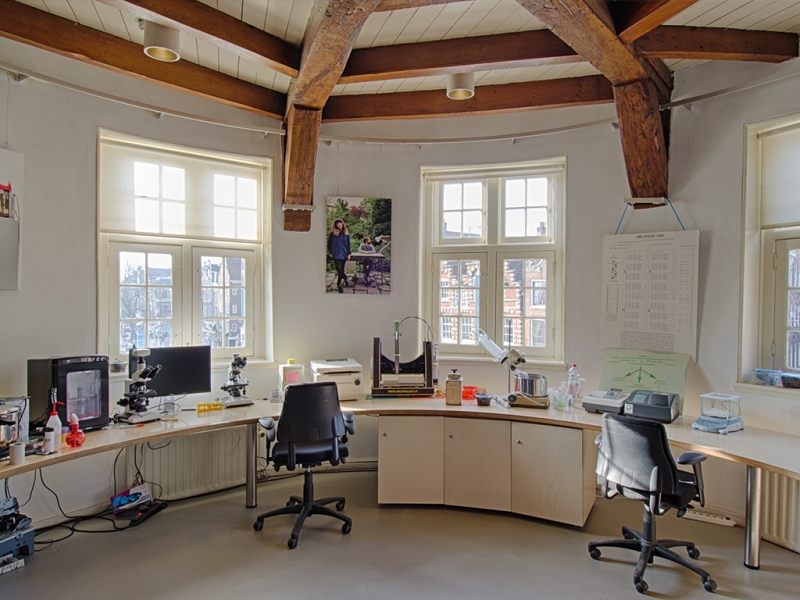 The wetlab of Waag Society. Photo courtesy of Waag Society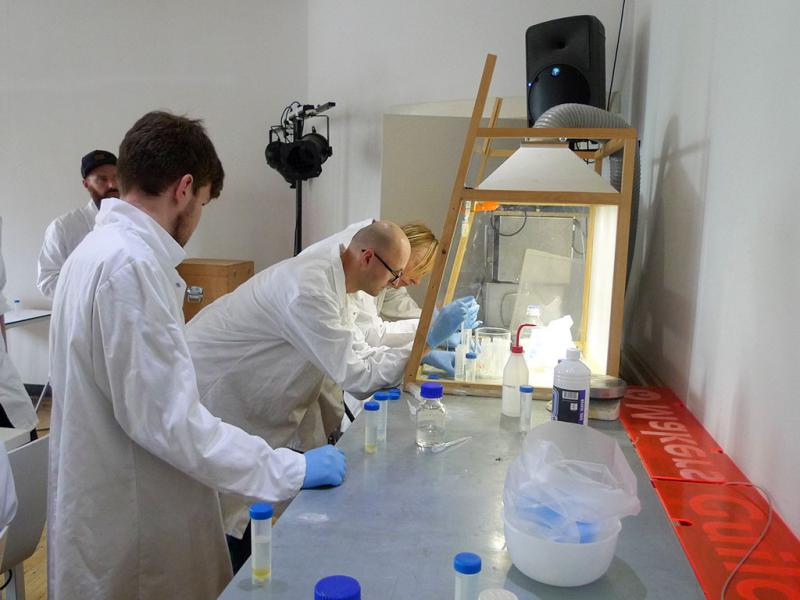 The wetlab of Waag Society. Photo courtesy of Waag Society
Apart from its ongoing projects, Open Wetlab is occasionally accessible to the public to share the knowledge. It operates in the style of biohacking. Many pieces of the experimental apparatus are not the most advanced but second-hand or homemade. Some of them are even repurposed from kitchenware. The devices employed to grow microorganisms are derived from a second-hand farm incubator, and the aseptic operating platform is also improvised. Waag Society is keen to promote the spirit of homemade bio labs, and therefore the BioHack Academy is organized. It provides a series of courses for everyone interested in the DIY biology movement. After one completed these courses, he/she would be able to build a wetlab at home. Thus, people could conduct biological experiments at home without the need for institutional resources.
Open Wetlab's resources could also be used in bio artists' residency programs, just as Waag Society's participation in the "3 Package Deal" organized by the Amsterdam Fund for the Arts. This program allows international artists from different disciplines to work as artists-in-residence in Amsterdam for one year. Waag Society, the Mediamatic restaurant, and Vrije Universiteit Amsterdam co-sponsor the Bio Art residency, providing financial aid for one bio artist per year. In the residency program, the artist could access the resources of Waag Society's Open Wetlab and create works therein. At the end of the residency program, the artist would make a result presentation in the form of performance, workshop, speech, or interactive exhibition, usually at Waag Society's conference hall. Such a presentation connects the artist's project with the general audience, and such a transdisciplinary event bridges the distance between art, science, and the general public.
Academic Bio Art Labs and Teaching Platforms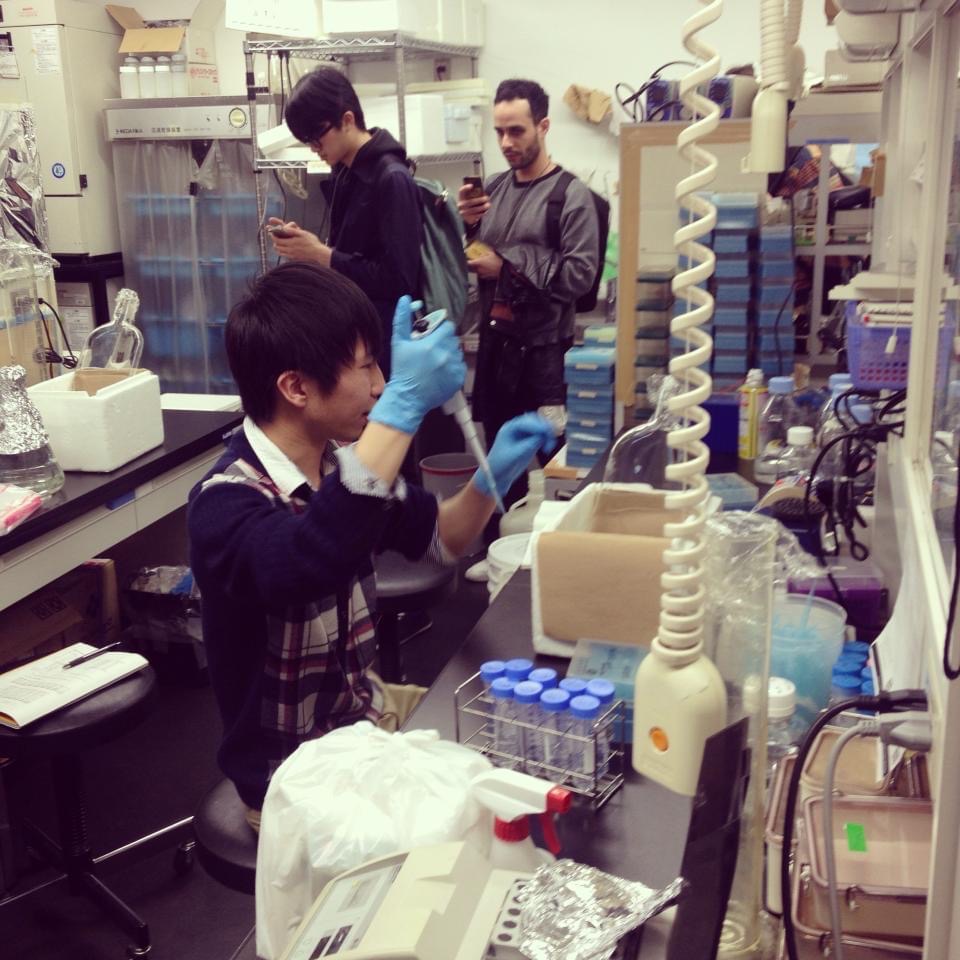 Center for Advanced Biomedical Sciences, Waseda University. Photo courtesy of Bin SHEN
In the Research Project of Bio Art Lab, metaPhorest is listed as an academic Bio Art lab. Academic Bio Art labs are of two types. The first type is the bio labs in art and design academies that provide students with necessary resources and technical assistance to realize artistic practices. The second type, like metaPhorest, is the bio labs in comprehensive or polytechnic universities built for Bio Art research and creation. Founded in 2007, metaPhorest belongs to the Center for Advanced Biomedical Sciences, Waseda University. It is a teaching platform dedicated to biological/biomedia art and Bio Art practice. Its members come from different disciplines. Director Hideo IWASAKI teaches as a professor at the Waseda University. He also doubles as a biologist and an artist, specializing in cell/molecular biology, chronobiology, the circadian rhythm of Cyanobacteria, and Bio Art aesthetics. Most of the other members share backgrounds in engineering, design and art. Among them, Shiho FUKUHARA and Georg TREMMEL are also the co-founders of BCL, an artistic research framework critically exploring art and biotech, and BioClub Tokyo, a cutting-edge space and home for DIY bio community.
The works by metaPhorest members not only focus on the aesthetics of creatures per se, but also artistically tackle the relationship between nature and non-nature as well as the ethical issues arising from the human attempt to control species by means of biotechnologies. For example, BCL's work Common Flowers/White Out seeks to devise a strategy that enables amateurs to remove the engineered genes from genetically modified2 plants – to turn carnations back into the color white. Its target "blue carnations" is the first batch of genetically modified plants developed by Florigene, a biotechnology company based in Melbourne, Australia. Seeking to undo human intervention and explore the ethical boundary between commerce and biotechnology, BCL put forward the following questions. Apart from plants, would foodstuffs and daily necessities be genetically modified simply for visual effects? Could ordinary people remove the engineered genes from genetically modified plants and thereby liberate them? Tomoya ISHIBASHI's long-term project Goldfish Liberation Movement has followed a similar philosophy since 2012. He tries to liberate gold fish, a species bred for human desires for company and control, by reversing artificial selection,3 so as to help them reclaim their wild nature and primitive traits.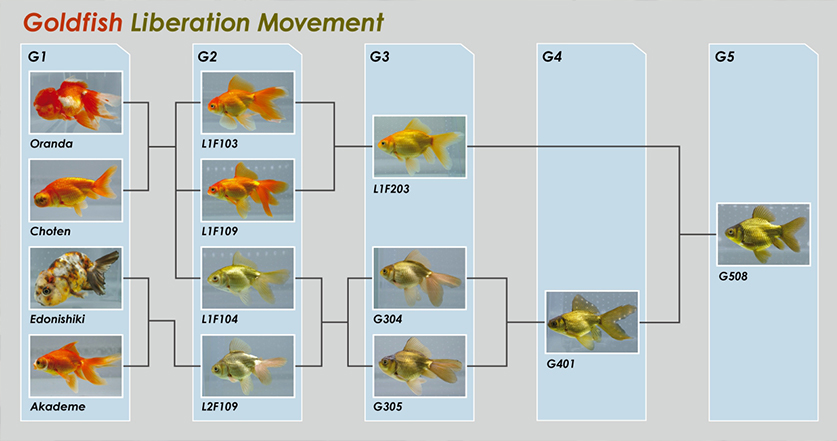 The tree diagram in Tomoya ISHIBASHI's long-term project since 2012, Goldfish Liberation Movement. Image courtesy of Tomoya ISHIBASHI
When Paul GONG was still a graduate student at the Royal College of Art in 2014, he seized the golden opportunity of the departmental exchange trip to metaPhorest. During his visit to the lab, he found that members have free access to the advanced apparatus in the Center for Advanced Biomedical Sciences, which is nothing if not wonderful for artists who plan to conduct biological experiment or practice biotechnology. Besides, members could directly exchange their ideas with the scientists in the lab, thereby learning and refining their hardware and software techniques. In terms of teaching and scholarly enquiry, the artists' thoughts and the students' or scientists' research have reciprocal influence. It implies that a Bio Art lab and teaching platform in an academy may create a win-win network that connects talents from different disciplines.
Speculative-Design-Oriented Ideological Laboratories
Classified as a speculative-design-oriented ideological lab, the Next Nature Network (NNN) employs speculative design methods to construct an "ideological lab" or a speculative design platform. It not only engages in the development of state-of-the-art technology such as future biotechnology and the identification of potential directions of the society in the future, but also designs technology-related works in collaboration with scientists. The NNN is a Dutch-based international network dedicated to the future of biology and technology. Its topics are transdisciplinary in nature, including the future of food and related technology, animals, ecology, environmental protection, and biotechnology. The NNN also provides teaching services, applying innovative ideas, tools and methods to lectures and interactive workshops for individuals or institutions while dispelling common stereotypes of nature and technology. The NNN aims to encourage vigorous debates over issues regarding our future through projects, exhibitions, events, and products that are instructive and fun.
Koert VAN MENSVOORT, founder of the NNN, wears more than one hat. He is an artist, philosopher and scientist. He is also the director of the natural science lab in the Department of Industrial Design, Eindhoven University of Technology. The lab originated from the articles about "next nature" published on the blog maintained by four to five core members and other contributors. In 2011, they published their first book Next Nature: Nature Changes along with Us, trying to contemplate nature from different themes and perspectives, while also cogitating on the potential for technology to become our next nature.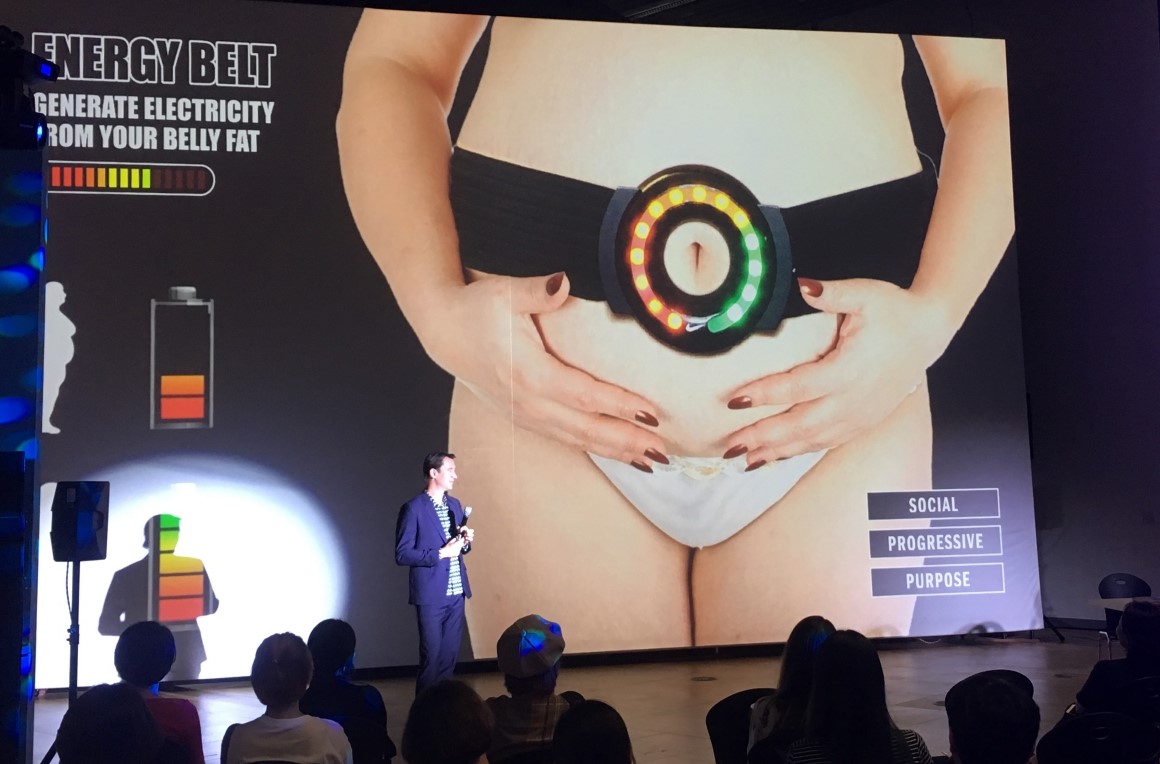 Koert VAN MENSVOORT delivered a speech at ACT Festival 2019: FoodHack in Gwangju's Asia Cultural Center. Photo courtesy of Paul GONG
Reprodutopia is a cooperative project between designers and scientists. It not only provides an outline for future artificial wombs, but also prompts people from different cultural backgrounds to treat artificial wombs as a matter of ethics.
The NNN often adopts speculative design methods to engage in dialogues with the general public and addresses vital welfare issues with intelligible design, thereby guiding the public to think over the possibilities of our future. For example, The In-Vitro Meat Cook Book presents an imaginary future recipe comprising 45 different kinds of meat cultured in the lab. Using the form of a recipe for storytelling, the project not only looks into the possible "dietary culture" developing from lab meat, but also refreshes people's view on lab meat and today's industrial production of meat. The NNN's Hubot at the 2018 Taiwan Design Expo is another example. It explores possible future occupational categories via 16 imaginary professions, investigating how we could respond to the digital revolution and the dawning of the robot age, as well as putting forward the question as to whether humans could establish a relationship of reciprocal cooperation with robots. Recently, the NNN has extended its focus from recipe and occupation onto fertility. Inspired by the technique of artificial wombs, Reprodutopia is a cooperative project between designers and scientists. It not only provides an outline for future artificial wombs, but also prompts people from different cultural backgrounds to treat artificial wombs as a matter of ethics.
Observing the rise of Bio Art and BioDesign in the Netherlands, we learned that the Dutch have been coping with land issues and fighting against the sea since ancient times. They are always struggling against nature, trying hard to win more living space with concepts of all stripes. On the other hand, the Dutch government offers artists and designers relatively handsome subsidies that ensure their freedom of creation. The combination of these factors explains the flourish of Bio Art and BioDesign in the Netherlands. The NNN also cooperates and engages in exchange with other institutions such as the Mediamatic restaurant and Transnatural Art&Design Label. Its most important ideological experiment and practice are to bridge the divides among science, biology, medicine, sociology, anthropology and philosophy with the speculative methods of art and design – and also to ferment those seeds.