AR, VR, interactive, and immersive works have been dominant video art trends in recent years. None of these are evident in this year's Taiwan International Video Art Exhibition (TIVA), however, as the focus is on returning to less technological methods of viewing images. Curators Eva LIN and YU Wei have selected works that contain strong imagery or concepts and invite viewers to "experience" them in a relaxed setting.
Double Act by Ceal FLOYER is one of this year's selected works. Although appearing as a simple static projection, it magically transforms the space into a theater. A PAR (parabolic aluminized reflector) lamp is used to produce the image of a spotlight on a red curtain, bringing a sense of the theatrical and the expectation of a performance. LIN says, "To a certain extent that light creates a physical illusion, a type of visual tactility. In a split second, the venue's function or setting is altered. It is only a lamp. However, it creates an illusionary reality." For viewers, it is as if they have been hypnotized into a different perception of their surroundings. Perhaps in their minds a connection is formed with a previous theater-going experience.
LIN adds, "Everything is related to the speed images are formed in the brain. Even when you are only viewing a static image, it is possible to quickly become immersed in a play." LIN is not referring to becoming part of a storyline or a plot but, rather, to being "drawn into" an image due to the feelings it invokes. Thus, in this exhibition, "hypnosis as a ritual of image viewing" is proposed. This does not mean that hypnotic techniques are used or that the principles of hypnotism or research related to psychology are being discussed. It is a description of being taken into a state of trance upon viewing mesmerizing images. It is as if the images themselves hypnotize their viewers. During this process, the brain seems to perceive other images, guiding the viewer's perception and thinking. It does not matter if this occurs in the subconscious, in memories, or as hallucinations. These existent and also non-existent and immeasurable images are the imagery and viewing methods emphasized by the curators. The theme, ANIMA, refers to life or soul. It is based on the idea that this exhibition delves into the images formed in mind, which can be likened to the "image-soul." YU says, "The soul is a loose metaphor. It refers to those things that linger when we are viewing images but cannot be clearly expressed."
This ANIMA, or soul, is very difficult to put into words. It can only be perceived. In simple terms, when you visit the video art exhibition, please temporarily put aside rational thought and logic as well as the habit to use your eyes to read and digest the images. Instead, experience them and allow your perceptions to lead you into a trance, into the play.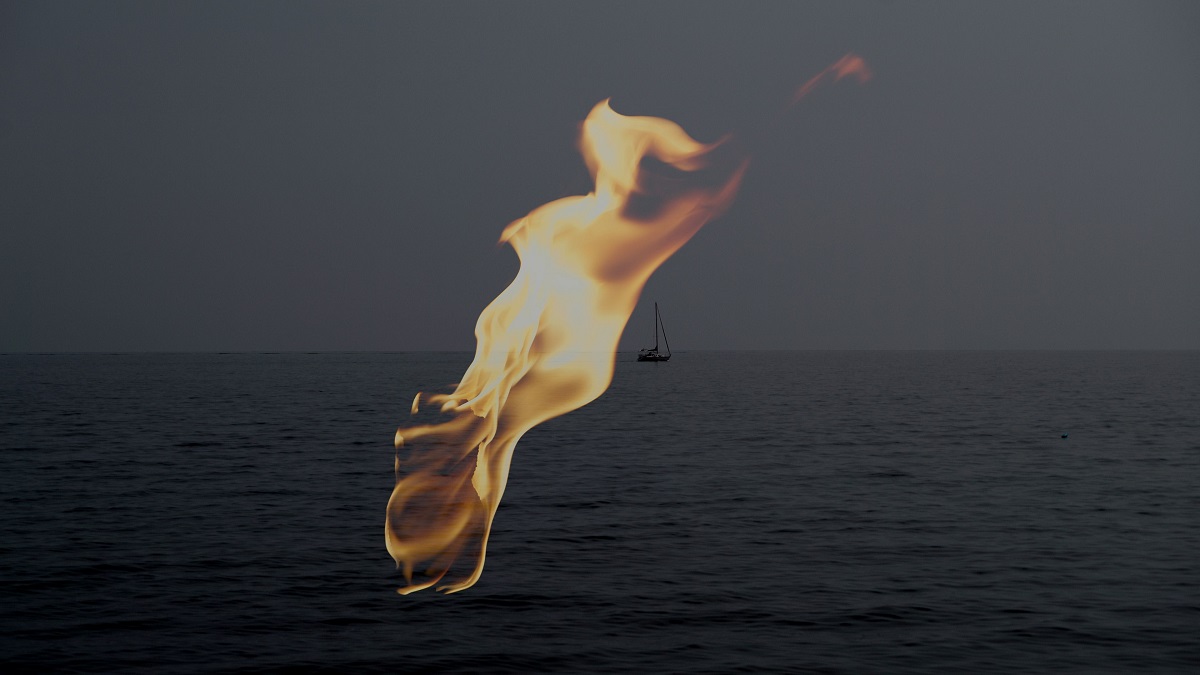 Meiro KOIZUMI, In the State of Amnesia. Photo courtesy of Meiro KOIZUMI, and Annet Gelink Gallery (Amsterdam) & Mujin-to Production (Tokyo)
Immersed in the Unusualness of the Everyday
For a total of 90 days over the duration of the exhibition, LEE Ji-Hong visits C-LAB's Art Space V at a certain time each day. With just the "glimmer" of his cell phone emitted onto a wall, he makes use of a pre-installed camera to capture his movements. These are later projected onto the same wall. By repeating the process, images that have accumulated on the wall become brighter. Glimmer combines concepts, actions, images, and optics. The creative process resembles an image-soul produced from the accumulation of light.
The sloth is the world's slowest moving mammal. For Now, at Last!, Ben RIVERS filmed a sloth on a tree branch using a fixed mid-range lens. Is the sloth asleep or just staying still? When this work was presented in Tokyo, many viewers watched until they fell asleep, creating an interaction between the image and the exhibition space. It seems that time was synchronized for both viewers and the sloth. Will the sloth appear in viewers' dreams? For this work, C-LAB has prepared a space for visitors to relax while watching this sloth and even falling asleep with it.
Besides from dreams, memories can also emerge in the form of images. In the State of Amnesia is a work in which Meiro KOIZUMI presents a man with memory disorder caused by a traumatic brain injury. The man faces the camera as he tries to describe a true story. His narration becomes more confusing as he struggles to remember. Finally, he forgets what he has said. People who do not suffer from amnesia lose their memories too. What will the images of memories be in the state of amnesia?
LIU Yu mixes image, sound, light, and spatial installation in Perfectly Clear and Vivid as Real Seeing. Through various instructions, prompts, and fragmented narratives, viewers are guided in seeing images they produce consciously without relying on visual conditions, to perceive the flow of images between "physical viewing" and "conscious viewing." Since the exhibition is regarding images that cannot be concretized in the mind or perception, cultural worker HSU Chia-Feng was invited to experience ANIMA as a visually impaired participant. How will he comment on this exhibition? During the exhibition period, he will offer four guided sessions, leading visitors to perceive works from a non-visual point of view.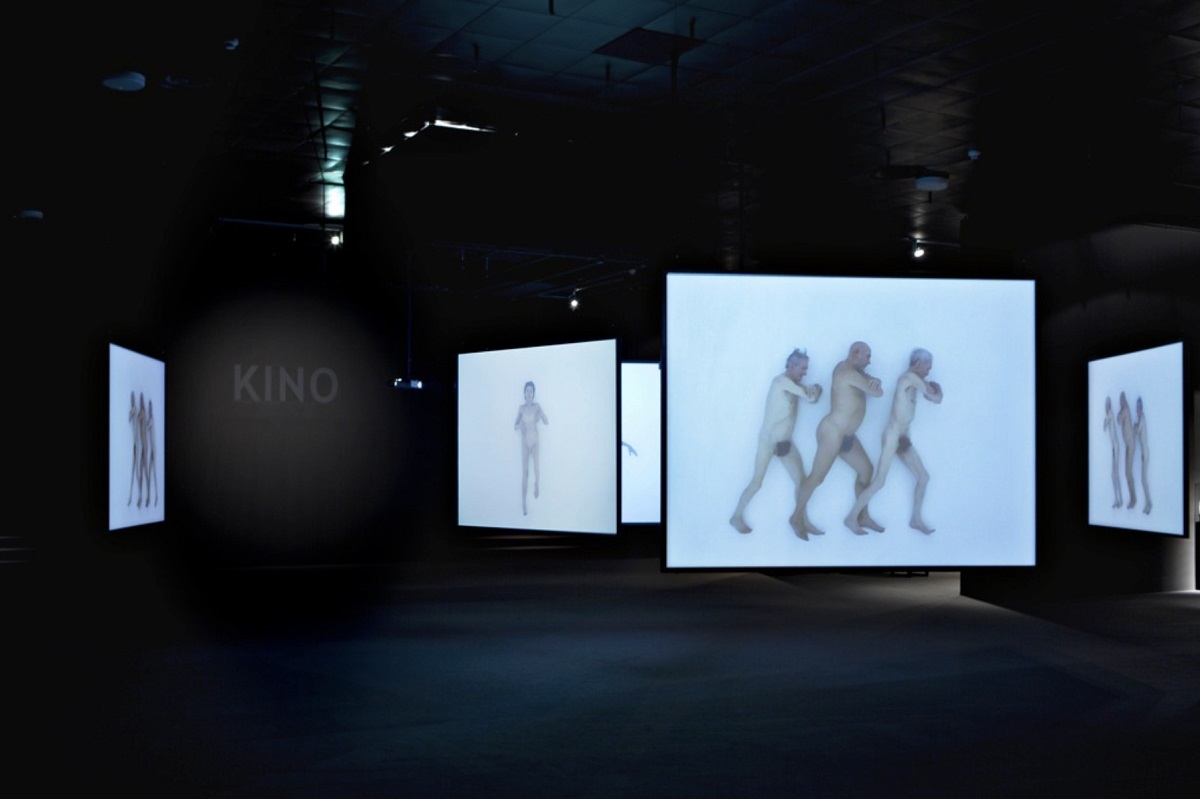 Katarzyna KOZYRA, The Rite of Spring. Photo courtesy of Katarzyna KOZYRA
Another work that attempts to stir emotions and corporeal perceptions is The Rite of Spring by Katarzyna KOZYRA. This is a reinterpretation of the famed ballet of the same title by Igor STRAVINSKY, in which elderly performers present various dance moves on seven large screens. The maiden to be sacrificed in the original story has aged, and in this version, the wrinkled bodies dance to the inharmonious music. Through time-lapse photography, the bodies moving like malfunctioning machinery form uncanny and surreal images. In the exhibition are mostly non-narrative and dreamlike works. Curator YU Wei's description of "perceiving the unusualness in the everyday" refers to their shared quality.
Online, Live, in an Alternative Exhibition Space and in a Fine Arts Museum
ANIMA is not about attracting attention through advanced technologies or resplendent and interactive images. Its intention is not to respond to the question of what an image is or the definition of image either. TIVA is now in its seventh year. Looking back on the content of each year involves the interpretation of images and the evolution, as well as the expanding definitions of different types of images. Early on, a single screen was used. Then came the documentaries. Each year, new definitions of video art have been considered. Instead of developing yet another discourse reflecting on the history of video art, ANIMA's curators of this year are interested in how viewers "enter" images. In this era, image creation methods and media are becoming increasingly complicated. In one aspect, people like the stimulation of complex sound and lighting effects. In another aspect, image and narrative begin to rely heavily on investigation and research, bearing complex information that needs to be digested and absorbed. As in the exhibition, the point of view has been pulled back to the simple act of observation.
The exhibition is spread across two venues: Hong-Gah Museum and C-LAB. This is the first year that TIVA has been presented outside Hong-Gah Museum. In C-LAB's Art Space V an attempt was made to create an atmosphere suited to the style of each work. Arrangement of the works and planning of the routes allow visitors to enjoy a deeper and more immersive experience. In addition, six relatively narrative works are to be screened in C-LAB's Art Space IV starting December 8. On September 27, the Taiwan premiere of the sensational Russian six-hour film DAU: Degeneration organized in collaboration with documentary streaming platform Giloo kicked off the screening sessions of the exhibition. Tickets for the event were sold out in an instant. Giloo would also be presenting an online film festival of 10 documentaries eliciting the magic of the everyday as an extension of the exhibition.
There are multiple ways to view ANIMA. Either online, through screenings in Art Space IV, exhibitions in the alternative Art Space V or at the Hong-Gah Museum, participants are free to determine the most suitable viewing distance for each work. There are no installations with tablet computers or wearable devices common in current exhibitions. The concept of ANIMA involves hypnosis as a ritual of image viewing, and in fact the trance-inducing atmosphere and the direct observation of the soul of the image form a more basic perspective responding to the contemporary "immersive" and "virtual reality" trends in another way. The exhibition runs from October 16 until next year with a series of forums and guided activities. Video art fans are welcome to gather "relaxed attention" and experience the presented images.